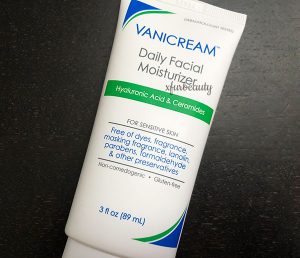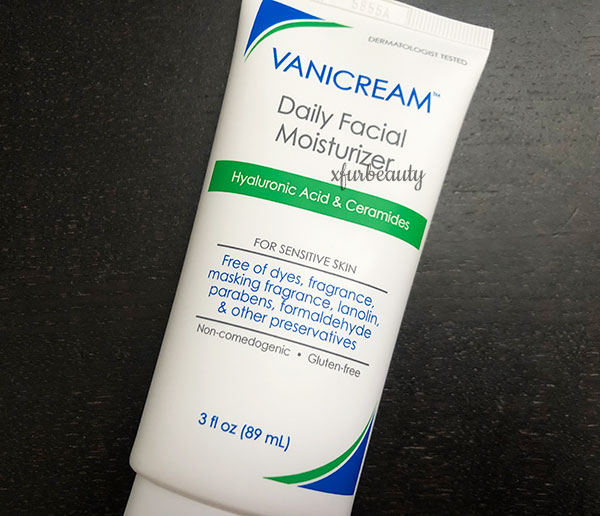 Here's my update on Vanicream Daily Facial Moisturizer for Sensitive Skin! I know my previous review on Vanicream wasn't too long ago, but…
The first two days of using this moisturizer was amazing. My skin felt and looked so healthy and moisturized. It was glowing. I was so excited that my moisture barrier was healthy. There were no flakes, itchy skin, and no redness to my skin after using this moisturizer. My skin healed from dryness. My skin looked so much better. It was absolutely perfect! I thought I had found the moisturizer of my dreams for my skin. It contains ingredients that I love too, which are ceramides and hyaluronic acid. I was a bit iffy about the squalane and fatty alcohols, but I continued to use the moisturizer anyways.
The following day, my skin felt wonderful. My skin looked and felt softer and more supple than before. My skin felt so moisturized that I was in love. I was hoping that it would work out in the end, so I could make this moisturizer permanent in my routine. Unfortunately, it didn't work out the way I wanted it to. I woke up the next day with noticeable blackheads out of the blue. At first, I didn't want to believe it was the moisturizer causing the clogged pores, so I pushed that idea to the side. By night, I noticed more blackheads after a few hours of having the moisturizer on my freshly cleansed face.
Sadly, it's true. This moisturizer clogged my pores. It caused a bunch of blackheads and a few other inflamed acne that popped up randomly. My skin started to act up so quick that I stopped using it immediately. I love the texture, some of the ingredients (haha), and how it repaired my moisture barrier, but there's no way I can continue to use it when it destroyed my skin in less than five days. *sigh* And this moisturizer was made for sensitive skin. Maybe some people like me just aren't meant to moisturize like the rest. This moisturizer does make a lovely eye cream though. I guess I can use whatever I have left for that so it won't go to waste. Or use it as a hand cream.
So I think my skin reacted to the squalane in this product. Could be another ingredient(s) too. The acne looked very similar to when I was using squalane oil. The reason why I was afraid of trying this moisturizer out in the first place. This moisturizer does feel slightly occlusive on the skin without feeling greasy or heavy. It could've been a good moisturizer if it didn't have squalane in it. If you have acne-prone skin, do a patch test first or examine your skin carefully when using. I'm glad I caught it before my skin went nuts even more. Well, that's all there is to it. Another moisturizer down, what next? I'll probably lay off heavier moisturizers for now. I'm too traumatized by this experience. Now back to my lightweight moisturizers that fail to moisturize my skin but does at least something, lol.
For more reviews on moisturizers go here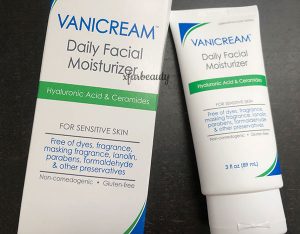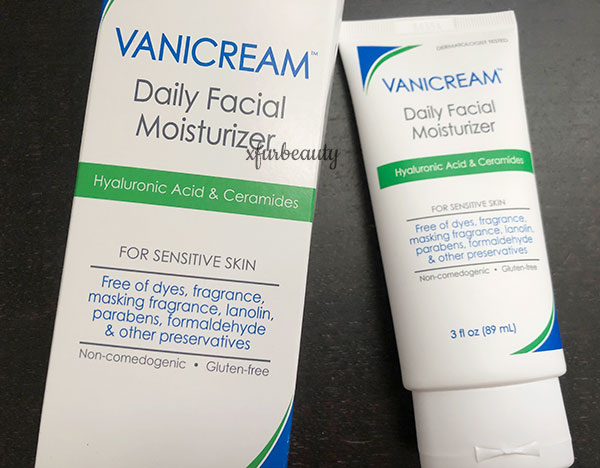 I picked up a new moisturizer! My skin is getting drier than ever, and I needed something that's more moisturizing than Cosrx Hyalyronic Acid Hydra Power Essence (my updated review here) or my sunscreen that contains moisturizing properties. It's just not enough for my skin that's drying out incredibly quickly right now. The moisturizer I chose happened to be Vanicream Daily Facial Moisturizer for Sensitive Skin. This moisturizer contains hyaluronic acid and ceramides. Alright, that sounds good. But it also contains squalane and fatty alcohols. I know my skin can react to these two particular ingredients. But the formulation of the product matters too. I've read good and mostly bad reviews on this moisturizer, so I was a bit skeptical when I purchased it. I decided to try it out anyways, lol. Who knows, everyone's skin's different, and my skin is getting really dry. I needed something that would moisturize my skin much better than what I was using. Just gotta give it a chance, right? 🙃
My experience
Since I'm a bit wary about this moisturizer, I first tested the product out on my sensitive areas, such as my neck and arms. Well, those are my sensitive areas. They tend to get itchy super fast, and I have to be careful what I put on them. I didn't develop any irritation, redness, or itchiness from this product. Yay! I'm good to go! Kind of. ha! Let's see if my face likes it or not…
This cream is a gel-cream. Leaning towards more of a creamy texture. It feels soft and smooth on the skin. Glides on the skin very nicely and easily. Blends into the skin well. It takes a few minutes for the moisturizer to absorb into the skin due to an oily feel that it has. It does contain squalane. With this moisturizer, I don't have to wait too long to apply other products afterwards (like my sunscreen). The moisturizer sticks to the skin, moisturizes it, and leaves the skin feeling, looking smoother than ever. I love it! The only thing I don't like about this moisturizer is that it stings a bit when applied to the skin. I wonder if that has to do with my acne treatments. Because it didn't sting my neck or arms when applied to those areas. Once the stinging goes away, my skin feels really calm and relaxed. Super moisturized. Much more moisturizing compared to when using my hyaluronic acid essence. I haven't felt this type of moisture in ages, haha! I really like it! 😊
By the way, I apply this moisturizer directly onto my skin. I didn't use Cosrx Hyalyronic Acid Hydra Power Essence beforehand. I stopped using the essence. I didn't see the point when it doesn't leave my skin hydrated or do anything else for it. Vanicream also contains hyaluronic acid too, so it seems redundant using both products when it's not even necessary. I'm trying to keep my skin care routine as simple as possible. Having too many products just makes it harder for products to absorb and work. I know my skin likes the moisturizer, but now I'm worried if Vanicream is going to clog my pores or not. That's something I don't know yet. But after a day of using it, it seems to be going pretty well. No breakouts yet. Just feels like lightweight moisture on the skin. And my skin feels really good. If you have dry skin or very dry skin, this moisturizer won't do you any good. It's not super moisturizing and won't provide you with the proper moisture that you need. As an oily skin person with dry skin (sometimes), it doesn't feel heavy at all. The amount of moisture it gives is good enough. It doesn't leave my face looking shiny or greasy. I like it so far. I hope it works out in the end!
This is what Vanicream Daily Facial Moisturizer looks like.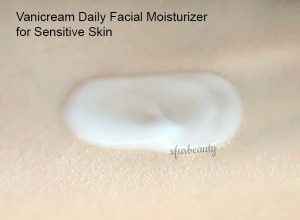 Pros & Cons
✅ Pros
Moisturizing
Contains hyaluronic acid and ceramides
Feels lightweight on the skin
Leaves the skin looking softer and smoother
Doesn't irritate the eyes
Good for combination, oily skin
Non-greasy
❌ Cons
Stings upon application (only the face)
Conclusion
I haven't used Vanicream Daily Facial Moisturizer for Sensitive Skin for long, but I like the way it feels on my skin so far. It leaves my skin feeling soft and moisturized throughout the day. I can use it at night and during the day without any issues (right now). I feel like I'm holding my breath and hoping that it won't clog my pores. Let's hope for the best! Stay tuned for my next update!
Update on Vanicream Daily Facial Moisturizer for Sensitive Skin. Did it work? What happened?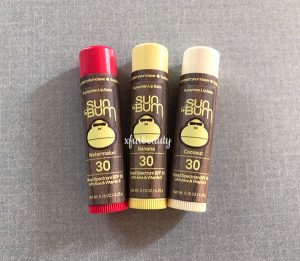 It's time for a review on Sun Bum Sunscreen Lip Balm SPF 30! I found these lip balms with SPF when I was searching for something that is moisturizing, has sun protection, is vegan, and cruelty-free. Sun Bum Sunscreen Lip Balm SPF 30 was the only set of lip balms I could find at the store that fit this description. I was very excited for these because most lip balms contain beeswax or some other animal by-product in it. So the first Sun Bum Lip Balm I purchased was the Coconut. Next, I wanted to try out Key Lime, Watermelon, Mango, and Banana. They didn't have a fragrance-free one, but that's ok. I was hoping that the lip balms didn't have an overpowering smell to them. I thought I'd try them out anyways. They're vegan and cruelty-free. I've been using these lip balms for nearly a year now. Whew! That's such a long time. Time just flew by that quick! I kinda just stuck to using them, since I already have them. Finally, I can share my experience and thoughts with everyone on these lip balms.
My experience
These lip balms are indeed moisturizing. They leave my lips well moisturized throughout the day upon application. They're all pretty similar besides having a different scent to them. I'll go through them real quick…
Key Lime: It smells exactly like what it's supposed to smell like. And that is key lime. My first thought when I took a whiff of this lip balm was key lime pie. Mmm…
Coconut: Smells just like coconut. This one is not for me. I find it too overwhelming.
Mango: This one smells too artificial to me. Too sweet for my liking.
Watermelon: I received a defective product of this lip balm in this flavor. There was no smell to it. Smells like the other ingredients in the lip balm. The next one I purchased had a sweet light smell to it. It doesn't smell like watermelon to me. If you're sensitive to fragrance or smells, this one would be the right one for you. The other lip balms have noticeable scents.
Banana: This one is my favorite. Smells like bananas! A bit artificial. But I can handle it. I like it. I prefer this one out of the bunch. It's weird how I like this one. hah.
So that's what they smell like (to me). Everyone has their own taste and perceptions. Now let's go into more detail about this product! I mentioned that these lip balms are moisturizing. They truly are, but they tend to become soft and mushy easily, especially when exposed to humidity and the hot sun. ☀ They need to be kept in a cool place to remain intact and solid. If not, they'll melt. I placed one lip balm in my pocket during the summer, and that's exactly what happened. Sometimes when I stash one in my bag, the same thing happens. Even though they are still usable, it's just not pleasant to find that the lip balm is mushy and messy-looking. It makes it less enjoyable to use. It's quite disappointing too.
These lip balms contain SPF 30 with chemical filters (Avobenzone 3%, Homosalate 10%, Octocrylene 8%, Octisalate 5%). I haven't had any issues with these lip balms, except for them melting on me. The sun protection seems to really work. Maybe it's because I'm constantly reapplying, lol. I haven't had any new freckles on my lips since using them. My lips are also left soft, smooth, and moisturized. So after a year (nearly a year) of using this product, I think they're not too bad. Just that one defective lip balm (Watermelon) I purchased was annoying. The other lip balms were in good shape. It looks like they're working for me. I've already finished the old set of lip balms I purchased months ago and now on to a new pack. I recently finished the Watermelon in the new pack, since it was the one with the most subtle fragrant to it. By the way, I use these lip balms daily to moisturize and protect my lips! Works…but they are quite expensive compared to other lip balms I've used.
Here's a new pack of Sun Bum Sunscreen Lip Balm SPF 30. This time, this one includes Coconut, Banana, and Watermelon.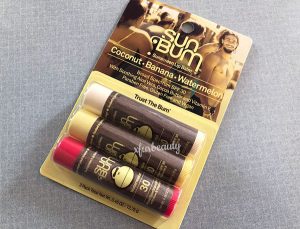 What the lip balm looks like when opened. I love seeing a new lip balm.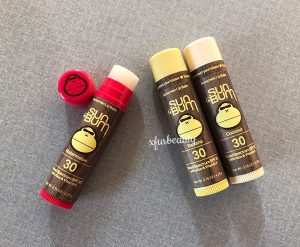 Here's the old set (or the previous set) that I used. They are Key Lime, Coconut, Mango, and Watermelon. This is where the defective Watermelon lip balm resides, lol.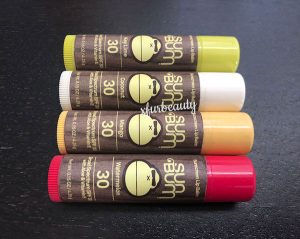 Pros & Cons
✅ Pros
Moisturizing
Contains SPF 30 (Avobenzone 3%, Homosalate 10%, Octocrylene 8%, Octisalate 5%)
Contains aloe vera, cocoa butter, vitamin e, argan oil
Vegan
Cruelty-free
❌ Cons
Melts, gets mushy in hot humid weather
Expensive. It's $3.99 per balm. $9.99 for a pack (includes 3 lip balms in Coconut, Banana, and Watermelon).
Check to see if the lip balms are defective or not. I can't get over the fact that one of my lip balms were defective. This stuff is not cheap!
Conclusion
I think Sun Bum Sunscreen Lip Balm SPF 30 are not too bad. They're ok. I mean, they're moisturizing and protects the lips from harmful UV rays. But so do other lip balms when used correctly. I'm not too big on fragrance when it comes to lip balms or skin care products in general. I don't find it necessary to have them in my products. What is it really doing for my skin? That's right, absolutely nothing. I enjoyed the banana, but I wouldn't mind if it didn't have a smell to it. But then, I guess I did receive a lip balm without a smell (Watermelon), lol. And it wouldn't be banana flavor anymore. So these lip balms are good, but I don't find them to be special compared to other lip balms. I can easily purchase a pack of lip balms for the same price as a single Sun Bum Lip Balm ($3.99). Yeah, they're vegan and cruelty-free. That's nice and all, but I'm not trying to spend a lot of money on something when I don't need to. Would I buy them again? Once in a while. Other lip balms are more affordable for long term.