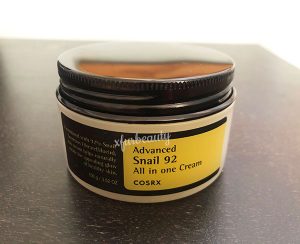 It's been a year without Cosrx Advanced Snail 92 All in One Cream. I decided to try it out again. My neck was getting super dry and itchy, and I needed something that would fix that itch real quick. I tried using CeraVe Moisturizing Cream, but it didn't help much. I needed something more effective. So this cream is a snail-based product. Yeah, that doesn't sound pleasant, but snail mucin has many skin care benefits like replenishing hydration levels and softens rough skin. Good for tired complexions and is suitable for all skin types but especially dehydrated skin. It not only hydrates the skin but brightens and supports healthy skin repair. Nourishes and helps to reduce redness. Also, supports skin elasticity and plumps up the skin. This cream has a pH of 5.5-6.5. Dermatologist-tested. Hypoallergenic. Paraben-free. Sulfate-free, Phthalate-free, Alcohol-free. It sounds like a miracle cream. We'll see about that! So I've been using it for a couple of weeks now. Here's my experience with this cream so far!
My experience
I've been using this snail cream at night. I don't use it on my face. Just my neck. It contains Caprylic/Capric Triglyceride, which my skin dislikes. I get really bad closed comedones when I use products with this ingredient. I try my best to avoid it. From my prior experience with this snail cream, it did clog my pore on my face. So that's why I'm not using it on my facial skin. Lesson learned. After a few weeks of using this cream on my neck, my skin isn't dry anymore. I used it once and woke up the next morning with skin that's extremely moisturized. The itchiness went away and skin just went back to normal. It made my skin feel softer and a lot smoother. This cream is working a lot better compared to my other moisturizers. It does have a sticky, slimy texture to it. It makes it hard to use the product. The product also comes in a jar, so it's not sanitary. I make sure to wash my hands before I dip my fingers into the jar anyways. Maybe they should change the packaging of this product into a tube instead. That would make it a lot easier to use the product. Just a thought. Overall, my experience with this cream has been good. I like how it helped with skin dryness, itchiness, and just made my skin feel calm and soothes it. I love that there's no fragrance to this cream. It doesn't smell like anything. Amazing. Wow, I'm falling in love with this snail cream once again. It's super effective.
A jar of snail slime! 🐌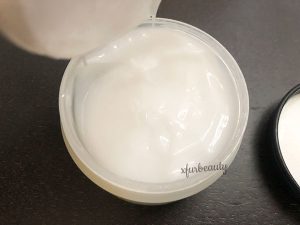 Pros & Cons
✅ Pros
Contains 92% snail mucin and hyaluronic acid
Super moisturizing
Leaves the skin feeling soft and nourished
Great nighttime moisturizer
Absorbs into the skin nicely
Results the next morning
❌ Cons
May cause breakouts if you're prone to breakouts (face)
Comes in a jar
Difficult to retrieve product from jar due the sticky texture of the product
Conclusion
I didn't think I would like this snail cream this time. But I was so happy when I noticed that the skin on my neck wasn't itchy anymore. Also, my skin became super soft, smooth, and just so nourished. I haven't broken out in a rash with this product. Amazing. I have a very sensitive neck, and it seems like it can only tolerate gentle facial products and not products made for the body. I like the results I'm seeing, so I'm going to continue to use this cream. I love it so far! I highly recommend trying it out if you're interested!
For more reviews on Cosrx beauty products go here
Categories:
Tags:

Alcohol Free, Beauty, Cosrx, Cosrx Advanced Snail 92 All in One Cream, Cosrx Skin Care, Dermatologist Tested, Dry Skin, Facial Moisturizer, Hypoallergenic, Night Moisturizer, Paraben Free, Review, Skin Care, Skincare, Snail Cream, Snail Moisturizer, Snail Mucin