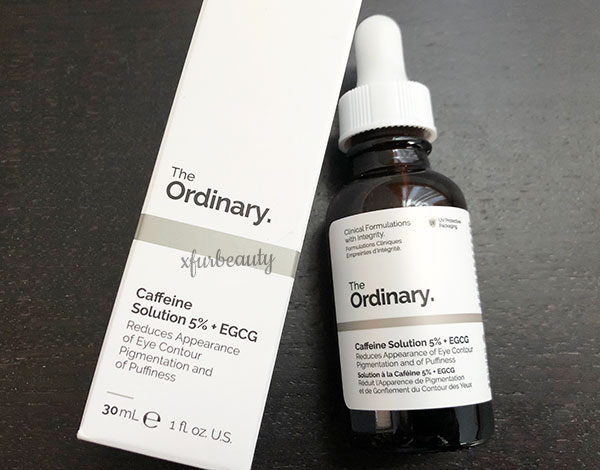 I stopped using more products. 😃 I've been using these two products since forever. I think it's time to let them go. They are The Ordinary Caffeine Solution 5% + EGCG and Cosrx Advanced Snail 96 Mucin Power Essence. Let's start off with The Ordinary!
The Ordinary Caffeine Solution 5% + EGCG:
It's been about 2 years using The Ordinary Caffeine Solution 5% + EGCG. The purpose of this product is to reduce the appearance of eye contour pigmentation and puffiness. I thought it was working at first, but I haven't noticed much of a change in my skin (under eyes) after another year of using it. All it did was dry my under eye area out. I still have dark under eye circles. I make sure to get enough sleep too, and I still have them, lol. Must be genetics, haha. Oh well. I only have puffy eyes once in a while, but this product didn't do much for puffy eyes when I had them. Just like most The Ordinary skin care products, this one didn't work for me either (2 years!!! 😮‍💨). This is the last of The Ordinary products I have in my skin care routine. I removed all of The Ordinary products I was using. I think I'm over this brand. Most of their products are too greasy, oily for my skin type. They don't sit well on my skin. My skin gets more oily and ends up with breakouts. I've been dealing with acne for so long that I wonder if The Ordinary products contributed to the clogged pores. So far, after not using any of them (along with a bunch of other skin care products), my skin has improved. With the Caffeine Solution, it was just drying even when I moisturize my eye area heavily. It tightens my under eyes and dries it out. When I stopped using it, the dryness went away. I'm going to stick to moisturizing products only for the eyes from now on. I'm over this product. It didn't work for me.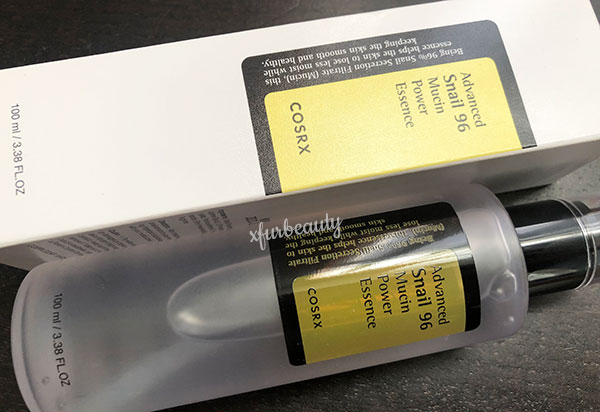 Cosrx Advanced Snail 96 Mucin Power Essence:
I stopped using Cosrx Advanced Snail 96 Mucin Power Essence since I wanted a simple, basic skin care routine instead. All products that didn't serve a purpose in my routine had to go. This was one of them. With the Snail Essence, it didn't really hydrate my skin by much. I tried using it alone without any other skin care products, and my skin felt extremely dry. My skin started to crack. I couldn't even smile, lol. The dryness started to hurt my face. So the essence doesn't do well as a stand alone skin hydrator. It works better in combination with other moisturizing products. So did it do anything at all for my skin? lol. Well, I didn't see improvements in my skin texture and hydration levels while using it. I've gone through several bottles too. I just didn't see the purpose of this product anymore. It feels like I'm just wasting my money hoping that it'll do something for my skin since it's a snail product. Nothing's happening and it seems like a waste of time and money. Also, another aspect of the product that I didn't like was the packaging. This applies to other Cosrx skin care products as well, such as Cosrx Galactomyces 95 Tone Balancing Essence, Cosrx Oil-Free Ultra-Moisturizing Lotion (with Birch Sap), and Cosrx Hyaluronic Acid Hydra Power Essence. They all come in the same type of packaging/bottle. It's a plastic bottle with a pump. Once you reach the bottom of the bottle, it's difficult to get the rest out. They should really change the packaging of these products. It's extremely annoying. I feel like they did this on purpose. 😂 So that's another reason why I'm going to stop purchasing products that come in lousy packaging like this. They're also very clunky to carry around and to travel with. It's just not for me, I guess.
More products that I stopped using…
The Ordinary Matrixyl 10% + HA
Purito Centella Green Level Buffet Serum
The Ordinary Resveratrol 3% Ferulic Acid 3%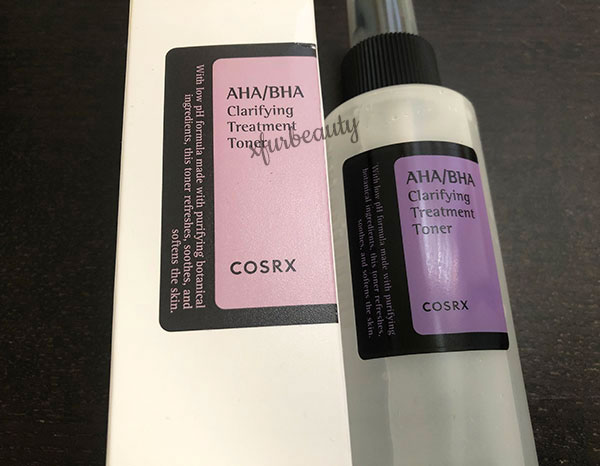 So I've been pondering about eliminating skin care products from my routine and life. At first, I thought I would just use them up on my face and stop it at that. But, I decided to stop using it on my face here and now. I was deep cleaning my pores (yuck!) and noticed how congested my skin was. I immediately thought of the vast amount of skin care products I use on my face daily. I questioned if I needed to use these products any longer if I haven't seen much results from them. What's the point of using them? What's the point of buying them? I mean, they haven't done much for my skin. What am I thinking? lol. Also, I don't have the time to apply that many products on my face anymore. If I did, I wouldn't want to anymore. I think I'm going to simplify my routine and just make my life so much easier.
Here are the products! 👇🏻👇🏻👇🏻
Benton Aloe Propolis Soothing Gel
This is a lightweight moisturizing aloe and propolis gel. I used it for its lightweight moisture and how it didn't clog my pores. Overall, it did a terrible job at keeping my skin hydrated. Sometimes the gel would burn my face when it felt more sensitive than usual. I feel like I'm just using it because it's a lightweight gel. I haven't been amazed by the results, so I decided to drop it from my routine.
Cosrx AHA BHA Clarifying Treatment Toner
This is probably the worst aha and bha product I have used. The amount of aha and bha is so little that it does absolutely nothing for my skin. I thought it helped to minimize the oil in my skin at some points while using it, but it just didn't deliver in the end. It's a clarifying treatment toner, so it's not your typical aha or bha product. I think it's a waste of time using it. At least for me. I'm done with it. Finally, haha. Out it goes!
Purito Galacto Niacin 97 Power Essence
This is actually a good galactomyces and niacin product. It helped to brighten my skin and helped to diminish the oilies from my skin while making my skin appear more glowy. But! I have other galactomyces and niacin products I love way more. I can't wait to finish this product. It's not something I will purchase again any time soon. Good product but I prefer my other galactomyces and niacin products that I have way much more.
iUNIK Black Snail Restore Serum
What can I say about this snail serum? It's moisturizing, sticky, and contains snail. It doesn't brighten or lift the skin, but it does nourish and leaves the skin feeling moisturized. Honestly, I think it's too sticky and heavy for my skin type. Also, I haven't noticed much of a change in wrinkles. Yes, it claims to help with wrinkles. It's really just a moisturizing serum. Nothing more.
iUNIK Propolis Vitamin Synergy Serum
Another serum from iUNIK. The only difference between the texture of the propolis and black snail is that the propolis isn't as sticky. The results are basically similar. It moisturizes and nourishes. As for brightening and wrinkles, nope, nothing. Don't expect it to brighten your skin. It's just another moisturizing serum. I kept using it hoping it'll improve some acne marks and help with wrinkles, but I haven't seen any changes in my skin/acne marks using it. I think it's time to move on from it.
Cosrx Galactomyces 95 Tone Balancing Essence
This is a really good moisturizing galactomyces essence. It's lightweight and leaves the skin feeling hydrated and moisturized. I didn't break out from it either. But, since I have another galactomyces product that I prefer much more, I decided to stop using this one. I don't see the purpose of using more than one galactomyces products at one time or in my routine. So, I'm not purchasing it any time soon again.
Cosrx Advanced Snail 92 All in One Cream
I stopped using this snail cream on my face a long time ago. I only use it on my neck and body. I really can't tell if it's doing anything but moisturize, which almost every moisturizer does. It hasn't helped much with any of my skin conditions, such as fine lines, wrinkles, and overall skin texture. It feels like any other moisturizer, except it's more sticky due to the snail ingredient.
iUNIK Beta-Glucan Power Moisture Serum
Here's another serum from iUNIK. It's more moisturizing compared to the snail and propolis serum. That's all it really is — a moisturizing serum. I haven't noticed much when it comes to skin elasticity as it claims on the bottle. I think this serum is way too heavy for my skin anyways. It'll work better on someone with dry skin. All I know is that it's too much for my skin. So I guess that's another iUNIK serum down.
Gold Bond Ultimate Neck & Chest Firming Body Treatment Cream
I haven't done an update on this neck and chest firming cream. Sorry, I've been busy. Here's a short review on it! So this cream feels very nice on the skin. It's a rich, dense cream that leaves the skin feeling pampered and very moisturized. I used it on my neck and chest for months, but I haven't noticed much in a decrease in any lines or crepey skin. It just felt like a thick, rich moisturizer for the neck and chest. I didn't think my skin felt firmer with or without the cream. I used it twice a day, by the way. I think it's pretty overpriced for the amount of product. It feels so similar to Gold Bond Ultimate Crepe Corrector Age Defense, which comes in a larger tube. Honestly, I would just go for the larger tube instead. I'm not going to buy the neck and chest firming cream again. It's just a moisturizer. Lol.
Stay tuned for more! Also, a new update on my moisturizing skin care products! 🧴
Wow, that is a lot of skin care products!! 😹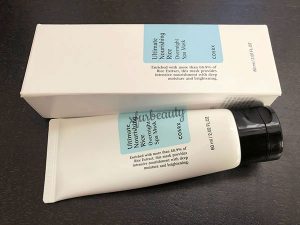 I attempted to try Cosrx Ultimate Nourishing Rice Overnight Spa Mask again after trying it out several times. Actually, many, many times. Check out my previous reviews on the rice mask here:
Review: Cosrx Ultimate Nourishing Rice Overnight Spa Mask
Another Update on Cosrx Ultimate Nourishing Rice Overnight Spa Mask!
So the reason why I tried the rice mask again is because I still have it. After a break from it, I decided to give it a go again due to experiencing dry skin. I thought, why not? lol. I started off using the rice mask a few times a week at night. I used it like how it's supposed to be used, a PM moisturizing product. And only a few times a week, no more than that. That went well. My skin felt softer and moisturized. Even though it contains rice extract and niacinamide, it didn't brighten my skin. I remember it temporarily brightening my skin and giving it a glow at some point but that didn't happen this time. This product isn't good at brightening the skin that's all I know. It is definitely moisturizing, and my skin felt hydrated and moisturized when I used it.
I started using it more often (including mornings), since it made removing flaky skin much easier. My skin would just peel off easily and effortlessly. Afterwards, leaving my skin feeling super hydrated and smooth. I loved the results and kept using the rice mask. Still, it didn't help brighten my skin. Isn't that what rice extract and niacinamide is for? Something about the ingredients in this product that just doesn't brighten the skin. It doesn't work! At least not on my skin. So my skin was well nourished while using this mask. That's the only reason why I kept using it. It's the most moisturizing skin care product that I have without causing cystic acne. But! I spoke to soon. This is what happened as I continued to use it…
Everything was going well. My skin felt nurtured, moisturized, super soft, and the general health of my skin improved due to how hydrated my skin was. It looked soooo dewy and healthy! Well, those improvements didn't last for long. My skin started to break out a little bit. I had tiny little pimples on my forehead. Some blackheads that were very stubborn. I had to toss in some Salicylic Acid to remove them. Even when using Salicylic Acid, it was pretty obvious that the rice mask was causing the breakouts. So, I had to stop using it to get rid of the pimples. After all of this fiasco, I attempted to use the rice mask a few times a week at night again (not every day). I thought I could just use it once or twice a week on my face and get away with the hydration, lol. That's all I really needed — a good moisturizer. Nope, my skin wasn't having it. I would still get breakouts.
Honestly, I think my time with the Cosrx Ultimate Nourishing Rice Overnight Spa Mask is over as a face moisturizer. I really wanted it to work (tried it multiple times and failed, lol), but some products just don't work for some people. This one and my face don't go well together. I'm not using it as a facial moisturizer anymore, but I'm not entirely done with it. It seems to make a good eye cream and body cream (in sensitive areas like my chest). I'll keep it around for that. It's very affordable for the amount of product. So if you have acne-prone skin that's oily, be careful. This may or may not work for you. It does contain oils, such as sunflower seed oil, palm oil, and palm kernal oil. I think the oils were a huge problem for me.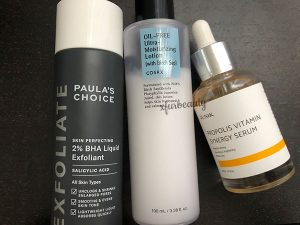 It's been 1 month on tret! I honestly can't believe I just finished up one month! Time sure flies by quick! So did my skin clear up? Did it not work? What's going on? So many questions, but I do have some answers for ya, hehe! During the first month, I didn't expect to add some new and some previous skin care products into my routine. But, my skin was asking for moisture, and I had trouble with some new acne popping up out of nowhere (not from tret), so that's what I did. Here are the products that made its way back into my routine….
Adding New Products
Read more about them below…
This is a new addition to my moisturizing routine. I really like this moisturizer compared to the others. It really does help moisturize my skin while not leaving my skin looking more oily than it is. It feels very lightweight on the skin too. I love it so far. I hope all goes well in a few more weeks!
I didn't expect to use a 2% bha liquid again. Surprise! I'm able to use it every day, morning and night without drying my skin out. I think it's because I have a good set of moisturizers now.
Another product I didn't expect to use it again. I use it a few times a week at night. I still haven't tried it in the morning. I don't think I'm going to yet. Using it at night, a few times a week is more than enough right now. I don't want to overdo it and cause problems.
I also tested out…
I loved how this sunscreen is moisturizing, smoothed out my skin, and brightened it up a little bit, but the application is just terrible. It doesn't absorb and blend into the skin well. It leaves white marks on my face. Pills badly. Not my cup of tea. Another CeraVe product down, lol. I don't know why so many recommend this product. It sucks.
I used this product for 2 days, and it ruined my skin. I had red, irritated pimples popping up the next day. It only got worse. I stopped using it immediately. For a thorough review, click the link! 🙂
1 Month Results
During the first 3 weeks, I had to sandwich tret, so I ended up moisturizing a lot. My skin broke out and peeled on and off throughout the first 3 weeks. But it looked like my skin was at least improving. I had a ton of clogged pores emerging from underneath the surface. Also, some new breakouts that I never knew existed. I think adding Paula's Choice 2% BHA Liquid helped my skin clear up too. So it wasn't just tret alone. Tret didn't do anything for blackheads that I was experiencing out of the blue. It could've been from using heavier, moisturizing products. Moisturizing is good for the skin, but there is such a thing as too much, especially if one has oily, acne-prone skin (like me).
After 3 weeks, I had to change how I used tret. I started applying tret directly onto my skin first. I wasn't seeing results sandwiching. I broke out again and peeled within a few days in. My skin started to clear up by the end of the week. But then I noticed the newly formed blackheads not budging. I suspected Cosrx Ultimate Nourishing Rice Overnight Spa Mask causing the blackheads. I stopped using it for a while. And wow, the blackheads disappeared, but I'm left with breakouts due to the moisturizer clogging my skin the whole time. So, it looks like my skin can't handle the rice mask every day. I'm thinking about using it only a few times a week, since my skin feels very dry without it. Even when I'm using a bunch of other moisturizers. Cosrx rice mask is the most moisturizing. It's effective. Since it clogs my pores, I had to switch over to Cosrx Oil-Free Ultra-Moisturizing Lotion (with Birch Sap). It's not as moisturizing as Cosrx rice mask, but it's something to prevent my skin from drying out. I hope it works!
By the end of the month, I had to go back to sandwiching tret. Applying tret directly to my skin was too much. It dried my skin out so badly, especially when I don't have a good moisturizer anymore (besides Cosrx birch sap). It's just not as moisturizing as the Cosrx rice mask. My skin is still peeling and purging after a month. I'm not quite there yet, but it does look better compared to when I started. Next month, hopefully no new breakouts from moisturizers. And once again, CeraVe Healing Ointment saved my skin when it felt red and raw. Unfortunately, I can't use it too often. It feels too greasy and sticky on my skin.
That's my 1 month update on tret! See everyone next month! 🙌🏻
⭐ If you missed out on my previous experience with tret, check them out!! ~
My experience with tret the first week…
After 1 Month on Tret + Skin Care Routine. Here are My Results.
2 Months on Tret. My results. 🙂
Back to tret! 1 Week Results & My Skin Care Routine. Did it work? 🤔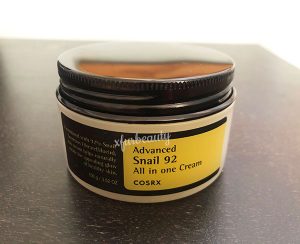 It's been a year without Cosrx Advanced Snail 92 All in One Cream. I decided to try it out again. My neck was getting super dry and itchy, and I needed something that would fix that itch real quick. I tried using CeraVe Moisturizing Cream, but it didn't help much. I needed something more effective. So this cream is a snail-based product. Yeah, that doesn't sound pleasant, but snail mucin has many skin care benefits like replenishing hydration levels and softens rough skin. Good for tired complexions and is suitable for all skin types but especially dehydrated skin. It not only hydrates the skin but brightens and supports healthy skin repair. Nourishes and helps to reduce redness. Also, supports skin elasticity and plumps up the skin. This cream has a pH of 5.5-6.5. Dermatologist-tested. Hypoallergenic. Paraben-free. Sulfate-free, Phthalate-free, Alcohol-free. It sounds like a miracle cream. We'll see about that! So I've been using it for a couple of weeks now. Here's my experience with this cream so far!
My experience
I've been using this snail cream at night. I don't use it on my face. Just my neck. It contains Caprylic/Capric Triglyceride, which my skin dislikes. I get really bad closed comedones when I use products with this ingredient. I try my best to avoid it. From my prior experience with this snail cream, it did clog my pore on my face. So that's why I'm not using it on my facial skin. Lesson learned. After a few weeks of using this cream on my neck, my skin isn't dry anymore. I used it once and woke up the next morning with skin that's extremely moisturized. The itchiness went away and skin just went back to normal. It made my skin feel softer and a lot smoother. This cream is working a lot better compared to my other moisturizers. It does have a sticky, slimy texture to it. It makes it hard to use the product. The product also comes in a jar, so it's not sanitary. I make sure to wash my hands before I dip my fingers into the jar anyways. Maybe they should change the packaging of this product into a tube instead. That would make it a lot easier to use the product. Just a thought. Overall, my experience with this cream has been good. I like how it helped with skin dryness, itchiness, and just made my skin feel calm and soothes it. I love that there's no fragrance to this cream. It doesn't smell like anything. Amazing. Wow, I'm falling in love with this snail cream once again. It's super effective.
A jar of snail slime! 🐌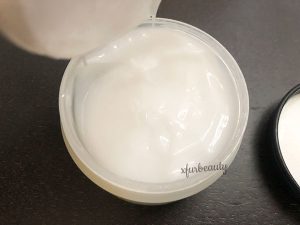 Pros & Cons
✅ Pros
Contains 92% snail mucin and hyaluronic acid
Super moisturizing
Leaves the skin feeling soft and nourished
Great nighttime moisturizer
Absorbs into the skin nicely
Results the next morning
❌ Cons
May cause breakouts if you're prone to breakouts (face)
Comes in a jar
Difficult to retrieve product from jar due the sticky texture of the product
Conclusion
I didn't think I would like this snail cream this time. But I was so happy when I noticed that the skin on my neck wasn't itchy anymore. Also, my skin became super soft, smooth, and just so nourished. I haven't broken out in a rash with this product. Amazing. I have a very sensitive neck, and it seems like it can only tolerate gentle facial products and not products made for the body. I like the results I'm seeing, so I'm going to continue to use this cream. I love it so far! I highly recommend trying it out if you're interested!