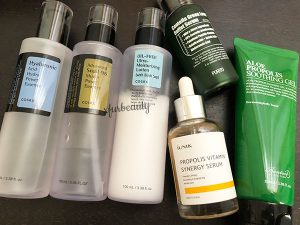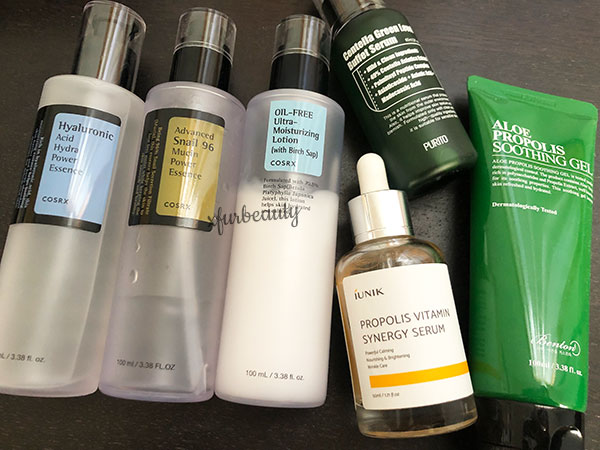 I just finished a month of tret. I thought I would be able to continue on with treatment. But that's not the case. My skin is feeling worn out. It feels thinner. There's a lot of dead skin stuck on my face. My skin is itchy even though I use moisturizers. Yes, more than one moisturizer! These are the best moisturizers I can get without causing breakouts. So, I think it's time to take a break once again. I'm not sure when I'm going to use tret again. Maybe by the end of the week or next week. Or, I might even use it only 2-3 times a week. I don't know yet. I'll have to see how my skin is doing and if it'll be able to tolerate tret. Right now, my overall skin condition looks pretty good. I have only a few pimples. They wouldn't budge until I stopped using tret. Perhaps my skin was just over-exfoliated. That's what it seems like.
This is what I'm doing right now while on my mini break. I've eliminated acids. This includes any ahas, bhas, and vitamin c. And you know what's weird? My blackheads disappeared when I stopped using these products. I wonder if one of these products are causing the blackheads too (along with Cosrx Ultimate Nourishing Rice Overnight Spa Mask, which I stopped using regularly). I love the Cosrx Rice Mask. It's still in my skin care routine. I only use it when my skin is really dry or when I wear makeup. It helps to minimize flaky skin due to its awesome moisturizing properties. It's the closest thing I can get to moisturized skin without breaking out in cystic acne. Using it once in a while doesn't do any harm. So, back to the blackheads, I don't have any anymore. Hmmmm!
Here are the products I'm using during this break. It's mainly moisturizing skin care products to heal and hydrate my skin…
Cosrx Hyaluronic Acid Hydra Power Essence:
It's still a staple in my routine! This essence is such a life saver! Still, not the most moisturizing, but it hasn't broken my out. Yay! I'm just very happy that I found it. With this essence, I don't use it on damp skin. I tried it and had issues with it being too hydrating. I ended up with blackheads. Yeah, my skin doesn't like too much moisture. It makes my skin worse even though I do enjoy the feeling of moisturized skin.
Cosrx Advanced Snail 96 Mucin Power Essence:
Next up, Cosrx Snail Essence has been working for me. Shockingly! I started using it twice a day, and it has improved the quality of my skin. It's much more moisturizing compared to the Cosex Hydra Power Essence. But since I mix the two essences, it does wonders for my skin. I love them both! But the snail essence is really amazing stuff. I highly recommend it!
iUNIK Propolis Vitamin Synergy Serum:
I didn't think I was going to use the iUNIK Propolis Vitamin Synergy Serum twice a day, but I had to. My skin was calling out for moisture, so I tried it. WOW, it worked! It left my skin even more moisturizing compared to the Cosrx Hydra Powder Essence and Cosrx Snail Essence. My skin feels so soft and looks brighter! And it hasn't caused breakouts (yet). I hope it stays this way because this has been a game changer in my routine. I'm seeing results in terms of moisture.
Purito Centella Green Level Buffet Serum:
This is one of my favorite serums so far. It's not that moisturizing (can feel drying on the skin), but it helps with skin texture and skin smoothness. My skin feels and looks softer when using it. It sinks into the skin nicely. There's a lot of skin goodies in this product, which I love! Calms my skin when it's red and hasn't caused any breakouts. It's been a little over a month now…
Benton Aloe Propolis Soothing Gel:
I'm not sure how I feel about Benton Aloe Gel. It's not that moisturizing, can sting if skin is over-exfoliated, and doesn't do much for the skin. It's OK, since it doesn't break me out. I guess I can just continue to use it. See how it goes. Who knows. I might see some changes in the future, lol.
Cosrx Oil-Free Ultra-Moisturizing Lotion (with Birch Sap):
I've fallen in love with Cosrx Oil-Free Ultra-Moisturizing Lotion (with Birch Sap). Once I stopped using the Cosrx Rice Mask, the breakouts diminished. So, it looks like Cosrx Birch Sap is working for me. It moisturizes (as much as it can, much better than my other hydrating/moisturizing products), leaves my skin looking smooth, and doesn't clog my pores. I'm crossing my fingers that it doesn't break me out because I would be devastated. It's the only moisturizer that has worked, and I've tried a lot of skin care products. I really don't feel like searching for a new moisturizer, haha!
Hopefully I can get back on tret soon. My acne has improved so much after so many years of trying to clear up my skin. That's something I'm very happy about. Finally! 🙂 But it hasn't been a smooth journey. I'm just really happy and excited to see results. And hopefully continue to see results! 😊
⭐ If you missed out on my posts on moisturizers…
Finding the Perfect Moisturizer & What I Use!
⭐ If you missed out on my previous experience with tret…
My experience with tret the first week…
After 1 Month on Tret + Skin Care Routine. Here are My Results.
2 Months on Tret. My results. 🙂
Back to tret! 1 Week Results & My Skin Care Routine. Did it work? 🤔
Categories:
Tags:

Acne Prone Skin, Acne Skin, Beauty, Benton, Benton Aloe Gel, Benton Aloe Propolis Soothing Gel, Buffet Serum, Centella, Cosrx, Cosrx Advanced Snail 96 Mucin Power Essence, Cosrx Hyaluronic Acid Hydra Power Essence, Cosrx Oil-Free Ultra-Moisturizing Lotion (with Birch Sap), Dry Skin, Experience, Hyaluronic Acid, Hydrating, Hydrator, iUNIK, iUNIK Propolis Vitamin Synergy Serum, Moisturizer, Moisturizers, Oil Free Moisturizer, Oily Skin, Propolis, Propolis Serum, Purito, Purito Centella Green Level Buffet Serum, Review, Skin Care, Skin Care Products, Skincare, Snail, Snail Essence, Tret, Update