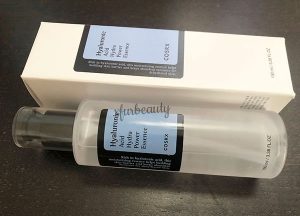 After I discontinued Cosrx Advanced Snail 96 Mucin Power Essence, I needed a moisturizer or something that hydrates my skin just a little bit. I just needed something to prevent my skin from drying out. I decided to give Cosrx Hyaluronic Acid Hydra Power Essence another chance. Out of all of the moisturizers and hydrators that I have, I didn't want to purchase a new one just yet. I didn't know what I wanted to try next anyways, so I settled on what I have. It turned out to be Cosrx Hyaluronic Acid Hydra Power Essence. I still have a couple of bottles of this essence left. So I've been using it for about a week already. Here are my thoughts and results!
This essence isn't as sticky compared to the Snail Mucin Power Essence. It does have a sticky feeling to it when dispensed from the bottle, but it's not too bad. The essence isn't runny. It's in between a liquid and gel. Feels soft in texture and smooth. I dispense about 1-2 pumps depending on how dry my skin is. I'm trying to aim for 2 pumps. Sometimes I think it's a little too much. haha. But this essence absorbs into the skin very well. After it sinks into the skin, it feels like nothing was applied to the skin. It leaves the skin feeling hydrated, but it feels very lightweight at the same time. If you have very dry skin, this won't keep the skin moisturized. It's very much a lightweight hydrator. You might need something heavier.
Since I have issues with moisturizers, this is good enough for now. I can't really complain because my skin looks awful without a moisturizer. It appears wrinkly and really dry. Ugh, I rather have this than nothing at all. But, it seems like it's doing something for my skin. My skin doesn't look super dry anymore, but I don't think it's the best hydrating product out there. Like I said, it's very hard to complain about it, since I have trouble finding a good moisturizer for my skin type that's picky and breaks out from everything. Maybe soon I'll find a moisturizer that actually keeps my skin more moisturized and looking soft and supple. This is good enough for now.
As for breakouts, I was worried about getting clogged pores. I haven't noticed any breakouts after 1 week of use. My skin looks pretty good. If it continues to work the way it is, this might become a staple in my skin care routine. So far, it's not too bad. It's much better than the Snail Mucin Power Essence. If you're wondering, between the two, the Snail Mucin Power Essence is more moisturizing. I think that's where the problem is for my skin. It's just too moisturizing. So, the Hyaluronic Acid Hydra Power Essence seems to work better on my skin. I'm not too ecstatic about it, but my skin feels so much better using it. I just wish I could find something that provides more moisture. All is good so far.
For more reviews on Cosrx skin care products 👈🏻
Categories:
Tags:

Beauty, Cosrx, Cosrx Hyaluronic Acid Hydra Power Essence, Essence, Hyaluronic Acid, Hydrating, Moisturizer, Moisturizing, Review, Skin Care, Update