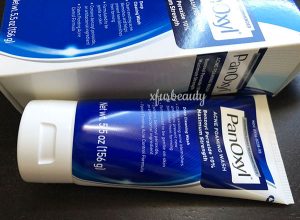 Here's an update on PanOxyl Acne Foaming Wash! I've been using it for goodness knows how long. It feels like forever. It's been my facial cleanser since last year. I've switched between the Acne Foaming Wash and Acne Creamy Wash. Between the two, my skin much prefers the Acne Foaming Wash. It's that oily skin that I have. The Acne Foaming Wash isn't drying at all on my skin (as of late), which is a good thing, but there's more to this face wash that I want to talk about (keep reading!!). Meanwhile…the Acne Creamy Wash doesn't do much for my skin. It's too moisturizing for my skin type. I think it's better for someone with dry or normal skin. I only used it when my skin felt super dry from my acne treatments. But, I haven't had that problem lately. I stopped using it because I simply don't need it. Plus it's not doing anything for my skin. I need a facial cleanser that actually leaves my skin feeling clean. I have excess oil on my facial skin that needs to be removed. The Acne Creamy Wash wasn't cutting it.
So I've been having second thoughts about PanOxyl Acne Foaming Wash. After going through many tubes of this product, it looks like the 10% benzoyl peroxide in the product has very little to no effect on my acne. I love benzoyl peroxide. It's amazing stuff for acne. I've used it for so many years on and off. But this face wash isn't doing what it's supposed to do. On the packaging it says that it'll clear existing acne and helps to prevent new breakouts from forming. Nope, didn't happen. Not for me at least. Treats acne on the face and the body. That didn't happen either. Benzoyl peroxide is an effective ingredient for acne. I have a bottle of benzoyl peroxide gel that I use to spot treat my acne when necessary. It works. But this face wash did absolutely nothing for my acne. I tried leaving it on my skin for a few minutes too. I even tried leaving it on for 5 minutes. No results. It's just like any other facial cleanser. It's good at cleansing the skin, but it's not good at treating acne. Well, it didn't work on my acne-prone skin.
At the moment, I'm trying to finish up my PanOxyl facial cleansers (both of them, lol). In the meantime, I'm using Neutrogena Hydro Boost Exfoliating Cleanser as my main cleanser. It's all that I have that (I guess) works on my skin. Just for now, I mean. Even though it contains AHAs like glycolic acid and lactic acid, it hasn't dried out my skin or irritate it. It's a pretty moisturizing facial cleanser like it's advertised as — a hydro boost exfoliating cleanser. Maybe my skin is just so oily that it can handle it. At the same time, it's good at removing excess oil without drying my skin out. It hasn't done much for my acne though. I find the AHAs in this product useless. It's not left on my skin long enough just like how the benzoyl peroxide in PanOxyl facial cleansers isn't left on my skin long enough to have any effect on my acne. It's quite a disappointment. I wished it would have some positive effect on my skin. So I think I'm going to use this face wash until I find something else that's better for my skin. It works for the time being.
Read more on PanOxyl Facial Cleansers and Neutrogena Hydro Boost Exfoliating Cleanser here:
PanOxyl Acne Creamy Wash (4%) vs Acne Foaming Wash (10%)
Review: Neutrogena Hydro Boost Exfoliating Cleanser
Categories:
Tags:

Acne, Acne Care, Acne Face Wash, Acne Prone Skin, Acne Skin, AHA, Beauty, Benzoyl Peroxide, Blemishes, Dry Skin, Exfoliating, Exfoliating Cleanser, Experience, Face Wash, Glycolic Acid, Lactic Acid, Lifestyle, Neutrogena, Neutrogena Hydro Boost, Neutrogena Hydro Boost Exfoliating Cleanser, Oily Skin, PanOxyl, PanOxyl Acne Foaming Wash, Results, Review, Skin Care, Update