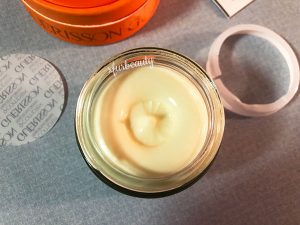 I decided to stop using horse cream this morning. This cream (GUERISSON 9 Complex Cream) has done wonders for my skin. It deeply moisturized, helped to minimize dry skin and flakes, strengthened my skin, made it look more vibrant and elastic, and simply made it look wonderous. I think it helped with fine lines and wrinkles as well! I noticed that my skin appeared more bouncy, glowy, and more plump! My skin looked softer and smoother while using this cream! I truly loved the results! All of that is great, and I wish I could continue to use the cream, but all good things must come to an end. Well, that applies to this cream. 😢 This is what happened…
After nearly 2 weeks of using this cream, I noticed clogged pores on my forehead and nose (t-zone area). I didn't notice any breakouts anywhere else. So, they were mainly in my oily areas. I think this cream is making my skin more oily and sealing in that moisture that it's providing including my natural sebum. Honestly, I think the problem is how this cream has too much of a silicone feel to it. It contains dimethicone, cyclopentasiloxane (not once but twice!), and beeswax. Beeswax might've been a big issue. I don't use any other skin care products with this ingredient (not that I know of) because it clogs my pores. It didn't feel like the cream ever fully absorbed into my skin. It sat on my skin, so to speak. Yeah, I just took the risk and tried out the cream, lol. It also contains oils, such as Bixa Orellana Seed Oil, Jojoba Seed Oil, and Soybean Oil. And of course, horse fat/oil. So, it's not a very oily skin-friendly product. Still, I went forth with the cream. hah.
So, the results were spectacular until my skin started to get bumpy. I'm just glad that the clogged pores aren't all over my face. It's just in a few spots. They should clear up after a few days of discontinuing the cream. Currently, since I'm not using it on my face anymore (very disappointed!!!), I'll use the rest of the cream as an eye cream and neck cream, which was essentially what I was doing before. Wow, it was just too good to be true. 😭 Well! On to something that's more suitable for my skin type!
Trying Horse Cream for the First Time. My Experience!
My Results After Using Horse Cream on My Face for a Night!
Tonight's Results From Using Horse Cream.
Categories:
Tags:

Acne, Acne Prone Skin, Acne Skin, Anti-Aging, Beauty, Experience, Face Cream, Facial Cream, Fine Lines, GUERISSON, GUERISSON 9 Complex Cream, Horse Cream, Horse Oil, Moisturizer, Niacinamide, Night Cream, Night Moisturizer, Review, Shea Butter, Skin Care, Skincare, Update, Wrinkles