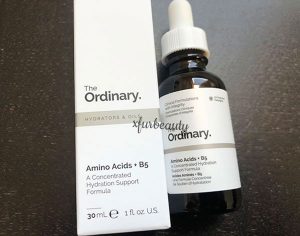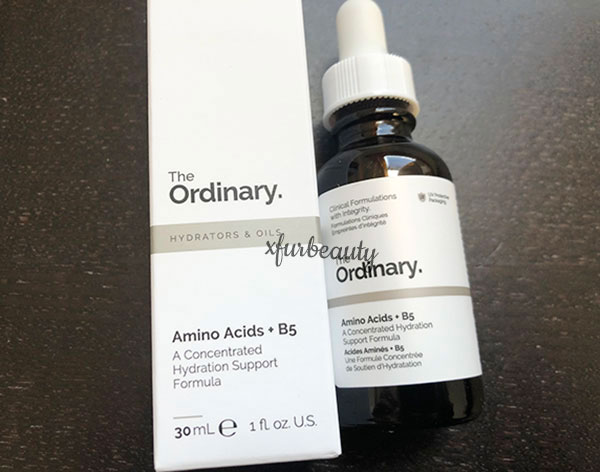 I decided to give The Ordinary Amino Acids + B5 another try. Yeah, I've been trying out a ton of my previous skin care products. I feel like my skin care routine is growing, but at the same time, my skin has improved so much! It looks so soft and more youthful. I'm loving the results! This time, I'm having major success with all of the skin care products I have tried so far! It's amazing! So last night, I randomly thought I would give one more The Ordinary product a chance after using it to moisturize my body. I mean, it's a tiny bottle (1 fl. oz.). I was using it on my body to use it up, but I thought I would just try it on my face again to see if it works. Other skin care products I've tried again from The Ordinary are…
The Ordinary Argireline Solution 10%
The Ordinary Matrixyl 10% + HA
They're both working for me. I haven't noticed any clogged pores from them. Insane! I know! 👏🏻
The first night of using The Ordinary Amino Acids + B5 wasn't bad at all. It's a lightweight watery serum that soaks into the skin quickly. It didn't leave my skin feeling greasy, oily, or sticky. It feels like I'm applying water to my face. So what's so special about this serum? Well! Let's take a look at the ingredients! Here's the ingredient list!
Water, Propanediol, Betaine, Sodium PCA, Panthenol, Sodium Lactate, Arginine, PCA, Aspartic Acid, Glycine, Alanine, Serine, Threonine, Valine, Proline, Isoleucine, Lysine HCl, Histidine, Phenylalanine, Glutamic Acid, Citric Acid, Dimethyl Isosorbide, Polysorbate 20, Trisodium Ethylenediamine Disuccinate, 1,2-Hexanediol, Caprylyl Glycol.
I wonder why it didn't work the other times I used it? Hmmm! lol. I'm using products that contain propanediol without any issues this time. But this serum contains 17% amino acids, which includes amino acid derivatives and 5% vitamin B5. It's supposed to help with dryness, fine lines and wrinkles, and loss of firmness and elasticity. It does feel hydrating when applied to the skin, but the hydration doesn't last for too long. It feels like a very watery, lightweight hydrating serum that can be used in combination with other moisturizing skin care products. It won't solve your dry skin issues but nice to have in a routine. I really wonder if it'll work for fine lines and wrinkles. How about firmness and elasticity? Only time will tell.
So I woke up this morning without any breakouts, but I did notice some dead skin peeling from my face. I'm not sure if it's because of the serum or the horse cream I've been using. That cream has been godsend!! Go to the link provided to read more about my experience with it! With The Ordinary Amino Acids + B5, I didn't have any issues using it this morning either. I'm not sure what's going to happen later on tonight. But, so far, it's been working just fine. No breakouts, no skin irritation, no redness, nothing. Here to another skin care product that may make it's way into my skin care routine!! Absolutely no problems after using it twice! Wish me luck!
Maybe The Ordinary isn't so bad after all…
Categories:
Tags:

Acne, Acne Skin, Amino Acids, Amino Acids + B5, Anti-Aging, Anti-Wrinkle, Beauty, Experience, Facial Serum, Lifestyle, Moisturizing, Review, Skin Care, Skincare, The Ordianry, The Ordinary Amino Acids + B5, Vitamin B5, Wrinkles