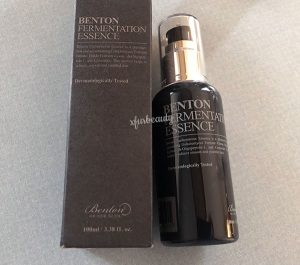 I thought I would NEVER use Benton Fermentation Essence ever again. I even said so myself. I remember being so upset about the breakouts I got from it. But maybe things have changed this time. My skin has been the clearest ever and some of the products I have in my routine right now caused me problems before but are working just fine for me now. A few of these products off of my mind are…
Cosrx Advanced Snail 96 Mucin Power Essence
iUNIK Propolis Vitamin Synergy Serum
iUNIK Black Snail Restore Serum
Hada Labo Gokujyun Premium Lotion
Don't forget to go check them out! Also…
👉🏻 If you missed out on my moisturizers update click here!!
So these skin care products haven't clogged my pores at all. I was even able to finish a bottle of the Cosrx Advanced Snail 96 Mucin Power Essence and iUNIK Black Snail Restore Serum without any issues. It's pretty amazing how things have changed so much after leaving veganism. My overall complexion just looks so much better and healthier. It's healing at a faster rate. Breakouts? What breakouts?? I'm just kidding. I still get a few breakouts here and there, but they are easy and simple to treat. It makes me so happy knowing and visually seeing that my skin doesn't look so dead and dull anymore. It aged backwards! Who would've known?? It has life in it again. 😊
My Experience Using Benton Fermentation Essence for the First Time at Night
The essence feels the same to me as before. It's a runny essence that shoots out from the pump straight. I still think the pump applicator is still annoying, haha. They need to fix that. I have to make sure I aim the pump into the palm of my hand so the product doesn't get everywhere. I dislike wasting product when it gets everywhere. The essence feels lightweight and moisturizing on my facial skin. It feels very soft, silky, and smooth. It's a very nice essence to use. The application is very enjoyable for daily use. It simply just hydrates the skin on the spot and sinks into the skin very well. It doesn't leave any sticky residue behind. Just leaves the skin feeling softer and feeling pampered. It has this silkiness to it that feels so luxurious. I really liked the overall texture and consistency of this essence. It just feels so amazing on the skin. But let's see what happened the next morning!!
My Results the Next Morning…
The next morning, my skin felt very soft and smooth. I'm not sure if it's from the essence or my other skin care products. I am using a much heavier, richer, thicker moisturizer/face cream right now. It's been doing wonders for my skin! I think the Benton Fermentation Essence added a softer touch to my skin. This essence contains galactomyces ferment filtrate and bifida ferment lysate. When I first broke out from it, I thought these ingredients could be the cause of my breakouts, especially the galactomyces. But let's see if they're truly the cause of my clogged pores tonight! My skin broke out from this essence after using it twice the last time I used it. Other ingredients in this essence includes ceramide np (love!!!), aloe barbadensis leaf extract, betaine, panthenol, allantoin, sodium hyaluronate, peptide, adenosine, and a bunch of other extracts. The list of ingredients is pretty straight forward and not too lengthy. It doesn't seem like my skin should have any issues with any of these ingredients, but we'll have to see. I'm just hoping it'll all work out in the end. 🤞🏻
I'll make another update soon. Stay tuned! 😊
Interested in other Benton skin care products?? Don't ever miss out!! 👌🏻
Benton Snail Bee High Content Essence
Benton Aloe Propolis Soothing Gel
Categories:
Tags:

Acne, Acne Skin, Aging Skin, Anti-Aging, Anti-Wrinkle, Beauty, Benton, Benton Fermentation Essence, Bifida, Breakouts, Essence, Experience, Ferment, Fermentation Essence, Fine Lines, Galactomyces, Moisturizer, Review, Reviews, Skin Care, Skin Care Product, Skincare, Wrinkles