Aug. 18, 2020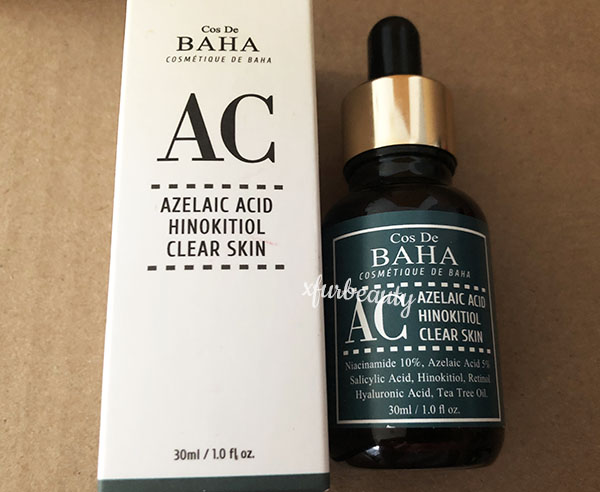 I purchased a new serum from Cos De BAHA. It's the 'clear skin' serum. I thought I would give it a try, since I love their other serums. And they don't cause my skin to breakout. The clear skin serum contains ingredients, such as azelaic acid, hinokitiol, niacinamde, salicylic acid, retinol, hyaluronic acid, and tea tree oil. It's a combination of acne-fighting ingredients.
I've used it twice — last night and this morning. The bottle does say to use 1-2 drops at night. It didn't dry out my skin at all after a night of use, so I thought I would use it this morning too. Once again, no drying effect. BUT, the one thing that bothered me is the smell of the product. It's horrible. It does fade away, but it takes time for it to go away.
As for the results, I haven't noticed much after using it twice. I will continue to use the serum on days I don't use BP. I'm not sure if I'll continue to use the serum in the morning or not. If it doesn't dry my skin out, sure, I'll go for it. Well, I hope it works! Or, at least helps with the clogged pores. I will make an update when I notice results, or when I'm at least halfway through the bottle. 🙂
Categories:
Tags:

Acne, Acne Prone Skin, Acne Skin Care, Azelaic Acid, Beauty, Breakouts, Clear Skin, Clear Skin Serum, Cos De BAHA, Cos De BAHA Acne Serum, Cos De BAHA Skin Care, Facial Serum, Niacinamide, Review, Skin Care, Skin Care Routine, Skin Care Tips, Skincare, Tea Tree, Tea Tree Oil, xfurbeauty, xfurbeauty blog
May. 9, 2020
Leave a comment
Here's an update on the elf Acne Fighting Foundation. I've done a review on this foundation before in the past. Check it out below:
Review: elf Acne Fighting Foundation
NEW REVIEW:
I've used the elf Acne Fighting Foundation for less than 7 days now. Somewhere around there. I still hate the coloring of the foundation. It's definitely orange. Using my BB Cream on top didn't help much. My skin looked freaking orange. YUCK! 😢😭Yeah, the orange-tinge it gave my skin was cringey too. I don't think anyone wants to look like an oompa loompa or look like they have a bad tan. lol.
As for breakouts, did it break me out?
This is an interesting question. The purpose of elf Acne Fighting Foundation is to help fight acne (what the foundation is called). With this foundation, I noticed tiny little clogged, filled in pores after using it. I developed a new irritated pimple on my jawline too. I really do think it could be the amount of silicones in this product that my skin doesn't like. It seems like it's trapping oil in my pores and causing me skin issues like acne. I love how silicones make my skin look but not when it's making me break out in acne. So if you have acne-prone skin, be aware of that. Just because it's made for 'acne', doesn't mean it'll work for you. I had to stop using this foundation ASAP.
I wouldn't recommend this foundation to acne-prone skin people. I won't buy it again due to the reasons above. I did make an update on my makeup routine. <<< Just eliminate the elf Acne Fighting Foundation from my routine. 😊
P.S. elf is a vegan and cruelty-free brand. 🙂
Categories:
Tags:

Acne Foundation, Acne Prone Skin, Acne Skin, Blemishes, Breakouts, Does it Work, elf, elf Cosmetics, Face Makeup, Foundation, Life, Lifestyle, Liquid Foundation, Makeup Routine, Porcelain, Review, Update