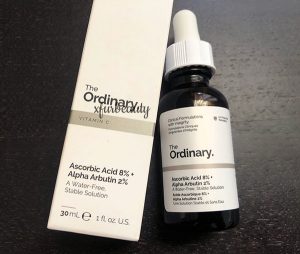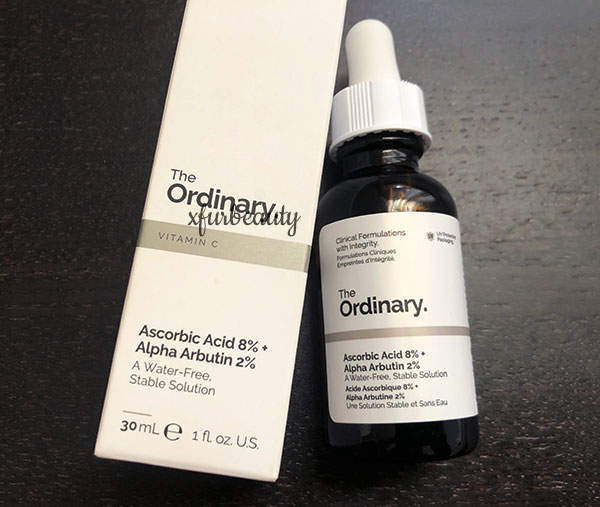 I used The Ordinary Ascorbic Acid 8% Alpha Arbutin 2% this morning! I didn't think I would try this serum again due to what it did to my skin. I remember it being oily on my skin, and I simply did not like the product overall. So why am I using The Ordinary Ascorbic Acid 8% Alpha Arbutin 2% again?? Currently I'm using other The Ordinary skin care products without any issues, such as…
The Ordinary Argireline Solution 10%
The Ordinary Matrixyl 10% + HA
The Ordinary Amino Acids + B5 (new update coming soon!)
It seems like The Ordinary may not be the problem. Well, the ones I'm using are not. I haven't noticed any clogged pores or blackheads. I'm using them with success, and I'm loving the results, especially for the price of the products. It's pretty amazing!
Now back to my update on The Ordinary Ascorbic Acid 8% Alpha Arbutin 2%!!
This serum still feels oily. I was put off by it, but I used it anyways, haha. Who knows what might happen! I just hope my skin doesn't break out from it. *fingers crossed* So this serum took a few minutes to absorb into the skin. I waited for it to sink into the skin, which it semi did, lol. But fortunately it worked well with my other skin care products. I didn't experience products rolling off of my face. Everything layered on just fine. I was able to go throughout the day without any pilling. Everything worked out well. As for results, I can't tell yet. I just started using it. So how the product feels and goes on the skin is all I can say. Nothing else happened by night. My skin didn't feel dry from the serum. It seems to be working well with my skin so far. I'm going to start using it in the morning and night to help fade some acne marks I've been battling for quite some time. They're really stubborn. I hope The Ordinary Ascorbic Acid 8% Alpha Arbutin 2% does something for them. It also contains alpha arbutin along with ascorbic acid to help with discolored skin and post-inflammatory hyperpigmentation. Hopefully it helps to brighten up my complexion too!
That's all for tonight! Stay tuned for my updated review on The Ordinary Ascorbic Acid 8% Alpha Arbutin 2%! I can't wait to see what's going to happen. After experiencing positive effects and results from other The Ordinary skin care products, I'm looking forward to and ecstatic to see results! See everyone in the next update! 😃
Categories:
Tags:

Acne, Acne Marks, Acne Scars, Alpha Arbutin, Anti-Aging, Anti-Wrinkle, Ascorbic Acid, Beauty, Brightening, Brighter Skin, Experience, Facial Serum, Lifestyle, Review, Skin Care, Skin Care Products, Skincare, The Ordinary, The Ordinary Ascorbic Acid 8% Alpha Arbutin 2%, The Ordinary Skin Care, Update, Vitamin C, Wrinkles