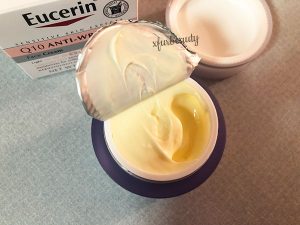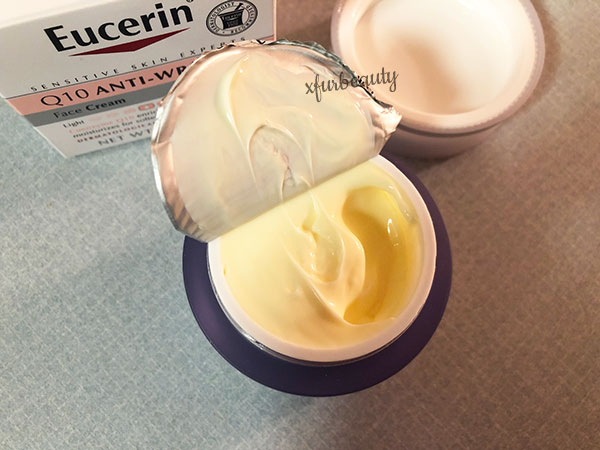 It's been almost 3 months on tret. During the first week, I only used tret 3 times. I thought I would give my skin a break, but then I found a moisturizer that moisturized my skin even better. That moisturizer is Eucerin Q10 Anti-Wrinkle Face Cream. That's when I started using tret every night. My skin just felt so much better. Super moisturized. It healed faster too. My skin looked so glowy and pretty. I'M IN LOVE!! 🥰 So having a good moisturizer while using tret is very important. But it's difficult to find one that works without clogging pores when you're acne-prone. I'm glad I gave Eucerin Q10 Anti-Wrinkle Face Cream another chance. It saved my skin!
Even with a good moisturizer, did tret help with leftover acne that I had? NOPE! Not at all! I'm really disappointed in tret when it comes to acne. At one point in my life, it cleared up my acne. Now, not even close. It did help with my skin texture though. My skin looks smoother, but it's not that smooth because of it. Sometimes tret makes my skin feel and appear drier even with a moisturizer (or with layers of moisturizers, haha!). It makes it more difficult to wear makeup properly, especially accentuates dry skin but also fine lines and wrinkles. Also, I dislike how tret thinned out my skin by a ton. Ugh! I think it made my skin look worse! 😭 It's supposed to be improving my skin. 😡😡😡!!
SO! I'm not going to rely on tret to get rid of my acne anymore. Yep, it's time to move on to other acne treatments to fight against these pesky little blemishes. I'll probably use tret a few times a week at most since I still have it. I'll just play it by ear. But I feel like my tret journey has come to an end. I don't care much for it anymore. It's whatever to me. So, during the third month, I tried some new skin care products and reintroduced some of my previous skin care products into my routine once again. Let's take a look at them first. Next, I'll talk about what helped with my stubborn, annoying acne. You know, how I actually got rid of them. And, no, once again, it's not tret that helped get rid of my acne. I wished tret did. hah!
Skin Care Products I Tried…
Here are some, I mean a bunch, of skin care products I tried. Some I liked. Some I liked but decided to not use them when I'm done with them. Some I don't care for. I'm going to share a few. There's just too many, but here are some of the skin care products that popped in my mind while writing this post. Read on! 🙂
Eucerin Q10 Anti-Wrinkle Face Cream: This is my main moisturizer right now. I don't think it has broken me out. I haven't noticed any clogged pores. It moisturizes my skin, but it's not the most moisturizing face cream I've tried. But, I think it's good enough, especially for my skin type. Seems like that's all my skin can take. I've tried more moisturizing and heavier creams that truly did leave my skin looking softer, glowy, and very moisturized, but they all ended up breaking me out. With Eucerin Q10 Anti-Wrinkle Face Cream, I'll keep an eye out for breakouts. It just feels too good to be true. heh.
Hada Labo Gokujyun Premium Lotion: Another moisturizer that I liked is Hada Labo Gokujyun Premium Lotion. This lotion is AMAZING! I'm so amazed how it leaves my skin feeling moisturized and looking extra bouncy and plump! And after all of that, it didn't clog my pores! Yes, I need to accentuate the fact that it didn't break me out! This lotion right here…I'm keeping it in my routine. I love it so far!! It's becoming one of my favorites once again! Highly recommended!
The Ordinary Amino Acids + B5: This was the third The Ordinary serum that I added into my routine. I was using it on my body but thought it would be a waste just using it on my body. It's a 1 flz. oz. (30 mL) serum bottle, why not try using it on my facial skin instead? My face is drier than my body, and it's more picky, so that's what happened. I decided to use it on my face. So far, I haven't had any breakouts from it (yet). I hope it works out, but I'm not sure if this serum is going to do anything for my skin. I remember it doing absolutely nothing for my skin in the past. But we'll see.
iUNIK Beta-Glucan Power Moisture Serum: This serum is a new addition to my skin care routine. It's more moisturizing compared to the other two serums from iUNIK that I have (and am using), which are the Propolis Vitamin Synergy Serum and Black Snail Restore Serum. If you're trying to find a serum that is super moisturizing, it'll be the Beta-Glucan Moisture Serum. I feel like this serum has made its way into my routine permanently, lol. I've only been using it for less than a week too. hah!
Son Bahyu Horse Oil: I haven't been using Son Bahyu Horse Oil for long, but I don't think my facial skin likes it. I stopped using it on my face after noticing some clogged pores. I think my skin just doesn't like 100% pure oils. I can't even use other oils, such as rosehip oil, jojoba oil, or even squalane oil. They all end up breaking me out. And it seems like horse oil is the same way. This is something I won't purchase again. And it's really pricey too for the size. I'm over it.
GUERISSON 9 Complex Cream: I only used this face cream (horse face cream) for a few weeks. After a few weeks, my skin broke out in clogged pores, acne. Once I stopped using it, my skin cleared up. But when I was using the cream, it made my skin look so good. It went from dry and noticeable wrinkles to a softer, smoother, glowy complexion after a day of use! I was shocked and so happy with the results! But, I don't think it's the horse oil alone that dramatically improved my skin. This cream has other skin care ingredients in it too like niacinamide, shea butter, peptides, and snail secretion filtrate that can do wonders for the skin. Am I going to purchase GUERISSON 9 Complex Cream again? Probably. I actually like it. I like it more than Son Bahyu Horse Oil, since it's in cream form with a bunch of other beneficial skin care ingredients.
Which Sunscreen Am I Using While on This Journey??
I'm still using the same sunscreen as I did before, which is Canmake Mermaid Skin Gel UV SPF 50+ PA++++. I've done a ton of updates on this sunscreen. Now here's my new update. 🙂 I stopped using Neutrogena Visibly Even Daily Moisturizer SPF 30. I had issues applying Neutrogena to my skin after layering on other skin care products on my face. The sunscreen would roll off of my face. Ugh, so annoying. So that's why I stopped using it and am using Canmake Mermaid Skin Gel UV SPF+ PA++++ instead. It sits on the skin well and doesn't roll off of my skin. It works well with my other skin care products. But, I'm noticing new freckles while using this sunscreen. Sometimes I reapply if I can. The thing is, I'm hardly out in the sun, and I'm still getting freckles. *sigh* I think I'm just bound to get freckles no matter what. With Canmake, even though I like it. I mean, it's better than what I have tried so far. I find Canmake to be drying on the skin even though I wear moisturizer underneath. I guess ya can't have it all. I'll stick with it until I find a better sunscreen. I'm not saying this sunscreen is bad. I'm just keeping the door open for a better sunscreen if it exists, lol.
How I FULLY Cleared My Skin
I've been on tret for so long trying to clear my acne, and it didn't seem to work at all over the years. I've tried other acne treatments too. Nothing worked. I didn't think THIS was the cause of my terrible acne, but turns out that it is. What made my skin so terrible for years was in fact my vegan diet. Yep, it was. I started eating meat just 2 months ago (now nearing 3 months, and my skin is CLEAR! Well, most of the acne is gone. Not only has my acne diminished drastically, my skin looks more youthful and vibrant. It's insane how much my skin changed within those 2 months. Unbelievable!! All of those skin skin issues that I had was linked to the vegan diet. But who knew, right? You can read more about my health issues on a vegan diet right here. It's been a long battle and the battle is finally over. No more bumps all over my face! I'm able to fight against my acne much easier than before. I'm so happy how much my skin has transformed by just going back to my normal diet. My vegan years has officially ended. It did nothing but made me unhealthy over time. Now it's time to move on for the better!
My tret journey has officially ended also. It's not the answer to acne problems. I've been using other skin care products to maintain a pimple-free complexion. I'll share what I'm using in another post. I hope this update was helpful. Thank for your time and reading. Have an amazing dayyyyyyyyyyyy!! 🌞
Horse Cream Experience:
Trying Horse Cream for the First Time. My Experience!
My Results After Using Horse Cream on My Face for a Night!
Tonight's Results From Using Horse Cream.
I Stopped Using Horse Cream. What Happened?
My Galactomyces Experience!!
I Used Benton Fermentation Essence Last Night. This Is What Happened.
An Update on Benton Fermentation Essence. Did It Clog My Pores??
An Update on Cosrx Galactomyces 95 Tone Balancing Essence!
My Thoughts on Purito Galacto Niacin 97 Power Essence!
⭐ If you missed out on my previous experience with tret…
My experience with tret the first week…
After 1 Month on Tret + Skin Care Routine. Here are My Results.
2 Months on Tret. My results. 🙂
Back to tret! 1 Week Results & My Skin Care Routine. Did it work? 🤔
A break from Tret & What I'm Doing Now
Surprise! Back on tret + Other Acne Treatments for Clear Skin. 🙂
2 Month Tret Update. Is It Working??!! + Other Products I'm Using 🙂
Categories:
Tags:

3 Month Update, 3 Months, Acne, Acne Skin, Acne Skin Care, Anti-Aging, Beauty, Blemishes, Breakouts, Brighter, Clear Skin, Experience, Journey, Lifestyle, Pimples, Review, Skin Care, Skin Care Products, Skin Care Routine, Skin Care Update, Skincare, Tret, Update, Vegan, Vegan Diet, Wrinkles