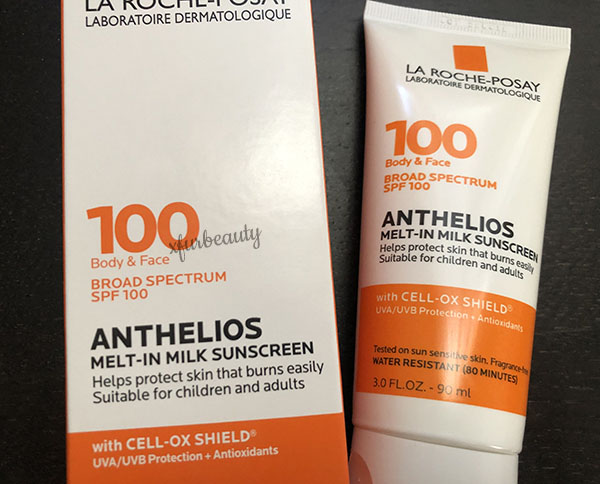 I have a new sunscreen! 😎 I picked up another La Roche-Posay sunscreen. It's the La Roche-Posay Anthelios Melt-in Milk Face & Body Sunscreen Lotion SPF 100. I decided to go for SPF 100 instead of 50. Also, I decided to try a chemical sunscreen instead. I'm getting tired of the dryness and white cast from mineral sunscreens (in general). I love my zinc sunscreens, but the white cast is getting annoying for daily use, especially when my skin is dry and peeling. Everything gets magnified 10x more with mineral sunscreens. I can't use a sunscreen that gives off a white cast when I'm in a professional setting. It just looks awful and embarrassing. But it's a good choice if I'm at home lounging or going on hikes with friends. I don't care if I have a white cast at that point. haha.
So this sunscreen is a broad spectrum sunscreen for the face and body. It helps to protect skin that burns easily and is oxybenzone-free. It contains Cell-Ox Shield with UVA/UVB protection and antioxidants. Fragrance-free. Water-resistant (80 minutes). The filters in this sunscreen are Avobenzone 3%, Homosalate 15%, Octisalate 5%, and Octocrylene 10%.
I haven't used a 100% chemical sunscreen on my face for a while. I've been using a hybrid sunscreen and mineral sunscreen this whole year (so far). I had good results with La Roche-Posay Anthelios Body & Face Mineral Sunscreen Gentle Lotion. My skin didn't burn at all. It's the first time that I noticed that my freckles are fading and my skin just looks super amazing. Way better when I was using Canmake Mermaid Skin Gel UV SPF 50+ PA++++ by itself. But then, I've been reapplying sunscreen diligently and religiously. The fact that Canmake is not sweat or water-resistant may play a part too. I still like Canmake. It leaves my skin feeling silky, and I'm still using it because I can't seem to let it go! lol. The texture of the sunscreen is like no other! It'll work for winters but not for summers. It just doesn't hold up in hot, humid, sweaty weather. It just doesn't stick to the skin. So I hope to get good results with La Roche-Posay Anthelios Melt-in Milk Face & Body Sunscreen Lotion SPF 100! Hopefully no breakouts like the La Roche-Posay mineral sunscreen. Now on to my experience with La Roche-Posay Anthelios Melt-in Milk Face & Body Sunscreen Lotion SPF 100!
My Experience with La Roche-Posay Anthelios Melt-in Milk Face & Body Sunscreen Lotion SPF 100:
Texture & Application
This is a lotion (as it states on the bottle). The sunscreen feels thick when dispensed from the bottle. When applied to the facial skin, it feels soft and blends into the skin very easily. It just melts into the skin. They're not lying when they called this sunscreen 'melt-in milk'. It really does melt into the skin. The texture and consistency of the sunscreen makes it very easy to smooth the product across the facial skin. No tugging or pulling at the skin involved. Just smooth it over and blend it into the skin. I thought it was very easy to use. Even though the application is simple, the sunscreen doesn't seem to absorb into the skin quickly. It didn't on my skin, lol. It felt like some of the sunscreen absorbed and the rest just sat on top of my skin. Since this is a chemical sunscreen, there isn't a white cast, obviously. That's not something to worry about when it comes to chemical sunscreens. It wasn't streaky either. As I said earlier, it just melts into the skin when applied.
Moisturizing & Alcohol-Free
It's a moisturizing sunscreen. I was in awe how much it moisturized my skin, but my skin felt a little dry to begin with. It helped with dry patches and dry skin in general. Even though it felt moisturizing, I thought this sunscreen felt greasy on the skin. It's moisturizing, but it made my skin look more shiny, greasy, and oily. Keep in mind that I do have oily skin (can get dry sometimes), but my skin is naturally oily. I think this sunscreen would work much better for someone with naturally dry skin or normal skin.
I was looking through La Roche-Posay sunscreens and most of them had alcohol in them. This one in particular is alcohol-free. I prefer sunscreens that don't contain drying alcohols. My skin gets itchy, red, and super dry when I use skin care products that contain drying alcohols. Alcohol in skin care tends to accentuate every line on my face too. That's why I don't use skin care products with alcohol. I'm glad this one doesn't have it. The other sunscreen that use from La Roche-Posay doesn't have it either (La Roche-Posay Anthelios Body & Face Mineral Sunscreen Gentle Lotion).
Breakouts? Other issues?
I didn't notice any breakouts the first day, but I noticed breakouts on the second day. I developed one cyst, clogged pores, and a few more bumps. I didn't doubt the breakouts. Once I saw the acne, I rinsed the sunscreen off ASAP. I think this sunscreen is way too heavy and greasy for my skin type, which is oily and acne-prone. It just sits on top of my skin and suffocates it. 😭 I also noticed that this chemical sunscreen felt warmer on my skin compared to what I usually use (mineral sunscreen). It's just an observation. I could feel my face warming up after application. Maybe I'm not used to chemical sunscreens yet. I've been off of them for a while now (or my skin can't handle them, who knows). With this sunscreen, there were some other issues besides acne I should touch up on like my eyes burning and headaches. This sunscreen burned my eyes. I could barely keep my eyes open. I tried avoiding the eye area when applying and my eyes were still watery. It must be the fumes from this sunscreen. It just seeps into the eyes. I also noticed headaches. I started developing a migraine out of nowhere. I didn't link it to the sunscreen until I stopped using it. That's when my eyes stopped becoming watery and headaches disappeared. Seems like I just can't use this sunscreen on my face. I have no issues using it from the neck down or even on my ears. Just not my face.
Final Thoughts
I really liked the idea of this sunscreen. The texture of the product is soft and smooth. It's has a very nice consistency that just blends into the skin with little effort. It moisturized my skin and didn't accentuate dry skin or acne. SPF 100 is nice to have. But it's unfortunate that it caused acne, burning eyes, and headaches. The days using this sunscreen was pure torture. I couldn't take it anymore. It's just so irritating. I went back to my hybrid and mineral sunscreens. All of these issues just went away once I returned to my usual sunscreens. I really wished this one worked out for me, but it is what it is. I'm not going to keep using a product that irritates my eyes, skin, and gives me migraines. I'll be on the search for another chemical sunscreen that's more suitable for me. For now, I'll stick to what works (minerals).
If you missed out on my acne journey, be sure to check it out! 🙂
My Acne Journey: 3 Weeks Results!
My Acne Journey: 4 Weeks Results!
My Acne Journey: 6 Weeks Results…
My Acne Journey: 7 Weeks Results
My Acne Journey: 2 Months + 1 Week Results!
My Acne Journey: 2 Months + 2 Weeks!
My Acne Journey: 2 Months + 3 Weeks Results!
Categories:
Tags:

Acne, Acne Marks, Acne Scars, Acne Skin, Anti-Aging, Antioxidants, Beauty, Body Sunscreen, Cell Ox Shield, Experience, Face Sunscreen, Hyperpigmentation, La Roche-Posay, La Roche-Posay Anthelios Melt-in Milk Sunscreen Lotion SPF 100, Lifestyle, Oxybenzone Free, Review, Skin Care, Skincare, SPF, SPF 100, Sun Care, Sunblock, Sunscreen, Thoughts, UVA, UVB, Wrinkles