Oct. 2, 2020
I've had this for a while. It's the Bare Minerals Complexion Rescue Tinted Hydrating Gel Cream SPF 30. I was looking for a new bb cream to try. I know, it's not a bb cream. It's a tinted moisturizer. I feel like bb creams and tinted moisturizers overlap. They are pretty similar from my experience.
About Bare Minerals Complexion Rescue Tinted Hydrating Gel Cream SPF 30:
Skincare benefits infused with naturally radiant color in one easy step
Multi-tasking
Lightweight, skin-quenching gel cream smoothes on effortlessly with just the right amount of coverage
Reveals a dewy, healthy-looking glow instantly
Marine botanicals help hydrate and replenish thirsty skin
Mineral electrolytes help energize the skin
Select antioxidant help defend skin's appearance against environmental stressors
Non-chemical broad spectrum spf 30
Lightweight sheer-to-medium coverage
Clinically tested
Dermatologist tested
Hypoallergenic
No oils, silicones, parabens, fragrance
Review:
This tinted moisturizer dispenses out as a gel-cream (what the product states). It blends into the skin well. Definitely good for oily skin. I have oily skin, and it didn't leave my skin looking shiny. It made my skin appear nice and dewy. Gave my skin that healthy glow. It wasn't hydrating though as the product claims. My skin felt as if it needed moisture after application. As for the coverage, it didn't provide my skin any coverage. I mean, at all. Saying that it provides medium coverage is really pushing it. This tinted moisturizer would be good for someone with perfect skin. I've been using it on and off as a base only because it does nothing for my skin. I like the fact that it contains SPF, but I wear sunscreen underneath my makeup. I also have other bb creams with spf + coverage. I need something more. Something with actual coverage. Tinted moisturizers never do it for me. When I dispense the product out of the tube, it has color to it. But when I apply it to my skin, there's some color…but the color fades when I blend it into my skin and washes off. I thought this product was fairly useless, so I won't purchase it again. It's not worth the money to me. It's a no-go. On to the next!
Categories:
Tags:

Antioxidants, Bare Minerals, BareMinerals, Clincally Tested, Complexion Rescue, Cosmetics, Dermatologist Tested, Fragrance Free, Hydrating, Hypoallergenic, Life, Lifestyle, Makeup, Makeup Review, Moisturizing, Multitasking, Oil Free, Paraben Free, Review, Silicone Free, Skin Care, Skincare, SPF, SPF 30, Sunblock, Tinted Hydrating Gel Cream, xfurbeauty, xfurbeauty blog
Jun. 24, 2020
Leave a comment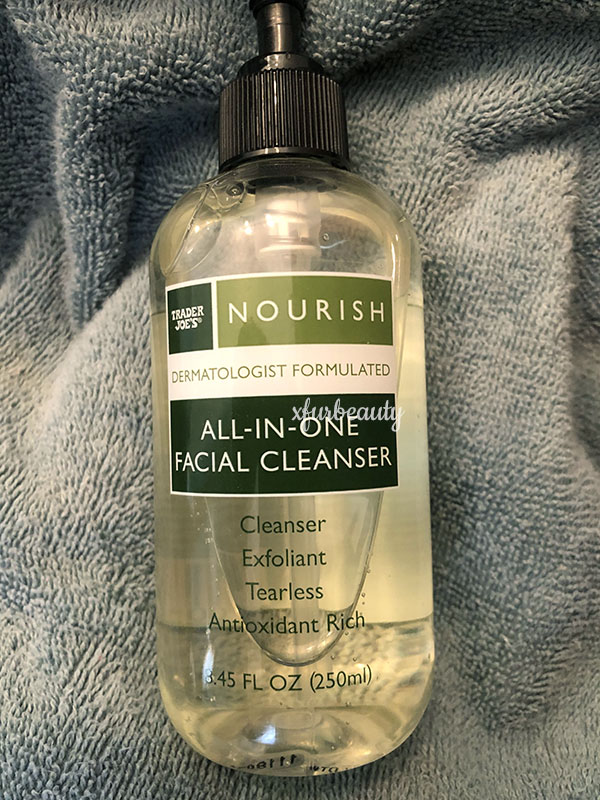 I have a new face wash!!!! 🙂 It's because the Trader Joe's Tea Tree Face Wash made my skin tingle and dried it out a bit. I needed something more gentle, especially when I'm on Tretinoin. So I picked up Trader Joe's Nourish All-in-One Facial Cleanser. More about this face wash:
All-in-One dermatologist formulated
Leaves skin feeling clean, smooth, and cared for
Gently washes away impurities
Antioxidant rich
Tearless
Exfoliant
Review:
I've been using this face wash ever since my skin became extremely dry and itchy. It's a gel cleanser. All you need is a single pump to cover the whole face. A single pump is a lot of product. It lathers up and rinses clean. It doesn't burn the eyes. Soft and gentle. Right now, this face wash feels good on my irritated, sensitive skin. I like it. But, I'll make an update in the near future. 🙂
Check out My Tretinoin Journey:
Beginning My Tretinoin Journey 🙂
My Tretinoin Journey: 1 Week Results!!
My Tretinoin Journey: 2 Weeks In!
My Tretinoin Journey: 3 Weeks Results
Categories:
Tags:

Acne, All in One Facial Cleanser, Antioxidants, Beauty, Cleanser, Cruelty Free, Exfoliant, Face Wash, Facial Cleanser, First Impression, No Animal Testing, Oily Skin, Review, Sensitive Skin, Skin Care, Tearless, Trader Joe's, Tretinoin, Vegan