Jun. 24, 2020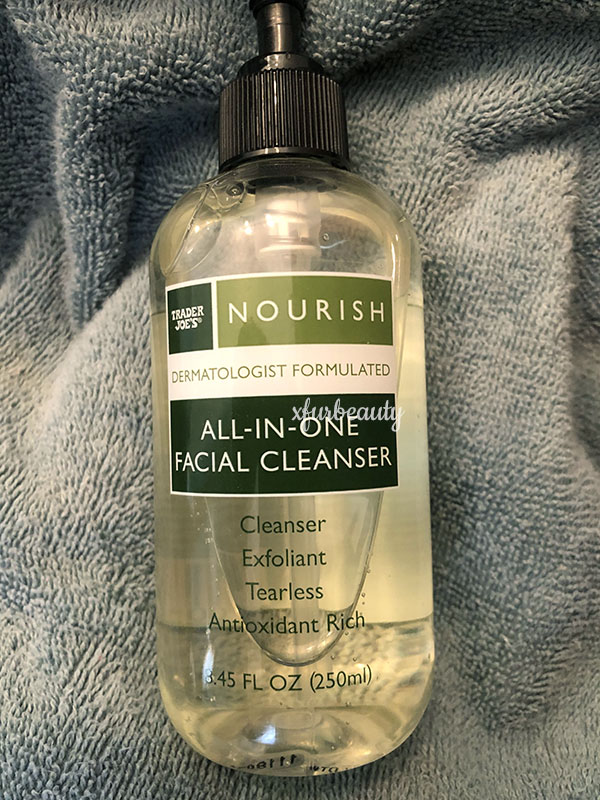 I have a new face wash!!!! 🙂 It's because the Trader Joe's Tea Tree Face Wash made my skin tingle and dried it out a bit. I needed something more gentle, especially when I'm on Tretinoin. So I picked up Trader Joe's Nourish All-in-One Facial Cleanser. More about this face wash:
All-in-One dermatologist formulated
Leaves skin feeling clean, smooth, and cared for
Gently washes away impurities
Antioxidant rich
Tearless
Exfoliant
Review:
I've been using this face wash ever since my skin became extremely dry and itchy. It's a gel cleanser. All you need is a single pump to cover the whole face. A single pump is a lot of product. It lathers up and rinses clean. It doesn't burn the eyes. Soft and gentle. Right now, this face wash feels good on my irritated, sensitive skin. I like it. But, I'll make an update in the near future. 🙂
Check out My Tretinoin Journey:
Beginning My Tretinoin Journey 🙂
My Tretinoin Journey: 1 Week Results!!
My Tretinoin Journey: 2 Weeks In!
My Tretinoin Journey: 3 Weeks Results
Categories:
Tags:

Acne, All in One Facial Cleanser, Antioxidants, Beauty, Cleanser, Cruelty Free, Exfoliant, Face Wash, Facial Cleanser, First Impression, No Animal Testing, Oily Skin, Review, Sensitive Skin, Skin Care, Tearless, Trader Joe's, Tretinoin, Vegan
Oct. 29, 2019
Leave a comment
I've been loving Cos De BAHA Facial Serums. I'm seeing improvements in my skin day after day. Here I have…
M.A Peptide Serum
Glycolic Acid 10 AHA Serum
Retinol 2.5 Serum
Hydroquinone Brightening Serum
Hyaluronic Acid Serum
I've been on them for 2 weeks. A week behind my other Cos De BAHA Facial Serums. I don't think that's enough time to see actual results, but here are my thoughts on each one so far.
M.A Peptide Serum:
This serum is such an awesome moisturizer when the weather is much drier. On my oily skin, it works to keep my skin feeling hydrated without feeling and looking greasy. This serum does feel a bit sticky upon application, but the stickiness goes away as the serum sinks into the skin. I really liked the M.A Peptide Serum. I've been searching for a lightweight moisturizer, and this seems to work well for my skin type. I use it in the morning and night for a surge of moisture.
Glycolic Acid 10 AHA Serum:
I'm not a huge fan of glycolic acid because it tends to dry my skin out, and there's this thing called the initial breakout that lasts forever. Well, it feels like it with Glycolic Acid. I'm not talking about tiny pimples either. I'm talking about huge cystic acne. They take forever to leave and are very painful to touch. Ugh. Who wants that? Glycolic acid always ends up breaking me out after a day or two of using it. There's no way to avoid it, so I only use it a few times a week to prevent getting a massive, crazy breakout. I prefer to use it at night rather in the morning. It makes my skin look flaky and dry in the morning. I really hate it when my skin flakes or peels in the morning.
Retinol 2.5 Serum:
This retinol serum feels very nice on the skin. It's gentle and hasn't dried my skin out at all. I can't tell what it has done to my skin, but I like the way it feels on my skin. I'll keep using it. Let's see what happens when I finish the whole bottle.
Hydroquinone Brightening Serum:
I had to try this one out. I always stay away from skin care products that contain hydroquinone. The reason why is because there are other ingredient choices to fade acne marks/discoloration with, such as vitamin c, kojic acid, and niacinamide. This brightening serum DOES WORK. Once I'm done with the bottle, I won't buy another one. Maybe some time in the near future.
Hyaluronic Acid Serum:
My current Hyaluronic Acid serum is Cosmedica Pure Hyaluronic Acid Serum. I wanted to try the Hyaluronic Acid Serum from another brand. I thought I would try the one from Cos De BAHA. Compared to Cosmedica, Cos De BAHA feels sticky when applying it to the skin. Once it sinks into the skin, it doesn't feel sticky. It does keep my skin feeling hydrated just like Cosmedica. It's not too bad. I'm still on the fence on which one I'm going to stick to using. I'll have to keep using them then I'll decide.
Check out other serums from Cos De BAHA here <<< Vitamin C, Niacinamide, Azelaic Acid
Look forward to an update on all of these facial serums soon! 😀
Love, Jen
Categories:
Tags:

Acne Marks, Acne Prone Skin, Acne Scars, Acne Spots, AHA, Alpha Hydroxy Acid, Anti Aging, Anti Wrinkle, Antiaging, Antioxidants, Asian Skin Care, Beauty, Beauty Reviews, Beauty Tips, Brightener, Combination Skin, Cos De BAHA, Does it Work, Dry Skin, Face Serum, Facial Peel, Facial Serums, Glycolic Acid, How To, Hyaluronic Acid, Hyaluronic Acid Serum, Hydration, Hydroquinone, Hydroquinone Brightening Serum, Life, Lifestyle, MA Peptide Serum, Oily Skin, Peel, Post Inflammatory Hyperpigmentation, Retinol, Review, Sensitive Skin, Serums, Skin Care Routine, Skincare Products, Thoughts, Vitamin A, Winter Skin Care, xfurbeauty, xfurbeauty blog