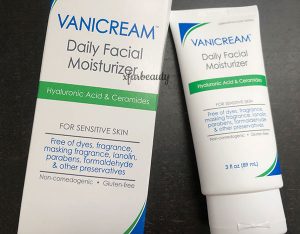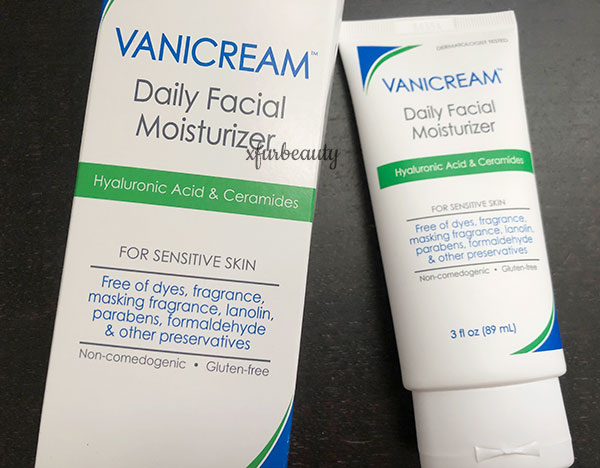 I picked up a new moisturizer! My skin is getting drier than ever, and I needed something that's more moisturizing than Cosrx Hyalyronic Acid Hydra Power Essence (my updated review here) or my sunscreen that contains moisturizing properties. It's just not enough for my skin that's drying out incredibly quickly right now. The moisturizer I chose happened to be Vanicream Daily Facial Moisturizer for Sensitive Skin. This moisturizer contains hyaluronic acid and ceramides. Alright, that sounds good. But it also contains squalane and fatty alcohols. I know my skin can react to these two particular ingredients. But the formulation of the product matters too. I've read good and mostly bad reviews on this moisturizer, so I was a bit skeptical when I purchased it. I decided to try it out anyways, lol. Who knows, everyone's skin's different, and my skin is getting really dry. I needed something that would moisturize my skin much better than what I was using. Just gotta give it a chance, right? 🙃
My experience
Since I'm a bit wary about this moisturizer, I first tested the product out on my sensitive areas, such as my neck and arms. Well, those are my sensitive areas. They tend to get itchy super fast, and I have to be careful what I put on them. I didn't develop any irritation, redness, or itchiness from this product. Yay! I'm good to go! Kind of. ha! Let's see if my face likes it or not…
This cream is a gel-cream. Leaning towards more of a creamy texture. It feels soft and smooth on the skin. Glides on the skin very nicely and easily. Blends into the skin well. It takes a few minutes for the moisturizer to absorb into the skin due to an oily feel that it has. It does contain squalane. With this moisturizer, I don't have to wait too long to apply other products afterwards (like my sunscreen). The moisturizer sticks to the skin, moisturizes it, and leaves the skin feeling, looking smoother than ever. I love it! The only thing I don't like about this moisturizer is that it stings a bit when applied to the skin. I wonder if that has to do with my acne treatments. Because it didn't sting my neck or arms when applied to those areas. Once the stinging goes away, my skin feels really calm and relaxed. Super moisturized. Much more moisturizing compared to when using my hyaluronic acid essence. I haven't felt this type of moisture in ages, haha! I really like it! 😊
By the way, I apply this moisturizer directly onto my skin. I didn't use Cosrx Hyalyronic Acid Hydra Power Essence beforehand. I stopped using the essence. I didn't see the point when it doesn't leave my skin hydrated or do anything else for it. Vanicream also contains hyaluronic acid too, so it seems redundant using both products when it's not even necessary. I'm trying to keep my skin care routine as simple as possible. Having too many products just makes it harder for products to absorb and work. I know my skin likes the moisturizer, but now I'm worried if Vanicream is going to clog my pores or not. That's something I don't know yet. But after a day of using it, it seems to be going pretty well. No breakouts yet. Just feels like lightweight moisture on the skin. And my skin feels really good. If you have dry skin or very dry skin, this moisturizer won't do you any good. It's not super moisturizing and won't provide you with the proper moisture that you need. As an oily skin person with dry skin (sometimes), it doesn't feel heavy at all. The amount of moisture it gives is good enough. It doesn't leave my face looking shiny or greasy. I like it so far. I hope it works out in the end!
This is what Vanicream Daily Facial Moisturizer looks like.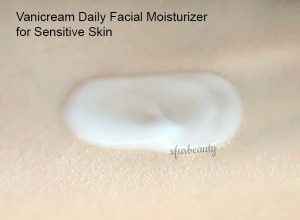 Pros & Cons
✅ Pros
Moisturizing
Contains hyaluronic acid and ceramides
Feels lightweight on the skin
Leaves the skin looking softer and smoother
Doesn't irritate the eyes
Good for combination, oily skin
Non-greasy
❌ Cons
Stings upon application (only the face)
Conclusion
I haven't used Vanicream Daily Facial Moisturizer for Sensitive Skin for long, but I like the way it feels on my skin so far. It leaves my skin feeling soft and moisturized throughout the day. I can use it at night and during the day without any issues (right now). I feel like I'm holding my breath and hoping that it won't clog my pores. Let's hope for the best! Stay tuned for my next update!
Update on Vanicream Daily Facial Moisturizer for Sensitive Skin. Did it work? What happened?
Categories:
Tags:

Beauty, Ceramides, Daily Facial Moisturizer, Dye Free, Experience, Fragrance Free, Gluten Free, Hyaluronic Acid, Lanolin Free, Moisturizer, Non Comdeogenic, Paraben Free, Preservative Free, Review, Sensitive Skin, Skin Care, Skincare, Thoughts, Vanicream, Vanicream Daily Facial Moisturizer