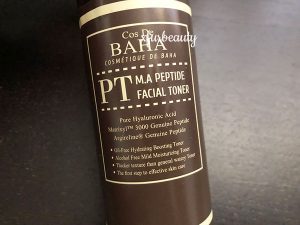 I'm trying to sneak in a new skin care product into my boring skin care routine. I thought I would give Cos De BAHA MA Peptide Facial Toner another chance. I remember it being a more hydrating toner than a drying one, so let's see if it still is. So the purpose of this facial toner is to improve skin elasticity, provide intensive hydration, and diminish fine lines and wrinkles. It contains pure hyaluronic acid, matrixyl 3000 genuine peptide, and argireline genuine peptide. It's an oil-free and alcohol-free hydrating toner that boosts moisture in the skin. That sounds pretty good. Now I remember why I picked up a bottle of this stuff in the first place. It's exactly what I wanted in a skin care product. But did it work this time around? Let's find out! Here's my experience with Cos De BAHA MA Peptide Facial Toner!
My experience
This facial toner is a gel that's not too runny. I tried using it with a cotton pad, but I prefer to dispense a little bit of product into my palm and gently pat it into my skin. The product feels really weird on the skin when used with a cotton pad. It feels like a waste of product too. At first, my skin felt really hydrated, since I don't have an intense moisturizing product in my routine. This was definitely different and moisturizing on the skin. It left my skin looking more plump, glowy, soft, and very smooth in appearance. After a day of using it, my once hydrated skin felt very dry even though it made my skin look good. My skin started to get itchy due to the dryness. Skin was flaking off of my face too. I had to stop using it, which I did. I debated if I should continue to use it or not, lol. But I came to the decision that it's not right for my skin. I'm glad I stopped using it. I don't want to keep hoping that it would work one day.
I love the ingredients in this product. It contains aloe extract, sodium hyaluronate, peptides, beta glucan, allantoin. But, it also contains other ingredients that irritated my skin, such as propanediol. It's the second ingredient listed in this product. I knew it had this ingredient, but I thought I would give it a try anyways. At the bottom of the ingredient list, five extracts. Maybe my skin can't handle propanediol in this product either. I just know that my skin felt really dry and itchy after having it on my skin for a day (morning and night). I also noticed some hard sebum in random places on my face too. Once I stopped using it, my skin went back to normal. I really wanted it to work this time around. I guess this is why I stopped using it in the first place. haha!
Pros & Cons
✅ Pros
Provides lightweight moisture when applied to the skin at first
Soothes the skin
Contains hyaluronic acid and peptides
Leaves the skin looking softer, glowy, and smoother
❌ Cons
Dries the skin out by the end of the day
Not moisturizing enough. Leaves the skin feeling itchy because of this.
Clogs pores. It did for me. 😟
Conclusion
I can see why I stopped using Cos De BAHA MA Peptide Facial Toner months ago. It's just not compatible with my skin. I think I really need to be careful when a product contains propanediol. It doesn't seem to sit well with my skin. Too bad it didn't work out. I wished it did. But I'm not going to push it because my skin is looking pretty darn good right now. I don't want to mess it up. On to something else…maybe…
For more reviews on anti-aging products go here
Categories:
Tags:

Anti-Aging, Anti-Aging Toner, Anti-Wrinkle, Argireline, Beauty, Cos De BAHA, Cos De BAHA MA Peptide Facial Toner, Facial Toner, Fine Lines, Hydrating, Hydrating Toner, Matrixyl 3000, Matrixyl Toner, Peptide Toner, Peptides, Review, Skin Care, Skincare, Toner, Wrinkles