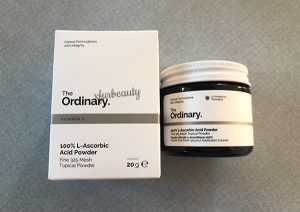 So my skin looks really good right now. Most of my acne is gone. All thanks to Olay Regenerist Collagen Peptide 24 Cream Cleanser. 👈🏻 Don't forget to read more about this cream cleanser right here!! I'll make an update on my progress with this cream cleanser soon. Stay tuned for that too! Since my skin has cleared up so much, and it took so many years to get it all situated out. It's time to add a vitamin c product into my skin care routine! I've been waiting for the right time to include one. I have a few leftover vitamin c serums from before, but they don't work on my skin. They either cause blackheads, clog my pores, or don't do anything for my skin. So I picked up a jar of The Ordinary 100% L-Ascorbic Acid Powder. I've had this for a while, but I was waiting until my acne was under control first. I think it's time! I started using it a week ago, and everything seems to be going well.
What is the purpose of this product?
It's an antioxidant that brightens the skin, fights free radicals, boosts sun protection when used in the morning, and helps to fade acne scars.
The ingredients…
The ingredients in this product is pretty straight forward. It only contains ascorbic acid. I was having trouble with The Ordinary vitamin c products due to other ingredients that it contains. I think this one might be a better choice for me.
And let's not forget.
It's paraben-free, vegan, cruelty-free, gluten-free, and comes in recyclable packaging.
My First Impression
This product comes in a jar with 20 grams of ascorbic acid (vitamin c) powder. Retails at $5.80. It looks extremely affordable (because all of their other products are pretty cheap), but it's on the expensive side for the amount of product. Ascorbic acid can be purchased for much less on the market. I purchased this ascorbic acid powder a few months ago without thinking too much about it. I was just looking through The Ordinary products that I haven't tried yet. This was one of them. I thought, hey, let's give it a shot without much thought. Now here I am with a jar of ascorbic acid from The Ordinary. Let's try it out! lol.
The jar comes sealed. Like this. It comes with a mini plastic scooper.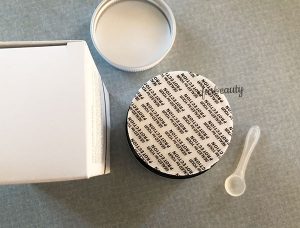 This is what the powder looks like. It's just white powder. Looks a bit clumpy, but that's OK. It works just fine. There's nothing wrong with it.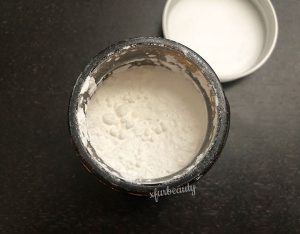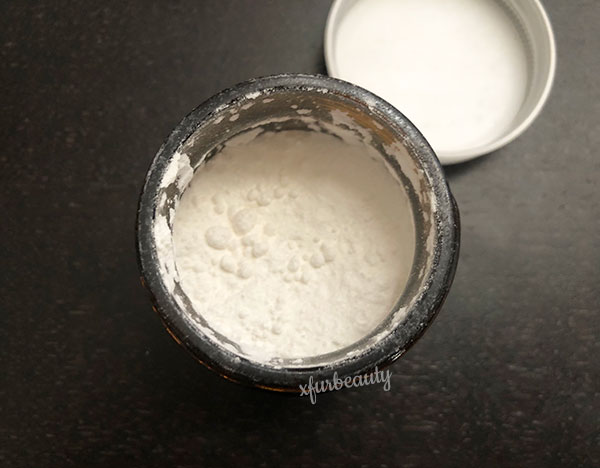 The powder feels very very fine. Not gritty at all. Hoping that it would blend into other products just fine. And guess what? It did! I used it with my moisturizer (and tried it with an essence), which is Vanicream Daily Facial Moisturizer for Sensitive Skin and Cosrx Hyaluronic Acid Hydra Power Essence. The tricky thing about using this vitamin c powder is the pH. For vitamin c to work on the skin, it needs to be acidic but not too low where it irritates and burns the skin. I tested the pH of my mixture, and it's good to go! When applying the mixture to the skin, there was a slight stinging sensation (not too much), but that's pretty normal when using vitamin c products. It's the same stinging sensation I get when using other vitamin c serums that contain ascorbic acid. The stinging sensation goes away pretty quick. The difference is that my skin likes the mixture better vs the store bought serums. There's less ingredients to worry about. I haven't found a good vitamin c serum yet due to this issue.
I tried The Ordinary Ascorbic Acid 8% Alpha Arbutin 2%, and it didn't work on my skin. It dried out my skin, made it look aged, saw no results after several months of using it. It was such a waste of time and money. So I'm glad I gave the powder a chance. My skin can't handle propanediol in high amounts from my experience with The Ordinary skin care products with this ingredient. The Ordinary seems to utilize this ingredient quite often. And, it just didn't work for me as I wanted it to. Oh well…haha.
With the ascorbic acid powder, the instructions states to not mix with formulations that contain niacinamide and EUK 134. You can read about my experience with The Ordianry EUK 134 0.1% Serum here. I like niacinamide, but I haven't found a serum that works on my skin. The Ordinary Niacinamide 10% + Zinc 1% (one of the products I've used) gave me the worst acne of my life. 👈🏻 For a more in depth review, go check it out! But the whole using ascorbic acid and niacinamide at the same time has to do with skin sensitivity and skin flushing. I've used both products at the same time but not mixed (layering) without any issues. I don't have sensitive skin to begin with. And my skin doesn't flush with these two ingredients. If you have rosacea or are prone to skin redness, that's something to keep in mind. Other advisories include making sure to avoid the eyes, do a patch test, don't use it on broken skin.
I haven't had any problems with this product yet. I started off using it in the morning and at night, but now I only use it in the morning. I don't think it's necessary to use it twice a day (unless I want to). When using vitamin c in the morning, it boosts sun protection. That seems like a great, better idea. 👍🏻 So far, my skin really likes this version of vitamin c. Other vitamin c products contain other ingredients that are pore-clogging and messed up my skin. I've already seen minor results after a week of using it. My skin feels smoother, a bit more even, and just looks really good. No breakouts or skin irritation thus far. Also, I would like to mention that I don't fill up the whole scooper when using this product. I only use about 1/4-1/3 of ascorbic acid powder. Ascorbic acid is an acid (as the name states), so be careful when using. If you have very sensitive skin, make sure to do a patch test first! ⚠ You can burn yourself.
So I like the results I'm seeing using this product, but will I purchase another jar of ascorbic acid from The Ordinary again? Hmmm, I'll use it all up first and think about it. As I mentioned earlier, this vitamin c powder is definitely expensive for the amount of product. I might just purchase ascorbic acid powder somewhere else. It seems like they want you to do the work for them. haha. They should've formulated a better ascorbic acid serum and released that instead. I'm really not impressed with most of their serums so far. But this powder is awesome! My skin is looking soooo good! Cheers to clearer, brighter, acne-free skin! 🥂✨
An update on The Ordinary 100% L-Ascorbic Acid Powder coming up soon!
If you missed out on my reviews on The Ordinary skin care products, have fun reading them all! 😁
Categories:

Acne, Anti-Aging, Antioxidant, Beauty, Skin Brightener, Skin Care
Tags:

Acne Marks, Acne Prone Skin, Acne Scars, Acne Skin, Anti-Aging, Anti-Wrinkle, Ascorbic Acid, Ascorbic Acid Powder, Beauty, Cruelty-Free, Experience, First Impression, Paraben Free, Review, Skin Care, Skincare, Texture, The Ordinary, The Ordinary 100% L-Ascorbic Acid Powder, Thoughts, Vegan, Vitamin C Powder, Wrinkles