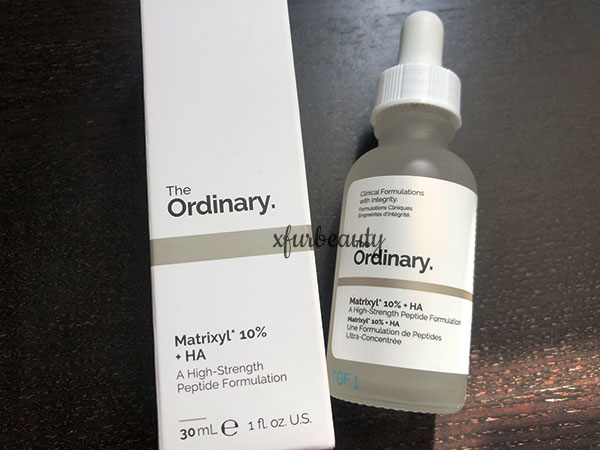 I started using The Ordinary Matrixyl 10% + HA again 3 weeks ago. I thought I would give this matrixyl product another try again. Here are my updated thoughts on this product. Yes, for the billionth time. I'm just kidding. This is what happened when I used this product this time. 😊
I didn't use The Ordinary Matrixyl 10% + HA on my face but as an eye serum. I didn't have a good experience with it as a face serum. Since I have a few bottles left of this product, I thought I would give it a chance as an eye care product instead. I was hoping that it would work on some fine lines and wrinkles (under eyes). The product claims to improve signs of aging like fine lines and wrinkles by promoting firmer and plumper skin. It claims to improve the appearance of facial areas prone to fine lines by supporting skin's overall collagen production. It contains peptides (Palmitoyl Tripeptide-1, Palmitoyl Tetrapeptide-7, Palmitoyl Tripeptide-38) and sodium hyaluronate. The ingredients look pretty good and straightforward. The product is very affordable. What to do with a product like this but give it another try and see what happens.
I was very hopeful that this product would give me visible, better results this time. Sadly, once again, I didn't notice any positive effects on my skin using this serum. It didn't do anything for my under eyes (fine lines and wrinkles). No results at all. Even though I started using it 3 weeks ago. I only used it for 2 weeks. I couldn't continue to use this product even if I wanted to. Along with not seeing any results, it dried the skin around my eyes like crazy. It made my under eye area look worse. I noticed that my under eyes appeared drier and more crinkly. It accentuated fine lines and wrinkles. Made them look more prominent. The opposite of what I was trying to do. I moisturize my under eye area with heavier creams and moisturizers on a daily basis too, and my under eye area still dried out and just looked bad while using this serum. I didn't like the texture of the serum and how it felt on my skin. It has a tacky and sticky texture and consistency to it. The serum took forever to absorb into the skin and pilled with my other skin care products. It didn't stay put. I disliked using it in the morning because I didn't want to worry about my skin care products pilling and balling up when I reapply my sunscreen. That's way too much to worry about. So, this product didn't work once again. I've given up on it and am now currently using the rest of it on my body to finish it. Most likely won't repurchase when I'm done with whatever I have left.
If you missed out on my reviews on The Ordinary skin care products, go here:
The Ordinary Argireline Solution 10%
The Ordinary Ascorbic Acid 8% Alpha Arbutin 2%
The Ordinary Resveratrol 3% Ferulic Acid 3%
Categories:
Tags:

1 Month, Acne, Acne Skin, Anti-Aging, Beauty, Experience, Lifestyle, Matrixyl, Results, Review, Skin Care, Skincare, The Ordinary, The Ordinary Matrixyl 10% + HA, Update, Wrinkles