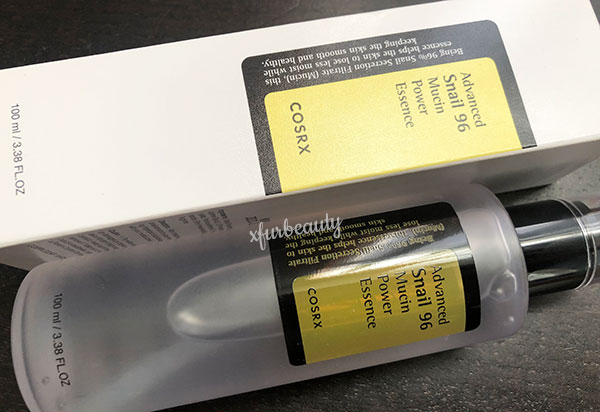 Since I've removed a ton of skin care products from my skin care routine (thank goodness!!!), I've rounded up what moisturizing skin care products I have left. Well, look at that, about 7-8 products. I mean, it's not the most minimal, but it's much better compared to what I was doing before. To think of it, I'm just laughing my butt off because there is such a thing as too much. What I was doing was too much. It wrecked havoc in my skin, and it was also taking up a lot of space in my bathroom. ha! So! These are the moisturizing skin care products I'm using. There's a chance that I might even remove more products if I don't see results from them or don't need them. Time will only tell. 🙂
Cosrx Advanced Snail 96 Mucin Power Essence
Before I get into Cosrx Snail Essence, I did remove Cosrx Hyaluronic Acid Hydra Power Essence from my routine. Cosrx Hyaluronic Acid Hydra Power Essence is just a basic hyaluronic acid product. There's not much to call home about it. Nothing about it stood out to me when I was using it. Even though it's an essence, it feels more like a gel. It would come out in blobs and feel a bit sticky. So I didn't think I needed it anymore, since I have other products that contain hyaluronic acid. This ingredient is like everywhere. It would just be too redundant keeping it in my routine. It's also not that moisturizing. I wasn't impressed by it. I think it's time for me to stop spending money on this stuff.
Now on to Cosrx Advanced Snail 96 Mucin Power Essence…
Between the hyaluronic and snail essence, I prefer the snail essence. It's lightweight and absorbs into my skin very well. It's perfect for my oily, problematic skin. And I only use a single drop for the whole face in the morning and at night. It's a little bit more moisturizing compared to the hyaluronic acid, in my opinion, but not by much. I need some moisture in my routine, so I decided to stick with the snail essence rather than the hyaluronic acid essence. This is the only snail essence I'm using too. If I could find a better snail essence product, I would switch because the packaging of this product irks me.
Cos De BAHA MA Peptide Facial Toner
I didn't think I would like this facial toner. It's called a toner, but it's really a gel. It also comes in a 200 mL bottle compared to my Cosrx essences that are only 100 mL. It's a pretty good deal for a gel moisturizing product. I haven't had any issues with it. I've been using it twice a day without developing any breakouts like blackheads and cysts. It's not the most moisturizing, since it's a gel, but I need some type of moisture and this seems to do the trick for the moment. The ingredients are pretty good too. It contains aloe, betaine, sodium hyaluronate, matrixyl 3000, peptides, beta-glucan, and so on. Just looking at the ingredients makes me think how redundant these ingredients are in a lot of my skin care products. So far, with this product, I like it, I'll keep using it.
This is one of my favorite skin care products. I love, love, LOVE this essence!!! 💗 It contains galactomyces ferment filtrate, bifida ferment lysate, sh-oligopeptide-1, and ceramide np. Love the ingredients! The product does come out as a liquid. Once again, I know I mentioned this several times in the past, the product shoots out straight from the pump. Make sure to shoot it in the palm of your hand! As for the product itself, it feels liquid-like and silky, and it goes on the skin feeling soft, smooth, and silky too. It's another essence that isn't that moisturizing, but since I have oily skin, it's decent. I haven't had any breakouts from it either.
Hada Labo Gokujyun Premium Lotion
This is my main hyaluronic acid product. I like it much more compared to Cosrx's hyaluronic acid essence. It contains different types of hyaluronic acid. When dispensed, it comes out as a gel. I don't need a lot of product to cover my whole face either. Just 1-2 drops of product. It's more moisturizing too and makes my skin look super glowy and dewy. Feels a little bit sticky though. That's not a huge issue as of yet, lol. Just like other gel moisturizing products, it's not as moisturizing compared to a cream. I think I've accepted that by now. I rather have some moisture than breakouts caused by using a heavier, richer product. This one works pretty well. I like it.
Purito Centella Green Level Buffet Serum
I started using Purito Centella Green Level Buffet Serum again last year to heal my skin. My skin was such a mess from a bunch of stuff going on. I wasn't happy with my skin, and it needed to be repaired and needed time to heal. Since this serum contains centella, ceramide np, sodium hyaluronate, asiaticoside, asiatic acid, madecassic acid, peptides, and a bunch of other skin care goodies, this serum looked like it could repair and heal skin. I don't remember it burning my skin in the past when I used it, so I decided to use it again. With this serum, it helped to provide some moisture (not the most moisturizing, again), but it was a product that helped to heal and repair my moisture barrier for the time being. After my skin healed, I decided to keep using it because it hasn't done any harm to my skin. It lightly hydrates, provides my skin with healthy skin repairing ingredients and leaves my skin feeling, I guess, rather nice. It's a nice serum to keep around for now. I think I'm going to keep it in my routine since I haven't experienced breakouts or clogged pores.
SOME BY MI Yuja Niacin Brightening Moisture Gel Cream
I purchased this product on a whim without thinking much about it. I'm glad I did. I've been using it for nearly half a year already. Around there. Once again, like all of the moisturizing gels, it doesn't moisturize the skin too well. I have oily skin, so that doesn't bother me too much. I just don't want to get breakouts or bad acne from a moisturizing product, which happens way too often. Fortunately, this gel moisturizer hasn't broken me out at all. Yay! I remember using it for the first couple of weeks and it brightened my skin. I'm on my second jar of the product, and I don't think my skin is any brighter. I was hoping that it'll help get rid of some acne marks, but I haven't noticed that either. I feel like the best thing for me to do to get rid of acne marks is to simply eat a healthy diet and let the acne marks fade on their own. I haven't encountered a product that helped with acne marks yet, and I've used plenty. Let's see what this product can do. I'm almost done with my second jar. I don't mind using it or having it in my routine right now.
Look what I have! Yep, The Ordinary Amino Acids + B5! I remember this serum breaking me out last summer. This time, it seems to be going well! I haven't had any breakouts from it! But it doesn't leave my skin drenched in moisture like I wanted. It's just another lightweight moisturizing serum with amino acids. But that's OK! I decided to keep it in my routine because it's very lightweight and hasn't caused any issues. Also, it's a super affordable serum too. With this serum, I only use 1-2 drops for my whole face and neck. It's another product that's going to last forever. I hope, haha! I can't say much about the results besides the very lightweight moisture it provides. I'll make another update when I'm done with the bottle.
***
I mentioned in another post that I am using Eucerin Q10 Anti-Wrinkle Face Cream when I use my acne treatment to prevent my skin from drying out. Don't forget to check out that post!
Another moisturizing product I removed (almost forgot this one!!) is Cosrx Oil-Free Ultra-Moisturizing Lotion (with Birch Sap). I debated if I should keep this product in my routine or not. Well, I decided to stop using it on my face. I think I have more than enough moisturizing products. Maybe a little too much still. I just feel like this moisturizing lotion, even though it doesn't break me out and does moisturize my skin, is just another excess product that I don't need. Also, I disliked the packaging of the product by a ton. I can't seem to get to the very last drop no matter what. I'm not smashing bottles. lol. 😂
That's all of my moisturizing skin care products. I might eliminate some of them if necessary. I'm not trying to complicate my life and skin care routine. But so far, this looks pretty good. Life has been so much easier just cutting out products. Plus, I haven't spent a dime on a new skin care product as of late. It's pretty shocking because I would throw my cash to try something new, lol. This is a nice change in life. ✨
Categories:
Tags:

Acne, Acne Skin, Amino Acids, Anti-Aging, Beauty, Brightening, Brightening Cream, Cos De BAHA, Cos De BAHA MA Peptide Facial Toner, Cosrx Advanced Snail 96 Mucin Power Essence, Cosrx Snail Essence, Essence, Experience, Face Cream, Hada Labo, Hada Labo Gokujyun Premium Lotion, Moisturizer, Niacinamide, Review, Skin Care, Skincare, Snail, SOME BY MI, SOME BY MI Yuja Niacin Brightening Moisture Gel Cream, The Ordinary, The Ordinary Amino Acids + B5, Toner, Wrinkles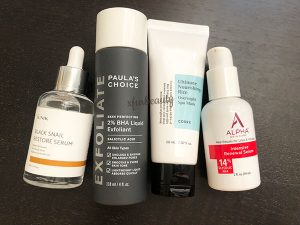 It's been 2 months on tret. I used it a few days a week at first until my skin acclimated to it. That went by quick, so I started using it every day at night. I haven't had any issues with using it every day since. My skin isn't red, peeling, or in pain. No irritation of any kind. It's so weird. I had issues with it using it every night before. All of a sudden, out of the blue, it's been such a breeze. It's like I'm applying water to my skin now. So interesting and odd at the same time! I wonder if it's working anymore. So that is why I've been trying out other skin care products. It looks like tret isn't helping with some forehead acne and blackheads on my nose. They've been really stubborn, and I need to get rid of them ASAP, so they can heal quickly and properly. This is what I tried during the second month of tret.
Skin Care Products I Tried…
Benzoyl Peroxide: I would slather BP all over my face if I could, but the side effects are just too much. The fumes get into my eyes and burn. But, BP truly does work to eliminate acne. Some days of the week, I'll spot treat areas where I notice congestion. That's about it. *sigh* Those BP days…
Glycolic Acid: I started using glycolic acid again when I was looking for another option to treat my acne (besides BP). I'm using Alpha Skin Care Intensive Renewal Serum (my first impression). Here's my 1 week review on the product. I did another update on this serum. Go here to read more about it (my 3 week update). Glycolic acid seems to be working this time around too. I'm stunned! It worked before then stopped working. Now, it's working again. It's been great for skin texture and the overall quality of my skin. Keeping my skin looking soft, smooth, and refined, but it didn't do much for my acne. Well, it did at first, but it stopped working on my acne. I'm still deciding if I should keep this serum in my routine. I was really looking for something that'll unclog my pores, and this serum seems too gentle on my skin to do just that. So, I took a break from it since I didn't see an improvement in my acne. I might bring it back if I think my skin needs it. I really don't know yet.
Some Products Worth Mentioning…
My skin seems to be tolerating almost all of the products I used before. Didn't work at one point in time, but it's working now. They are…
iUNIK Black Snail Restore Serum: This serum is very moisturizing. It helps to keep the skin soft and hydrated. Feels sticky at first but feels very nice on the skin. Once it sinks into the skin, it leaves the skin feeling smooth and moisturized. I have a little bit of this product left from using it twice a day. But am I going to keep using it when I'm done with the bottle? I'm not sure. I prefer the iUNIK Propolis Synergy Vitamin Serum a little bit more. I'll have to think about it. 🤔 The iUNIK Propolis Synergy Vitamin Serum is another serum that's working for me now too. 🙂 Love it!!
Cosrx Ultimate Nourishing Rice Overnight Spa Mask: I have a love-hate relationship with this moisturizer. It's moisturizing. It's probably the most moisturizing lotion I have used where I don't get huge cystic acne. But I decided to keep it in my routine and use it only on dry areas of my face. If I have a dry patch, I'll use this product to moisturize that specific area of my face. I don't use it all-over anymore. It causes too many problems. Makes my skin all oily, more blackheads, and forehead acne goes nuts. Moisturizing is important for skin health, but too much leads to consequences like breakouts (on my skin). I really like this moisturizer though. It truly does help moisturize my oily skin without leaving my skin feeling heavy and clogged.
Paula's Choice 2% BHA Liquid: I started using this BHA Liquid again. I went full on, lol, but I had to stop using it because it was drying my skin out. It works to tame the oilies on my facial skin, but I don't think it did anything for the blackheads on my nose. I was hoping it would do something about that. I like using this BHA Liquid when my skin is oily. I'll use it once in a while right now until summer arrives. That's when my skin is even more oily.
Here are some products I'm not too wild about anymore:
Cosrx AHA BHA Clarifying Treatment Toner: This toner hasn't helped much with acne whatsoever. I was hoping that it did a little bit of something. Doesn't seem like it's good at controlling the oil in my skin anymore. What happened? I don't know. It's an OK product. I'm not sure if I should keep it in my routine or not. It has a weird texture to it. I'm on the fence about this toner. We'll see what happens in the near future. lol.
Olay Regenerist Vitamin C Peptide 24 Brightening Facial Cleanser: I've been using the Olay Regenerist Facial Cleanser since last year. I started off with the Olay Regenerist Collagen Peptide 24 Cream Cleanser. The Vitamin C Peptide 24 Brightening Facial Cleanser is the exact same as the Collagen Peptide 24 Cream Cleanser in terms of results. I didn't notice brighter skin using the one with vitamin c. I loved this cleanser months ago when I was using it. That was when I didn't have a good BHA product in my routine. I know these facial cleansers aren't advertised as acne cleansers or cleansers with BHA, but it does contain salicylic acid in them. I can feel the salicylic on my skin when I use it. I would keep it around, but I'm using Paula's Choice 2% BHA Liquid instead. I just thought it would be a better option for me instead of this face wash. Maybe I'll use it again if Paula's Choice 2% BHA Liquid doesn't work out. More reviews on Olay Regenerist facial cleansers:
1 Week Using Olay Regenerist Collagen Peptide 24 Cream Cleanser. Goodbye Acne?
1 Month Using Olay Regenerist Collagen Peptide 24 Cream Cleanser & What I'm Doing Now for My Acne…
How My Skin Is Doing
The only acne I'm dealing with right now is a few pimples on my forehead. Some blackheads on my nose (so annoying). Sometimes some random pimple that pops out of nowhere. My skin is almost, just almost clear. Texture looks pretty good. It's looks smoother. I'm not liking that shiny forehead though. It looks so weird and odd, haha. I've been trying to keep my skin moisturized by using lightweight facial moisturizers, which don't provide enough moisture for my skin, but it's better than nothing. My skin hasn't broken out from those moisturizers (as of yet!). Right now, it's all about keeping my moisture barrier healthy and happy. But tret hasn't been drying. Or doing much for my acne like I hoped. I think I'm going to keep using it and wait it out. In the meantime, just search for something else to combat these stubborn pimples that just won't go away. After 2 months, I'm pretty much neutral with the results I'm getting from tret. I can't say much about it helping with fine lines and wrinkles. I think moisturizing my skin has helped a ton more. Well! That's my 2 month update on tret. Take it or leave it, lol. I'll see everyone next month!
⭐ If you missed out on my previous experience with tret…
My experience with tret the first week…
After 1 Month on Tret + Skin Care Routine. Here are My Results.
2 Months on Tret. My results. 🙂
Back to tret! 1 Week Results & My Skin Care Routine. Did it work? 🤔
A break from Tret & What I'm Doing Now
Surprise! Back on tret + Other Acne Treatments for Clear Skin. 🙂
Categories:

Acne, Anti-Aging, Antioxidant, Beauty, Exfoliant, Moisturizer, Serum, Skin Brightener, Skin Care, Sleeping Mask
Tags:

2 Month Results, 2 Month Update, Acne, Acne Prone Skin, AHA, Anti-Aging, Anti-Wrinkle, Beauty, Benzoyl Peroxide, BHA Liquid, Black Snail, Blemishes, BP, Clogged Pores, Cosrx, Cosrx AHA BHA Clarifying Treatment Toner, Cosrx Ultimate Nourishing Rice Overnight Spa Mask, Exfoliant, Experience, Face Scrub, Face Wash, Facial Toner, Get Rid of Acne, iUNIK, iUNIK Black Snail Restore, iUNIK Propolis Vitamin Synergy Serum, Moisturizers, Oily Skin, Olay, Olay Regenerist, Olay Regenerist Collagen Peptide 24 Cream Cleanser, Olay Regenerist Vitamin C Peptide 24 Brightening Facial Cleanser, Paula's Choice 2% BHA Liquid, Propolis, Propolis Serum, Results, Review, Rice Mask, Salicylic Acid, Skin Care, Skin Care Products, Skin Update, Skincare, Sleeping Mask, Snail, Spa Mask, Toner, Tret, Tret Update, Tretinoin, Ultimate Nourishing Rice Overnight Spa Mask, Unclogging Pores, Update, Wrinkles