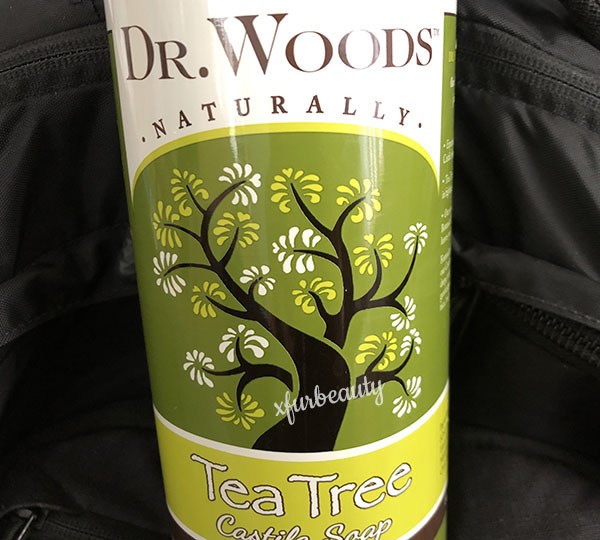 I've officially switched facial cleansers for a while now. I don't even remember when I last started a new face wash but I did. I'm using a facial cleanser that is very similar to my previous HG (no longer HG) cleanser, which was Trader Joe's Tea Tree Face Wash. The cleanser I use now is called Dr. Woods Tea Tree Castile Soap. This facial cleanser is a very minimal face wash. The ingredient list is very short and gets straight to the point. Here are the ingredients:
Purified Water (Aqua), Saponified Coconut, Hemp and Olive Oils (with retained Glycerin), Tocopherol (Vitamin E), Tea Tree Essential Oil, Sea Salt, Citric Acid, Rosemary (Rosemarinus Officinalis) Extract.
The ingredients are minimal and short, and it looks pretty natural too. It's another facial cleanser with Tea Tree. I truly do love skin care products with tea tree. 🙂
This face wash has been working very well for me. It cleanses the skin, doesn't break me out, and leaves my skin feeling really nice afterwards. It doesn't leave a sticky residue behind. Trader Joe's Tea Tree Face Wash seemed to leave a layer of product behind on my skin. It didn't break me out though. But, that's something I noticed with my new face wash vs Trader Joe's. I like the new face wash a lot more so far.
The funny thing is, I purchased this cleanser/soap product just for my body. And I purchased it when it was on sale. I thought I would just give it a shot, since I was searching for a body wash anyways, but I ended up using it as a face wash and a body wash. Fortunately for me, it works much better than I expected on my facial skin. I haven't had any issues with it. I'm pretty amazed because I've been trying to find a new face wash for quite some time. Like, how come I didn't stumble upon a product like this before? It comes in a 32 fl. oz. bottle. It's not the most portable product for travel but that can be taken care of by dispensing it in a travel-size bottle. But for the amount of product and price, it's a good deal. I can use it on my face and also my body if I wanted to. I think I'm all set when it comes to facial cleansers for the rest of the summer or the whole year. Haha. I think this large bottle is going to last forever. I mean, much longer than a small, overpriced bottle of facial cleanser that is. Everything has been going well so far. It must've been over a month using it now. No problems with it yet! I love it! 😃
Here's my old face wash Trader Joe's Tea Tree Face Wash!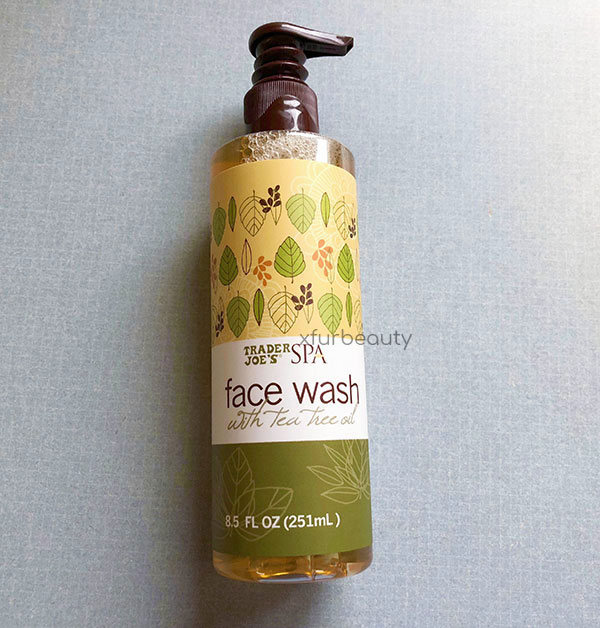 What face wash are you using? Any favorites? Share in the comments section! 🙂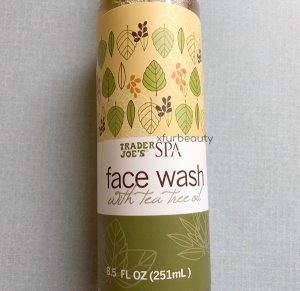 I officially made the switch to new facial cleanser. Wait, no, it's not actually a new facial cleanser. I've used it before, and it was my HG face wash at some point. It has one of my favorite ingredients in it. It's very effective on my acne. I've gotten great results from it. Can you guess what it is? If you said tea tree oil, you got that right! The face wash I'm using right now is Trader Joe's Face Wash with Tea Tree Oil. I miss this face wash sooooo much! For some odd reason it stopped working once upon a time. But now, since my skin is back to normal. It's functioning properly again. YAY!! A lot of my skin care products are working on my skin again! I thought I would bring back the face wash that I used for a very long time with much success. It brings back so many memories! Now let's get into my experience with this face wash! Has it been the same? Does it still work? Did it break me out? What's new?!! Read on to find out!
More about this face wash first…
This face wash contains tea tree oil, awapuhi, orange peel, and lavender. A strong face wash that's gentle, refreshing without being an astringent. Soothingly cleans all skin types and leaves the skin feeling smooth and silky.
That's what it says on the bottle. Now, let's take a look at the ingredients!
The first ingredient in this face wash is castille soap. So, it's made of water, coconut oil, tall oil, and potassium hydroxide. The list of ingredients go on and says that it contains glycerin, tea tree oil, awapuhi, lavender oil, bitter orange peel oil with other extracts and oils. If you're wondering if this face wash is vegan and cruelty-free, you're in luck, it is! 🐰
So, did it work?
Back to the ingredients, shockingly, even though it contains coconut oil, yes, it worked on my skin! Coconut oil is highly comedogenic and not all that great on acne-prone skin. It clogs pores. For some reason, this face wash hasn't clogged my pores. It didn't clog my pores before many years ago, it's not clogging my pores now. Yippeee!! 👏🏻
That's wonderful news! 😃
This face wash when dispensed comes out as a liquid, but it foams up when mixed with water. It's oh-so-foamy and leaves the skin feeling nice and clean without being harsh. I've mentioned this many times before on my blog, but I think it's very important to mention it again (if ya didn't get the memo). I have oily skin. That's a very important part of my experience with this face wash and skin care products in general. This face wash did an amazing job cleaning my skin. Feeling tingly. Not like menthol but more like (of course) tea tree if you have used tea tree oil before. I love that tea tree feeling on my skin. Just freaking LOVE IT!! Did it dry out my skin, nope! Not at all. Once again, it's the oily skin that I have that's preventing my skin from drying out from cleansers like this. It does say on the bottle that it's for all skin types, but dry skin take caution. Do a patch test and see if it works for you or not. For me, it's just an amazing face wash. It cleaned my skin, didn't leave residue behind, made my skin feel refreshed and rejuvenated. Also, with the tea tree, it's anti-bacterial and anti-fungal! Just amazing stuff!
SO! It looks like we have a winner. I'm just so ecstatic that I'm back to using this face wash. I know it's been only less than a week, but from my past experiences of using this face wash. It's been golden. I stuck with it for so long until my skin went through some weird things. Now, since my skin is back on track. I have a gut feeling this is going to be my HG facial cleanser for a while. So far, so good! I'm hoping for the best! An update coming up soon! See you all there!
Check out my posts on facial cleansers 🙂
An Update on PanOxyl Acne Foaming Face Wash! What I'm Using Now.
Neutrogena Ultra Gentle Daily Cleanser for Acne-Prone Skin? My Thoughts…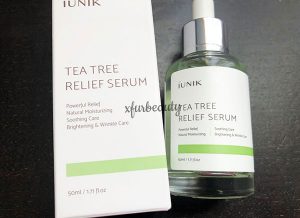 I'm currently using iUNIK serums. They are the Propolis Vitamin Synergy Serum and Black Snail Restore Serum. Go here to read more about them! I do have the Tea Tree Relief too. I first purchased it because it's a tea tree serum. I thought it could at least help with my acne (during that time). So this serum contains 67% tea tree extract and 19.5% centella extract. Both of these ingredients help to soothe the skin, reduce acne, brighten the complexion, and refine skin texture. On the label of the product, it states powerful relief, natural moisturizing, soothing care, brightening, and wrinkle care. I've had this serum for as long as I can remember. Possibly around the same time as the other iUNIK serums. Now I'm here to share my experience with the tea tree serum!
My experience
This serum is mint green in color. It looks really pretty. I was intrigued by it. But, it was really the tea tree that drew me in. I wanted a serum that's moisturizing and helps to reduce acne. And tea tree seems to work for my skin type. So, this serum doesn't contain pure tea tree (or tea tree oil). Looking at the ingredients, it contains Melaleuca Alternifolia (Tea Tree) Leaf Water. It's the diluted version of tea tree. It won't be as strong and effective as actual tea tree oil. But that's ok. Let's get into the feel and effectiveness of the product!
I use about 1-2 drops for the whole face and neck area. It feels just like the other iUNIK serums. It's soft, gentle on the skin, moisturizing. It has a stickiness to it. But it absorbed into the skin quite well leaving the skin feeling soft, glowy, and simply just hydrated. I liked the way the serum felt on my skin. After a few weeks of using this serum, I noticed tiny little clogged pores. I looked at the ingredients again. It contains wheat germ extract. Yeah, I should've known but sometimes skin care products work even if it contains comdeogenic ingredients. I wanted to try it out anyways, lol. Well, I stopped using this serum on my face because of the breakouts. It didn't work for my face, unfortunately.
The product does sound promising. It contains other ingredients like centella, niacinamide, licorice, and a bunch of other extracts that's good for the skin. I just can't use products with wheat germ extract. SO! I think it's very similar to the other iUNIK serums. They all seem to do the same thing. And that is to moisturize, soothe the skin, and leaves the skin feeling softer. I haven't noticed brightening from any of them (including the tea tree). It's a good moisturizing serum. And if you don't have any issues with the other ingredients in this product and want a tea tree product, this may work. I can't use it due to the wheat germ extract, lol.
Pros & Cons
✅ Pros
Moisturizing
Contains tea tree water
Soothing
Gentle on the skin
Makes the skin feel softer
❌ Cons
Broke me out (may work for you!)
Didn't brighten my skin
Conclusion
The tea tree was my least favorite out of the three (Propolis Vitamin Synergy, Black Snail Restore, Tea Tree) iUNIK serums I have used. The tea tree didn't help with my acne. I think it's too weak to do anything. I have major acne issues. I need something more potent and actually does something. I need to feel and see the changes, lol. With the tea tree iUNIK serum, all it does is just soothe and moisturize. That's what my other iUNIK serums do too. After my experience with iUNIK Tea Tree Relief Serum, I won't purchase again. I didn't really like it.
For more posts on iUNIK serums 👇🏻
Review: iUNIK Propolis Vitamin Synergy Serum
Review: iUNIK Black Snail Restore Serum
Trying iUNIK Propolis Vitamin Synergy Serum again. Let's see if it works! After 2 days… 🙂
Trying iUNIK Black Snail Restore Serum again. My Experience…
Here's my Jason shampoo haul! Just a few shampoos here and there. No conditioners. Maybe next time. 🙂 This is what I have from left to right: Jason Tea Tree Normalizing Shampoo, Jason Biotin Hyaluronic Acid Shampoo, and Jason Thin to Thick Shampoo. Out of the bunch, I chose Jason Tea Tree Normalizing Shampoo to start off with first. I just had to. I'm madly in Iove with tea tree shampoos. They clean and invigorate the scalp. Feels so refreshing and cool from my experience. I hope this one lives up to its name! And of course! I had to grab some biotin and volumizing hair shampoos too! I'm so excited for them! I'm still debating which one I want to try right after I finish the Jason Tea Tree Normalizing Shampoo. Maybe I'm just getting way too ahead of myself. Let's see what the tea tree shampoo can do first! lol. So I've been using Jason Tea Tree Normalizing Shampoo for about 3 months already. Since I'm so close to being done with it, I can finally share my thoughts on it!
My experience
I started off using Jason Tea Tree Normalizing Shampoo every single day. It felt great at first. My scalp and my hair was left feeling really clean. It left my hair feeling invigorated and refreshed with a cooling effect. Gotta love that tea tree! ♥ But I wasn't able to continue to use it as an everyday shampoo. It eventually dried my hair out. I tried using a very moisturizing conditioner to counteract the dryness, so I could use it every day (tried to make it work!), but that didn't help. My hair became drier and drier by the day. It became so dry that my hair looked very oily, flat, and lifeless. I would wake up every morning with oily and flat hair. I had a hard time keeping my hair together throughout the day. I didn't like what the shampoo did to my hair that's all. My hair was just so blah! It felt so darn dry and oily at the same time. It looked like a hot mess.
So I decided to decrease my use to 2-3 times a week or whenever my hair needs some extra cleaning. This actually worked better compared to using it every single day. My hair didn't dry out. I noticed some fullness and volume in my hair! From there, I continued to use the rest of the shampoo only a couple of times a week. For me, it looks like this shampoo only works a few times a week. No more than 3 times a week. Any more than that is a disaster. It's funny because the instructions states to use the shampoo at least 3 times a week. I think 1-2 times a week would be good enough too, but I guess it depends on your hair type. My hair isn't too dry. It's on the oily side. But if it dries out, it gets really oily and dull. I think I'm pretty neutral about this shampoo. It's ok. I was hoping for a shampoo that I could use every day without drying out my hair. I guess it's not too bad if it's used only a couple of times a week or a once in a while kind of thing to deeply cleanse the scalp and hair.
Pros & Cons
✅ Pros
Contains tea tree 🙂
Cleans the scalp
Feels refreshing and invigorating
Leaves the hair feeling clean
❌ Cons
Drying if used too often during the week
Conclusion
My experience with Jason Tea Tree Normalizing Shampoo wasn't too bad. Minus the part when my hair dried out, lol. I mean, I was looking for a shampoo that I could use daily, but I didn't think it was a terrible shampoo because of that. Using it only twice a week had some perks. It leaves the hair feeling clean and made my hair more volumized, fuller. But would I purchase it again? Hmmm, probably not. I want a shampoo that I could use every day and is more hydrating. Maybe I could just get a new shampoo and add some tea tree oil in it like I usually do. Seems to work better that way for me.
I stopped by Trader Joe's to do some grocery shopping. I was running low on my favorite face wash too — Trader Joe's Spa Face Wash with Tea Tree Oil. When this face wash gets very low, the effectiveness of tea tree oil isn't as great. 😛 Since I've been facial steaming regulary a couple times a week, I wanted to add some essential oils in my pot of boiling water + I could add some tea tree in my almost empty bottle of face wash too. ? Fortunately, Trader Joe's happens to have a bottle of 100% Australian Tea Tree Oil. I love tea tree oil. It has anti-bacterial and anti-septic properties. There's a lot you can do with tea tree oil. Check out my post on 5 Ways to Use Tea Tree Oil. ??? I love adding tea tree oil in my shampoo, face wash, for facial steaming, using it as mouthwash, disinfecting wounds. The countless ways of using tea tree oil is endless! I'm very excited for this! ?
More posts on Tea Tree Oil products from Trader Joe's:
Trader Joe's Tea Tree Oil Pure Vegetable Soap
Review: Trader Joe's Tea Tree Oil Pure Vegetable Soap
My New Face Wash & Hair Care Products (Tea Tree, Natural, Cruelty-Free, Oily, Blemished Skin)
Trader Joe's Tea Tree Tingle Shampoo
Review: Trader Joe's Tea Tree Tingle Shampoo & Conditioner
2 Weeks Results: Trader Joe's Spa Face Wash with Tea Tree Oil 
2 Months Results: Trader Joe's Spa Face Wash with Tea Tree Oil