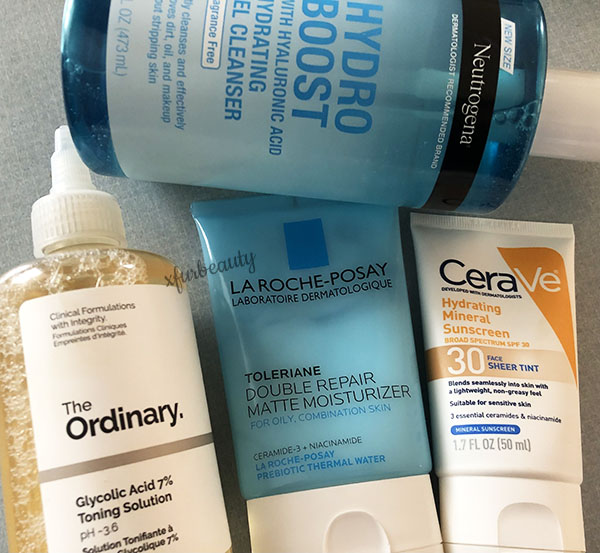 Here's my skin care routine! 🙂 Let's start…
Face Wash: Neutrogena Hydro Boost Hydrating Cleansing Gel with Hyaluronic Acid Fragrance Free
The face wash I'm using is Neutrogena Hydro Boost Hydrating Cleansing Gel (the fragrance free one). I've tried other cleansers in the past weeks, and I didn't like them as much as this face wash. The Neutrogena Hydro Boost Hydrating Cleansing Gel feels soft, soothing, and gentle on the skin. It slightly foams up, cleanses the skin, doesn't leave my skin feeling dry, and refreshes my skin. It doesn't contain any acne fighting ingredients. I prefer facial cleansers without them. I've tried cleansers that contain salicylic acid or benzoyl peroxide before in the past, and they didn't do anything for my acne. I didn't see the point in using them anymore. I'll just stick to a plain, boring face wash that cleanses without stripping the skin. This one has been working for me.
Acne Treatments: The Ordinary Glycolic Acid 7% Toning Solution
It took me a while to settle on products for my acne. I think this is it for now. I'm only using The Ordinary Glycolic Acid 7% Toning Solution to help unclog my pores and to help prevent future breakouts (if it works that way, lol). I love how this product is a liquid. It absorbs quickly into the skin and leaves my skin feeling very clean. It doesn't feel sticky or tacky on my skin. Let's see if this works or not. I've only been using it for 2 weeks. Check out my experience/results below (first week).
My Experience After 1 Week Using The Ordinary Glycolic Acid 7% Toning Solution + Other Skin Care Updates
Moisturizer: La Roche Posay Toleriane Double Repair Matte Face Moisturizer for Oily Skin
It took me forever to find a moisturizer that works on my skin. In other words, moisturizes and doesn't cause breakouts. This moisturizer isn't the most moisturizing. It's also not the best at absorbing excess sebum (like it claims to do). I still have excess sebum seeping through the moisturizer afterwards. But, it's good enough for now. It somewhat moisturizes, and I haven't noticed any breakouts. It also contains niacinamide, but I haven't noticed a brightening effect or any other improvements with this ingredient. I'll stick to this moisturizer until I find another moisturizer that's better for my skin (if there's one). My skin doesn't seem to like moisturizers too much. I've gone through life not bothering with moisturizers due them clogging my pores.
Sunscreen: CeraVe Hydrating Mineral Sunscreen SPF 30 Face Sheer Tint
I have a few more sunscreens, but the one sunscreen that I've been using the most is the CeraVe Hydrating Mineral Sunscreen SPF 30. It's a mineral and tinted. Contains SPF 30. The tint in this sunscreen product makes it easy to reapply throughout the day. The tint is a tad dark on my skin. At first, it didn't bother me. But now, it makes my skin appear a little dull. The shade isn't a perfect match for my skin. It blends into the skin, but I can still see that my face is darker than the rest of my body when using this product. Oh well, haha. I'll use it for the time being. I haven't experienced breakouts from it after going through 3 bottles. I'm on my 4th! So with the tint, there's no white cast, obviously. It's moisturizing and simply just very easy to use. It's currently winter with less sun. I'm mostly indoors, so that's why I've been using this SPF more often over the other sunscreens I have. This will change when spring and summer arrives. I will need a higher SPF.
In the morning, I use a lip balm with SPF too. You can check out my lip care routine right here!
So what else should I add? I'm only using 4 products (face). 😂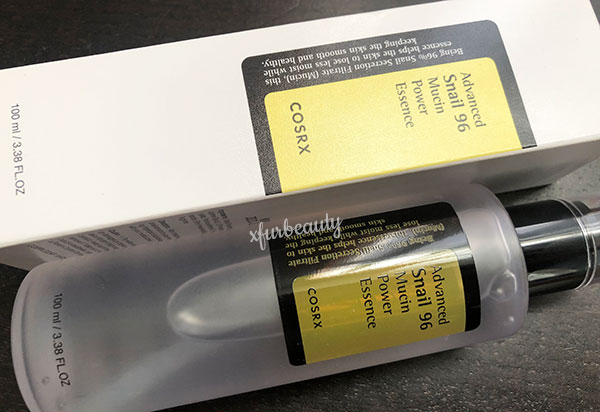 Here are my 5th week results! 🙌🏻
At the beginning of the week, I started off with what I was doing before, which is using tret and lactic acid every other day. Turns out that was way too much for my skin. I couldn't handle the dryness and peeling skin any longer. My skin looked terrible with sunscreen on. It would cling to every dry patch and flaky skin at every corner of my face. It just didn't look good, and it was impossible for me to go through the day like that. I just can't. I have to see and talk to people. lol. By the end of the week, I stopped using tret and lactic acid on my skin. I took a break. No exfoliants. Nothing. Just moisturizing my skin. My skin improved for once this week! It was peeling, looking softer and smoother, and just overall brighter! So yeah, there's such a thing as over-exfoliating. 😬
Also, I ended up dropping some more skin care products from my routine. And guess what? My skin looked so much better without them. I think I may have been doing way too much. I wasn't seeing results using a bunch of products either. Just a waste of time and money. My skin care routine has dialed down a ton, but I'm really liking it. It allows me to focus on letting my skin heal in its natural state (as much as possible) instead of having blobs of products on my face. I've also been trying to reapply sunscreen more often too. I did some updated reviews on Cetaphil mineral sunscreen products this week, don't forget to check them out!
What I'm Using Right Now…
The sunscreen I'm still using is Canmake Mermaid Skin Gel UV SPF 50+ PA++++ Clear. I also have it in White. The White version is horrid. Don't buy it. It doesn't blend well into the skin and leaves a very noticeable white cast on the skin. I guess some people might like that type of look. I didn't. I thought it was atrocious. It just looked terrible on my skin. Like white face paint. lol. The texture and consistency of the sunscreen is just like the Clear, but it just leaves an obvious white cast behind, doesn't blend into the skin well, and dries out the skin a lot more. I'm currently looking for a better sunscreen. I like Canmake, but it dries my skin out when I reapply. I do wear moisturizer underneath and my skin still dries out after applying and reapplying the sunscreen. It gives the skin a dewy look but also feels like plastic silicone on the skin. Well, on my skin it does, lol. Also, I want a sunscreen that is water-resistant. It's summer and sunscreen comes off much more easily during this time of the year. Canmake isn't water-resistant.
So I'm not sure what I'm going to do with this sunscreen. Maybe I'll keep using it. All I know is that it's the only sunscreen that I have that doesn't break me out. It might work better on days when it's less sunny and when I'm not outdoors often. Because when using this sunscreen, I noticed that my face became a little tanner than usual. Hmmmmm. 🤔 I'll be on the search for another sunscreen in the meantime.
So what products did I remove from my skin care routine??
Cosrx Advanced Snail 96 Mucin Power Essence:
It took me a while to see if I wanted to remove this product or not. Looking back, I used it for a few years, I think it's been about 2-3 years already. Honestly, it hasn't helped much with hydration. It hasn't helped with fine lines and wrinkles either. I don't think it really did anything significant. Absolutely nothing. So! I decided to stop using this product. I didn't see the point anymore.
The Ordinary Amino Acids + B5:
Here's to another serum that I saw ZERO results from. It's not even hydrating. I don't even know why I'm using it anymore. It's pretty much a waste of time using it. It didn't break me out or irritate my skin. It just felt like I was applying expensive water to my skin.
Benton Snail Bee High Content Essence:
I had a chance to try this essence again. It felt very lightweight and soothing on the skin. I didn't use it long enough to see the full benefits of this product (if there's any). I used it, stopped using it. I didn't notice any breakouts this time. I didn't think this essence was super moisturizing. It's somewhat drying on the skin. I think I'm over it. Apparently I still have it, lol. That's why I tried it again.
RoC Retinol Correxion Deep Wrinkle Night Cream:
I started using this cream last week but decided to stop using it. I know, it's way too soon. But, this is another product that I don't need. What's the point in using it when I have other exfoliants and retinol/retinoid products? Also, I think it's too moisturizing on my skin as well. I didn't think it was working for me. FYI, I've used this product before in the past. I guess I stopped using it for a reason.
RoC Line Smoothing Daily Cleansing Pads:
I loved these cleansing pads, and they do work to cleanse the skin. I've been using them whenever my skin starts to peel. I think this is a good product, but it's another product that I don't necessarily need in my life. And I don't feel like wasting my money on it anymore. I feel like the dead skin cells on my face comes off naturally as I continue to moisturize my skin and let it heal. I'm not into cleansing pads or even scrubs right now. It's not my thing at the current moment, so I decided not to buy it again when I'm done with it.
That's all I changed and have done this week. I spent the week mostly re-evaluating my sun care products and how I'm applying them (how often too). I've been eliminating skin care products from left to right too. My skin is still adjusting to tret after 5 weeks. In all honesty, I feel like this acne journey shifted from using tret to lactic acid. The results I'm getting from lactic acid have been amazzziiinnnnnnnnnnnnnnng! ✨
My Acne Experience:
My Acne Journey: 3 Weeks Results!
My Acne Journey: 4 Weeks Results!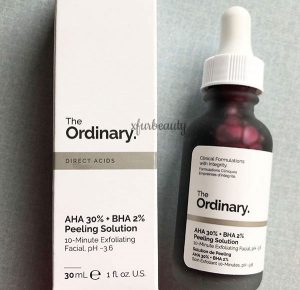 When I first started using The Ordinary skin care products, this was one of the first products that I tried. It's the AHA 30% BHA 2% Peeling Solution. It had really good reviews, and I wanted to see if it works or not. So this peeling solution is made for normal, combination, and oily skin. It's for blemishes, fine lines, wrinkles, skin dullness, and uneven skin texture. It helps to exfoliate (with glycolic acid, lactic acid, salicylic acid) the skin to help fight blemishes. Improves skin texture and radiance. It's sulfate-free (SLS and SLES), paraben-free, formaldehyde-free, phthalate-free. No mineral oil, retinyl palmitate, oxybenzone, coal tar, hydroquinone, triclosan, triclocarban. Contains less than 1% of synthetic fragrances. Vegan. Cruelty-free. Gluten-free. I've been using this peeling solution for a couple of years. Here's my experience on it!
My experience
I was really excited to use this peel. I had some breakouts to get rid of, and I absolutely love peels. They're very effective on my acne. I just haven't found one that I liked for long-term use. The Ordinary AHA 30% BHA 2% Peeling solution utilizes glycolic acid, salicylic acid, and lactic acid to exfoliate the skin. The pH of the solution is ~3.6. Perfect! This peeling solution is a bloody red color. It looks very interesting and fun to use. The instructions says to apply to a clean, dry face. Leave the solution on for 10 minutes then rinse with lukewarm water. That's what I did. After using it at night (should be used only ats night and no more than twice a week), I didn't see any results. My skin looked a bit shiny. I had some tingling going on when I had the peel on. There was no redness or itchy skin. I wasn't stunned with the results after using it for the first time. But that was only after the first day of using the peel.
The instructions also states not to use on wet skin. Don't leave it on longer than 10 minutes. If persistent irritation occurs, discontinue use and consult physician.
I continued to use the peel for several months and for years on and off too. My skin never improved on it. My experience for months to years was just like the first time using it. Maybe my skin is too thick? The peel isn't strong enough? The formulation of the product contains other ingredients too. Here's the ingredient list if you're interested. This isn't an up-to-date ingredient list, but this is what it was when I used the peel…
It just seems like my skin didn't respond to the peel. I didn't see an improvement in my acne or skin texture. Nothing. The tingling sensation disappears when I use it more often. I think that's pretty normal. It just means that my skin got used to the product over time. I was hoping that it'll help unclog some closed comedones, fade some acne marks, and improve my overall skin texture, but it didn't do anything for my skin at all. My skin looked the same right after. lol. I still have almost full bottles of the peel, but I haven't touched them since. It looks like one of those products I'll use up but won't repurchase ever again. Honestly, it didn't do anything for my skin. 🤷🏻‍♀️
Pros & Cons
✅ Pros
Affordable
Contains glycolic acid, salicylic acid, and lactic acid to exfoliate the skin
pH ~3.6
❌ Cons
Doesn't work, no exfoliation, no results
Conclusion
On my skin, this peel wasn't effective. It contains 30% glycolic acid and 2% salicylic acid, but I didn't see any improvements in my skin. It could possibly be the formulation of the product. Or, it could be that The Ordinary skin products just don't work on my skin, haha! This isn't the first. Would I recommend? It didn't work for me. I'm not sure if it'll work on someone else's skin. I would say no from my experience with it. But give it a try if you're still curious about it! 😊
For more reviews on The Ordinary skin care products go here!! 👈🏻