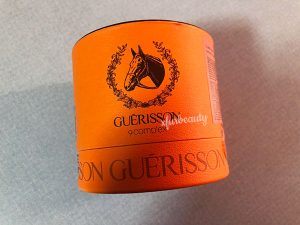 I have another face cream! This time, it has HORSE FAT in it. YUP! HORSE FREAKING FAT (or horse oil)! 🐎 I haven't used horse cream before. This is my first time. I was a bit weirded out about it at first, butttt…let's see what it is! So this face cream helps to replenish lost moisture and lock in moisture for an immediate hydrating effect. It is rich in antioxidants and works well on the most delicate skin types. It is free from steroids and preservatives. It helps to reinforce skin's natural protective layer for prolonged comfort with enhanced suppleness and vibrancy. Oooooo! That sounds really nice. I hope it does what it's supposed to do. Just like my Eucerin Q10 Anti-Wrinkle Face Cream, I haven't used it for long, but I'm here to share what I think about it so far! Now let's unbox my new face cream GUERISSON 9 Complex Cream!
So I've never used this brand before. The whole product and brand is rather new to me. I kinda just stumbled upon it and thought I would give it a try. The face cream comes in an orange cylinder-shaped container (photo shown above). The container is securely taped on one side of the container. It was taped on the right side on my container. Also, there's a QR code on the container where you can check if you have received an authentic product or not. Luckily for me, I received the real thing. Yay! 😃 When you open the container, you'll find a tag that says CLAIRE'S KOREA, a small clear spatula, a booklet that displays other skin care creams from this brand, and lastly and obviously the cream (jar) itself is inside of the container.
Here's a photo of what's inside of this magical cylinder-shaped container. I thought it was pretty interesting that the face cream came like this. It feels so fancy compared to my other face creams that just came in an ordinary box!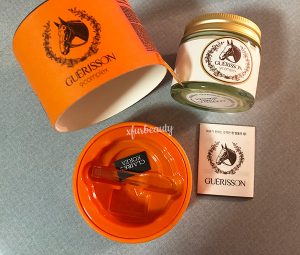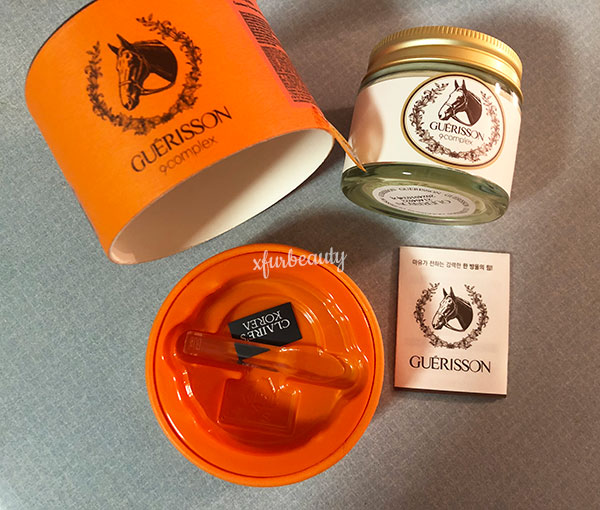 The face cream came sealed like this.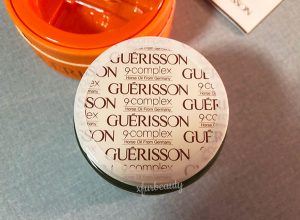 It was very easy to remove the seal. All I had to do was pop it open and it came right off just like this (shown in photo below). One of the most satisfying moments of my skin care life. 🙃 haha. This is what the face cream looks like. It looks rich, creamy, buttery, and oh-so-smooth. I just wanted to dip my fingers into the jar! BUT! Remember, it came with a small spatula to help with that.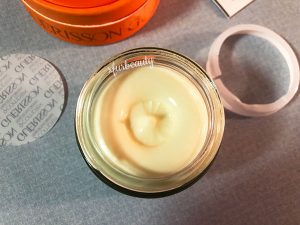 My Experience
It's been less than a week of using GUERISSON 9 Complex Cream. First and foremost, I did take a peek at the ingredients before I started using the cream. I have to! I didn't want unnecessary breakouts. My skin is pretty darn clear right now, and I want to keep it that way. But I'm still on the search for that perfect moisturizer that just nourishes and moisturizes the skin. SO! The first two ingredients in this cream is Purified Water and Caprylic/Capric Triglyceride. It contains Horse Oil/Fat (from Germany), Shea Butter, Niacinamide, Beeswax, and Snail Secretion Filtrate just by taking a glance at the ingredients. It also contains plant extracts, peptides, fragrance, vitamin e, jojoba seed oil, centella asiatica extract, soybean oil, sodium hyaluronate, ceramide 3. It looks like this face cream has a combination of very good, moisturizing, calming ingredients. I did mention it contains fragrance. If you're allergic to fragrance, take note of that. The face cream does have a notable smell to it. It smells like citrus. Doesn't smell like horses. That's in case if you're wondering. I didn't have any issues with it.
The face cream felt very soft, smooth, and buttery. That was my first impression of it. Unfortunately, I decided not to use it all-over my facial skin. I think the ingredients in this cream is a bit too heavy for my skin type. I know, I haven't tried it on my face yet, but I'm just not ready for it yet. Maybe some time in a few months if it ever crosses my mind, haha. So the cream feels thick. It's much thicker than my other face cream Eucerin Q10 Anti-Wrinkle Face Cream. It's also much richer. This cream feels like it's full of nutrients for the skin!
I ended up using it as an eye cream and a chest/neck cream. And if I have dry patches on my face, I would dab a little bit of the product on those areas. But, so far, this cream has been amazing. It left my eye area feeling extremely moisturized, and it glides over my delicate eye area so nicely and smoothly. The application is pretty much effortless due to how buttery it feels. It just blends and absorbs into the skin easily. The same applies for my upper chest and neck area. It just absorbs into the skin and leaves my skin feeling well nourished and moisturized. I honestly think this face cream could replace some of my HG eye creams. It's a lot more moisturizing. The moisture seems to last much longer on my skin too. My skin just doesn't feel dry anymore in places I apply the cream. Also, it comes in a 2.5 oz. (70 g) jar. I wish I could use this cream on my face. So far, I'm really liking the outcome of this product. It's just so moisturizing. It fixed my dry skin issues. My skin feels extra pampered!
If you missed out on my posts on moisturizers, go here:
Finding the Perfect Moisturizer & What I Use!
Categories:
Tags:

Acne, Acne Prone Skin, Acne Skin, Anti-Aging, Beauty, Ceramide, Dry Skin, Experience, Eye Cream, Face Cream, Face Moisturizer, Facial Cream, GUERISSON, GUERISSON 9 Complex Cream, Horse Oil, Hydrating, Lifestyle, Moisturizer, Niacinamide, Review, Sensitive Skin, Skin Care