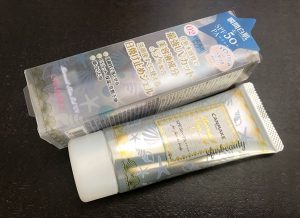 My package arrived today for Canmake Mermaid Skin Gel UV SPF 50+ PA++++ White!! 🙌🏻 I've been waiting for this sunscreen to arrive for a while. Finally! It's here! So, this time, I didn't purchase the Clear version. I chose the White version (02 White) instead. From what I know about the Clear and White, they should work just about the same. It's just that the White has a tone up effect on the skin. Making the skin look fairer and brighter. I've read not so good reviews on the White version while praising the Clear version. And the Clear is pretty good. No doubt about it. I mean, I've been using it for months now. But, I wanted to see if the White is similar to the Clear or if it could be even better. Also, fyi, the Clear costs a little bit more compared to the White version. Not by much. BUT STILL. I use sunscreen every single day, so I would like to (at least) save a little bit of money on sunscreen even if it's just a tiny little bit. Sunscreen can get very expensive over time, especially with reapplication and the amount that is used to get the full benefits from it! I feel like I go through it like no other. It's the skin care product that I use up the fastest. It's really insane. ha! Anyways, if you missed out on my previous posts on Canmake Mermaid Skin Gel UV SPF 50+ PA++++, you can go here:
Review: Canmake Mermaid Skin Gel UV SPF 50+ PA++++
An Update on Canmake Mermaid Skin Gel UV SPF 50+ PA++++!
Those were my past reviews. Some of my thoughts have changed, some haven't. Click on the link below for my most recent update on this sunscreen (Clear)! Just go to the section where I talk about sunscreen. ☀️
My most recent update on Canmake sunscreen in Clear! 👈🏻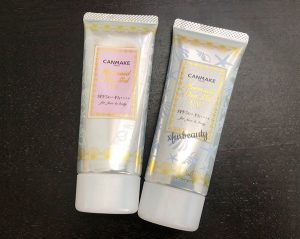 Here's a photo of both Canmake sunscreens. On the left, the Clear version. On the right, the White version.
My Experience With Canmake Mermaid Skin Gel UV SPF 50+ PA++++ 02 White
After going through several (I mean several!!! lol!) bottles of Canmake Mermaid Skin Gel UV SPF 50+ PA++++ in Clear, now I have the one in White. I've been curious about the White version but didn't go for it due to some reviews saying how it leaves a white cast on the skin after application. There were a lot of praises for the Clear version, and I use it and think it's a good sunscreen. BUT! I noticed that the White is a little bit cheaper compared to the Clear version. As I mentioned before, sunscreen gets expensive over time when used properly. So I bit the bullet and went for the White this time. Just to see if it'll work for me or not. You'll never know unless you try it right?? If it works out, great! I'll get the same sunscreen product, and I'll save a little bit of money, lol. If it doesn't work out, I'm still going to use it anyways, haha! I don't think it can be that bad considering that the ingredients are very similar. But we'll see how it goes! I'm excited for this! I hope it's good!
So the sunscreen is a gel. It's soft and smooth in texture and consistency. I didn't see anything out of the ordinary, distinguishable differences between this sunscreen (White) vs the Clear version besides the White version just appearing whiter in color. When applied to the skin, it feels just like the Clear. It feels like a watery gel that glides over the skin nicely and smoothly. It blends into the skin well. It also feels rather cooling and soothing on the skin. There is a little bit of a white cast, but I noticed a slight white cast with the Clear as well. But it fades away after a while it's been on the skin. With the White, wow, it's the same thing! There's a subtle white cast on the skin, but it didn't look super white. I thought it was subtle. I've used other sunscreens that left my face pure white and this sunscreen wasn't even near that. So it's not as super white on the skin like I thought it would be.
All in all, I think it feels and looks very similar to the Clear version. A subtle tone up? No problem there! I needed some of that glow up on my no makeup days anyways, hah! Also, wearing the White version with makeup was simple, I couldn't even tell if there was a white cast. My makeup just blends in and covers it up. So there ya have it! It works, and it's not too bad!
This is what Canmake sunscreen in 02 White looks like. It just looks whiter when dispensed from the bottle. It didn't look this white after blending it into the skin.
So it looks like the White version is just as good as the Clear version (on my skin). Keep in mind that I'm not that tan. Perhaps it may be different for someone with a richer complexion. Also, remember that this is from my experience after using it for ONE day. I just got the sunscreen and am very excited to test it out even more for the rest of the week! So far, it went well for today. Honestly, I'm really happy that it feels just like the Clear version. It seems to have the same effects on my skin like the Clear as well, such as drying out my skin just a little bit. That's a bad thing, lol. As I mentioned many times before, Canmake contains mineral filters, and mineral filters are notorious for drying out the skin (happens to me with mineral filters!!). But I'm still using it, haha! I didn't notice any breakouts by the end of the night either. It also worked very well as a makeup primer. It has the same smoothing, silky, silicone feel to the skin like the Clear version.
Yep! It seems like it's working! I think I may be making the switch to the White version soon if this is the way it's going. It works the same to me! No issues that I know of yet! But stay tuned for another update to see what happens. Sometimes stuff happens. 😲
Categories:
Tags:

Acne, Acne Skin, Anti-Aging, Anti-Wrinkle, Beauty, Canmake, Canmake Mermaid Skin Gel UV SPF 50+ PA++++, Clear, Clear Version, Experience, First Impression, Lifestyle, Mermaid Skin Gel, Review, Skin Care, SPF, SPF 50, Sun Care, Sun Protection, Sunblock, Sunscreen, Thoughts, UV, UV Protection, White Version, Wrinkles