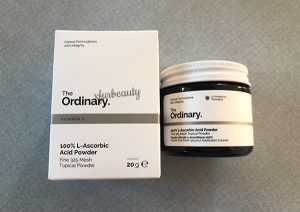 It's been 4 months using The Ordinary 100% L-Ascorbic Acid Powder. Yes, 4 MONTHS! If you need a recap on this product, GO HERE. So I started using this ascorbic acid powder to help with acne marks and to achieve a brighter complexion. I was having trouble with other vitamin c essences and serums. I couldn't find a vitamin c product that was compatible with my skin. I would get clogged pores and breakouts from other vitamin c products. So I thought, hey, let's try the powder form instead. It doesn't contain any other ingredients in it besides vitamin c. It's 100% l-ascorbic acid powder! 🍊
So this product comes in a jar. It's tiny. It's only 20g. Even though it's only 20g, I still have a ton of product left after 4 months of use. Seems like it'll last for a couple of years since I don't use much of it anyways, and I use it on a daily basis. Just a little bit of product goes a long way. It can get annoying when I have unscrew the lid, scoop out the powder, and mix it with my other skin care products. I have to be more careful because I don't want to spill the product all over the place. It's just plain messy. I think that's one of the downsides of this product — it's not mixed for you, you have to do it yourself.
With this ascorbic acid powder, I can use almost half a scoop without any issues. I worked my way up to that amount of powder over the months. It doesn't sting or burn my skin. My skin just takes it without any issues. I mix the ascorbic acid powder with my essences, which are the Cosrx Hyaluronic Acid Hydra Power Essence and Cosrx Advanced Snail 96 Mucin Power Essence. I mix these two together. Yeah, I'm weird, but I like the combination. I have hyaluronic acid and snail. It's an amazing combo to lightly moisturize the skin, especially for oily skin like myself. Works great since I've been doing it! 👍🏻 And I haven't had any issues with using them. No irritation, redness, or breakouts. All is good so far!
Now let's get into the results! It's been 4 months of using ascorbic powder. Have I seen any results?? Hmmm! Honestly, it's been tough. I haven't noticed visible results using it, but I'm not too disappointed in it. I mean, it works as a great antioxidant for my skin. I use it in the morning for the antioxidant properties and to boost my UV protection (while using SPF). Also, since the powder lasts forever, there's not much to complain about yet besides having to mix it myself in the morning. haha. Even though I'm still using this ascorbic acid powder, I've also continued on to using other vitamin c products…
More on my other vitamin c products in another post! 🙂 So, so far, The Ordinary 100% L-Ascorbic Acid Powder hasn't been too bad. But, I still think it's pretty overpriced for what you get. After finishing this powder, I think I'm just going to purchase ascorbic acid powder (not from The Ordinary) from somewhere else. Ascorbic acid powder is pretty cheap. Come on now, right? Why pay more for something that's just ascorbic acid powder. lol. Those are my thoughts on my experience with this product after 4 months. I hope this was helpful. I'll see everyone in my next update! Stay tuned!!
Moisturizing is very important! 💧 Check out my thoughts on the moisturizers that I use!
Another Update on My Moisturizers. What I'm Using Now.
Categories:
Tags:

4 Months, Acne, Acne Marks, Acne Prone Skin, Acne Scars, Acne Skin, Anti-Aging, Anti-Wrinkle, Ascorbic Acid, Ascorbic Acid Powder, Beauty, Cruelty-Free, Experience, First Impression, Lifestyle, Paraben Free, Results, Review, Scars, Skin Care, Skincare, Texture, The Ordinary, The Ordinary 100% L-Ascorbic Acid Powder, Thoughts, Update, Vegan, Vitamin C, Vitamin C Powder, Wrinkles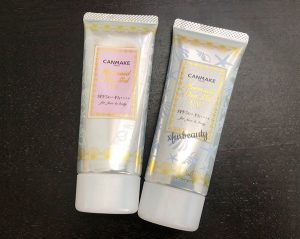 It's time for an update on Canmake Mermaid Skin Gel UV SPF 50+ PA++++!! I know, I know, I haven't used the White version for long, but I think I have a grasp on the effects it has on my skin by now. So, the burning question is, which one is better? The Clear version or the White version?? Hmmmm! Keep reading to find out! 👇🏻👇🏻👇🏻
When I first started using the the White version, I liked it. I thought it worked very similar to the Clear. Go here to read more on my first impression on the White version. I didn't have any issues with the white cast. That was the only thing I was worried about plus if the sunscreen is going to break me out. Fortunately, it didn't break me out, but the white cast got really annoying after a while. After using it, I don't think I can wear this sunscreen on my no makeup days. The white cast looks pretty obvious, lol. At first glance, it looks like it could work out, but it's just a no for me after a few days of using it, haha. I don't want to walk around having this white tint on my face. It does make the skin look brighter, but it's very noticeable. It's not as subtle as I thought it was. So that's a negative about this sunscreen and that's what most people complained about — the obvious white cast it leaves behind! Besides that, there's a few other things that bothered me about this sunscreen…
So the Clear and the White both are drying, but between the two, the White is a tad more drying on the skin. This sunscreen will attach itself to every single flake on the face (if there's any). I had to prep my skin before using the White version because my skin looked like a huge mess when I didn't moisturize my skin enough. I mean, you NEED to moisturize the skin before using the White version. Compared to the Clear, it appears that Titanium Dioxide is higher up on the ingredient list. That's why the sunscreen gives off a white cast and is more drying. But, at the same time, even if it's more drying, it really does help control excess sebum on my skin. It leaves a matte finish while the Clear made my face look like silicone and shiny. But I kind of like that dewy, shiny appearance to my skin. It makes my skin look so pretty and nice. I love the matte finish of the White too but the Clear makes my skin look pretty, lol. Also, the White version is more difficult to blend into the skin. The Clear version just smooths over much better and more effortlessly. Both feel drying on my skin at some point during the day (on my skin), but the Clear definitely wins when it comes to adding a little bit of moisture to the skin.
Now back to the obvious white cast! With the white cast, it looks awful when used alone (no makeup days). It made my skin appear dry and ashy. But, it seems to work very nicely when used underneath makeup. My foundation looks brighter and more even due to the the blank, white canvas it gives underneath the foundation. So that's another thing I do like about the White version (including the matte finish it provides for my oily skin). But I'm having mixed feelings about the White version. I somehow like it, but I don't. Honestly, I can see why most people like the Clear better. It just works better. It's easier to apply, no white cast, and makes the skin look beautiful. WELL! It looks like the winner between the two sunscreens is the Clear! Maybe I'll just use the White when I wear foundation or when my skin is feeling a little bit more oily, especially during the warmer months. Right now, I'm back to using the Clear. And I don't think I'm going to purchase the White again. Even though it's less expensive, it makes my daily morning routine much more difficult. I just don't have the time to blend in sunscreen. It should just easily melt into my skin (like the Clear version).
*sigh* I really wanted the White to work, but it's too difficult to use for every day. Would I recommend? Well, it could work for you, but the Clear is definitely a lot better between the two. I'm choosing the Clear! 👍🏻
Categories:
Tags:

Acne, Acne Skin, Anti-Aging, Anti-Wrinkle, Beauty, Canmake, Canmake Mermaid Skin Gel UV SPF 50+ PA++++, Clear, Clear Version, Clear Vesion, Experience, First Impression, Lifestyle, Mermaid Skin Gel, Review, Skin Care, SPF, SPF 50, Sun Care, Sun Protection, Sunblock, Sunscreen, Thoughts, Update, UV, UV Protection, White Version, Wrinkles