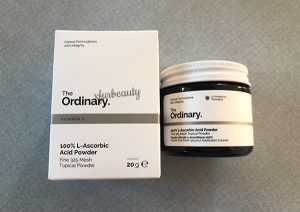 It's been 4 months using The Ordinary 100% L-Ascorbic Acid Powder. Yes, 4 MONTHS! If you need a recap on this product, GO HERE. So I started using this ascorbic acid powder to help with acne marks and to achieve a brighter complexion. I was having trouble with other vitamin c essences and serums. I couldn't find a vitamin c product that was compatible with my skin. I would get clogged pores and breakouts from other vitamin c products. So I thought, hey, let's try the powder form instead. It doesn't contain any other ingredients in it besides vitamin c. It's 100% l-ascorbic acid powder! 🍊
So this product comes in a jar. It's tiny. It's only 20g. Even though it's only 20g, I still have a ton of product left after 4 months of use. Seems like it'll last for a couple of years since I don't use much of it anyways, and I use it on a daily basis. Just a little bit of product goes a long way. It can get annoying when I have unscrew the lid, scoop out the powder, and mix it with my other skin care products. I have to be more careful because I don't want to spill the product all over the place. It's just plain messy. I think that's one of the downsides of this product — it's not mixed for you, you have to do it yourself.
With this ascorbic acid powder, I can use almost half a scoop without any issues. I worked my way up to that amount of powder over the months. It doesn't sting or burn my skin. My skin just takes it without any issues. I mix the ascorbic acid powder with my essences, which are the Cosrx Hyaluronic Acid Hydra Power Essence and Cosrx Advanced Snail 96 Mucin Power Essence. I mix these two together. Yeah, I'm weird, but I like the combination. I have hyaluronic acid and snail. It's an amazing combo to lightly moisturize the skin, especially for oily skin like myself. Works great since I've been doing it! 👍🏻 And I haven't had any issues with using them. No irritation, redness, or breakouts. All is good so far!
Now let's get into the results! It's been 4 months of using ascorbic powder. Have I seen any results?? Hmmm! Honestly, it's been tough. I haven't noticed visible results using it, but I'm not too disappointed in it. I mean, it works as a great antioxidant for my skin. I use it in the morning for the antioxidant properties and to boost my UV protection (while using SPF). Also, since the powder lasts forever, there's not much to complain about yet besides having to mix it myself in the morning. haha. Even though I'm still using this ascorbic acid powder, I've also continued on to using other vitamin c products…
More on my other vitamin c products in another post! 🙂 So, so far, The Ordinary 100% L-Ascorbic Acid Powder hasn't been too bad. But, I still think it's pretty overpriced for what you get. After finishing this powder, I think I'm just going to purchase ascorbic acid powder (not from The Ordinary) from somewhere else. Ascorbic acid powder is pretty cheap. Come on now, right? Why pay more for something that's just ascorbic acid powder. lol. Those are my thoughts on my experience with this product after 4 months. I hope this was helpful. I'll see everyone in my next update! Stay tuned!!
Moisturizing is very important! 💧 Check out my thoughts on the moisturizers that I use!
Another Update on My Moisturizers. What I'm Using Now.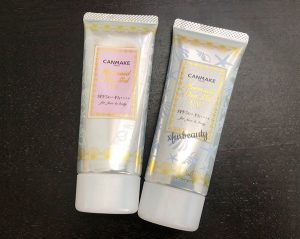 It's time for an update on Canmake Mermaid Skin Gel UV SPF 50+ PA++++!! I know, I know, I haven't used the White version for long, but I think I have a grasp on the effects it has on my skin by now. So, the burning question is, which one is better? The Clear version or the White version?? Hmmmm! Keep reading to find out! 👇🏻👇🏻👇🏻
When I first started using the the White version, I liked it. I thought it worked very similar to the Clear. Go here to read more on my first impression on the White version. I didn't have any issues with the white cast. That was the only thing I was worried about plus if the sunscreen is going to break me out. Fortunately, it didn't break me out, but the white cast got really annoying after a while. After using it, I don't think I can wear this sunscreen on my no makeup days. The white cast looks pretty obvious, lol. At first glance, it looks like it could work out, but it's just a no for me after a few days of using it, haha. I don't want to walk around having this white tint on my face. It does make the skin look brighter, but it's very noticeable. It's not as subtle as I thought it was. So that's a negative about this sunscreen and that's what most people complained about — the obvious white cast it leaves behind! Besides that, there's a few other things that bothered me about this sunscreen…
So the Clear and the White both are drying, but between the two, the White is a tad more drying on the skin. This sunscreen will attach itself to every single flake on the face (if there's any). I had to prep my skin before using the White version because my skin looked like a huge mess when I didn't moisturize my skin enough. I mean, you NEED to moisturize the skin before using the White version. Compared to the Clear, it appears that Titanium Dioxide is higher up on the ingredient list. That's why the sunscreen gives off a white cast and is more drying. But, at the same time, even if it's more drying, it really does help control excess sebum on my skin. It leaves a matte finish while the Clear made my face look like silicone and shiny. But I kind of like that dewy, shiny appearance to my skin. It makes my skin look so pretty and nice. I love the matte finish of the White too but the Clear makes my skin look pretty, lol. Also, the White version is more difficult to blend into the skin. The Clear version just smooths over much better and more effortlessly. Both feel drying on my skin at some point during the day (on my skin), but the Clear definitely wins when it comes to adding a little bit of moisture to the skin.
Now back to the obvious white cast! With the white cast, it looks awful when used alone (no makeup days). It made my skin appear dry and ashy. But, it seems to work very nicely when used underneath makeup. My foundation looks brighter and more even due to the the blank, white canvas it gives underneath the foundation. So that's another thing I do like about the White version (including the matte finish it provides for my oily skin). But I'm having mixed feelings about the White version. I somehow like it, but I don't. Honestly, I can see why most people like the Clear better. It just works better. It's easier to apply, no white cast, and makes the skin look beautiful. WELL! It looks like the winner between the two sunscreens is the Clear! Maybe I'll just use the White when I wear foundation or when my skin is feeling a little bit more oily, especially during the warmer months. Right now, I'm back to using the Clear. And I don't think I'm going to purchase the White again. Even though it's less expensive, it makes my daily morning routine much more difficult. I just don't have the time to blend in sunscreen. It should just easily melt into my skin (like the Clear version).
*sigh* I really wanted the White to work, but it's too difficult to use for every day. Would I recommend? Well, it could work for you, but the Clear is definitely a lot better between the two. I'm choosing the Clear! 👍🏻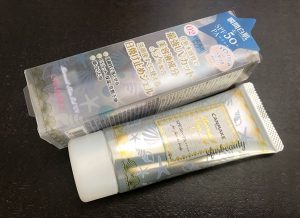 My package arrived today for Canmake Mermaid Skin Gel UV SPF 50+ PA++++ White!! 🙌🏻 I've been waiting for this sunscreen to arrive for a while. Finally! It's here! So, this time, I didn't purchase the Clear version. I chose the White version (02 White) instead. From what I know about the Clear and White, they should work just about the same. It's just that the White has a tone up effect on the skin. Making the skin look fairer and brighter. I've read not so good reviews on the White version while praising the Clear version. And the Clear is pretty good. No doubt about it. I mean, I've been using it for months now. But, I wanted to see if the White is similar to the Clear or if it could be even better. Also, fyi, the Clear costs a little bit more compared to the White version. Not by much. BUT STILL. I use sunscreen every single day, so I would like to (at least) save a little bit of money on sunscreen even if it's just a tiny little bit. Sunscreen can get very expensive over time, especially with reapplication and the amount that is used to get the full benefits from it! I feel like I go through it like no other. It's the skin care product that I use up the fastest. It's really insane. ha! Anyways, if you missed out on my previous posts on Canmake Mermaid Skin Gel UV SPF 50+ PA++++, you can go here:
Review: Canmake Mermaid Skin Gel UV SPF 50+ PA++++
An Update on Canmake Mermaid Skin Gel UV SPF 50+ PA++++!
Those were my past reviews. Some of my thoughts have changed, some haven't. Click on the link below for my most recent update on this sunscreen (Clear)! Just go to the section where I talk about sunscreen. ☀️
My most recent update on Canmake sunscreen in Clear! 👈🏻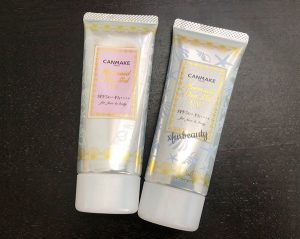 Here's a photo of both Canmake sunscreens. On the left, the Clear version. On the right, the White version.
My Experience With Canmake Mermaid Skin Gel UV SPF 50+ PA++++ 02 White
After going through several (I mean several!!! lol!) bottles of Canmake Mermaid Skin Gel UV SPF 50+ PA++++ in Clear, now I have the one in White. I've been curious about the White version but didn't go for it due to some reviews saying how it leaves a white cast on the skin after application. There were a lot of praises for the Clear version, and I use it and think it's a good sunscreen. BUT! I noticed that the White is a little bit cheaper compared to the Clear version. As I mentioned before, sunscreen gets expensive over time when used properly. So I bit the bullet and went for the White this time. Just to see if it'll work for me or not. You'll never know unless you try it right?? If it works out, great! I'll get the same sunscreen product, and I'll save a little bit of money, lol. If it doesn't work out, I'm still going to use it anyways, haha! I don't think it can be that bad considering that the ingredients are very similar. But we'll see how it goes! I'm excited for this! I hope it's good!
So the sunscreen is a gel. It's soft and smooth in texture and consistency. I didn't see anything out of the ordinary, distinguishable differences between this sunscreen (White) vs the Clear version besides the White version just appearing whiter in color. When applied to the skin, it feels just like the Clear. It feels like a watery gel that glides over the skin nicely and smoothly. It blends into the skin well. It also feels rather cooling and soothing on the skin. There is a little bit of a white cast, but I noticed a slight white cast with the Clear as well. But it fades away after a while it's been on the skin. With the White, wow, it's the same thing! There's a subtle white cast on the skin, but it didn't look super white. I thought it was subtle. I've used other sunscreens that left my face pure white and this sunscreen wasn't even near that. So it's not as super white on the skin like I thought it would be.
All in all, I think it feels and looks very similar to the Clear version. A subtle tone up? No problem there! I needed some of that glow up on my no makeup days anyways, hah! Also, wearing the White version with makeup was simple, I couldn't even tell if there was a white cast. My makeup just blends in and covers it up. So there ya have it! It works, and it's not too bad!
This is what Canmake sunscreen in 02 White looks like. It just looks whiter when dispensed from the bottle. It didn't look this white after blending it into the skin.
So it looks like the White version is just as good as the Clear version (on my skin). Keep in mind that I'm not that tan. Perhaps it may be different for someone with a richer complexion. Also, remember that this is from my experience after using it for ONE day. I just got the sunscreen and am very excited to test it out even more for the rest of the week! So far, it went well for today. Honestly, I'm really happy that it feels just like the Clear version. It seems to have the same effects on my skin like the Clear as well, such as drying out my skin just a little bit. That's a bad thing, lol. As I mentioned many times before, Canmake contains mineral filters, and mineral filters are notorious for drying out the skin (happens to me with mineral filters!!). But I'm still using it, haha! I didn't notice any breakouts by the end of the night either. It also worked very well as a makeup primer. It has the same smoothing, silky, silicone feel to the skin like the Clear version.
Yep! It seems like it's working! I think I may be making the switch to the White version soon if this is the way it's going. It works the same to me! No issues that I know of yet! But stay tuned for another update to see what happens. Sometimes stuff happens. 😲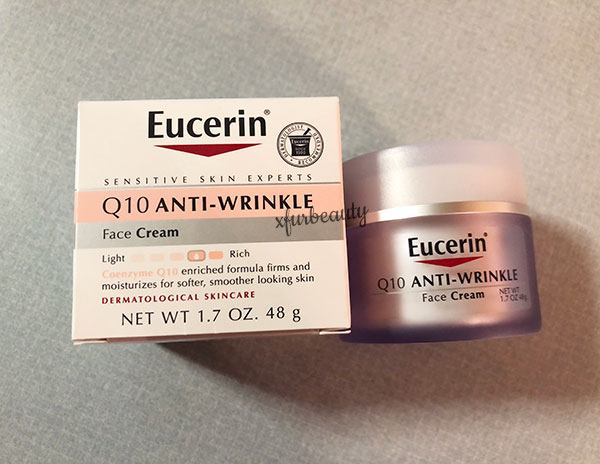 I have a new moisturizer! 😃 It's a product I have used before many moons ago, but I decided to give it another chance. My skin was feeling a little dry and needed a good moisturizer. My lightweight moisturizers weren't doing it for my skin. So, with this moisturizer, it's been YEARS since I've used it. Maybe it'll be different this time around. I don't know. We'll see! So the moisturizer or face cream that I have is Eucerin Q10 Anti-Wrinkle Face Cream. Now let's learn more about it first…
So this face cream is formulated with antioxidants like vitamin e, coenzyme q10, beta-carotene to help reduce the look of fine lines and wrinkles. It says in as little as 5 weeks, it reduces the look of fine lines and wrinkles for softer, smoother looking skin. This cream is for sensitive skin, fragrance-free, alcohol-free, and non-comedogenic.
The product says it's non-comedogenic. I don't recall this cream breaking me out in the past. I think that's why I thought I would give it another go. But let's take a look at the ingredients. Here are the ingredients in this product!
Water, glycerin, ethylhexyl cocoate, hydrogenated coco-glycerides, stearyl alcohol, butylene glycol, cetyl alcohol, caprylic/capric triglyceride, butyrospermum parkii (shea) butter, glyceryl stearate citrate, octyldodecanol, tocopheryl acetate, ubiquinone, biotin, biosaccharide gum-1, sodium ascorbyl phosphate, zea mays (corn) oil, beta-carotene, tocopherol, 1,2-hexanediol, carbomer, sodium hydroxide, trisodium EDTA, dehydroacetic acid, phenoxyethanol.
It contains some ingredients that I usually can't tolerate, such as caprylic/capric triglyceride, shea butter, and corn oil, but I decided to just give it a try anyways. I really needed a better moisturizer for my face. Once again, I can't recall this cream breaking me out in the past. I can just hope that it's the same as before. Makes me wonder why I stopped using it in the first place. There's only one way to find out if it works or not and that is to try it!
The face cream comes in a 1.7 oz. jar (48 g). It's a tiny jar. It comes sealed. YAY!! Ya know how much I love sealed skin care products. It's fresh. It's new. And I know I'm getting a brand new product!
This is what the face cream looks like when the seal is removed. The product is yellow in color. It appears to be rich, thick, creamy, and buttery. It's much, much different than what I'm used to or what I've been using on a daily basis. I really hope it doesn't clog my pores. ha.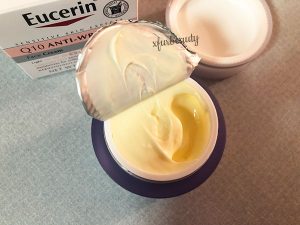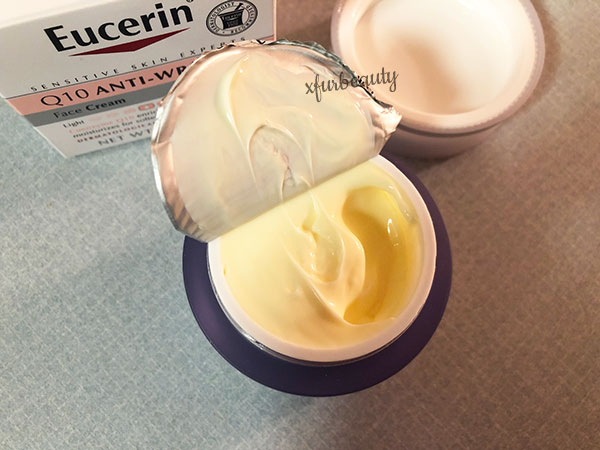 My First Impression
This face cream is rich, thick, and creamy. It has a buttery texture to it. It feels much heavier and more dense than what I'm used to. I was very skeptical yet interested in this face cream all at the same time. I knew I needed something much richer, more moisturizing for my face. My lightweight moisturizers were just not cutting it for long-term. Yes, oily (and acne-prone) skin needs a good moisturizer too. It's just really difficult to find one that gives it the moisture that it needs without causing breakouts and making it appear more oily. So, I loved how rich and thick the cream is. Also, I didn't need to use a lot of product either to cover my whole face and neck area either. Just a little bit of product is needed and pat it into the skin. The face cream blends and absorbs well into the skin. It didn't take much effort to get it to sink into the skin. Awesome! It leaves my skin highly, deeply moisturized. I just love it. It feels very nice on the skin. Also, it makes a really good eye cream. It leaves my eye area deeply moisturized. It's more moisturizing compared to the eye creams that I have. So, I definitely fell in love with this face cream and how it made my skin feel right on the spot.
I've only used this face cream for 3 days. I used it in the morning and at night. I was going to use it only at night as my night cream since it felt heavier on the face, but I decided to use it in the morning too. My sunscreen tends to dry my face out. It absorbs all of the moisture from my skin. And ta-da! It worked in the morning wonderfully. My skin felt more soft, velvety, smooth, and just super moisturized. Works great underneath my sunscreen. Now my skin doesn't feel extra dry anymore. Yay! My Cosrx Ultimate Nourishing Rice Overnight Spa Mask couldn't compete with this type of hydration. My skin actually feels moisturized and was left moisturized throughout the day with Eucerin Q10 Anti-Wrinkle Face Cream. I mean, it does contain heavier, richer ingredients in it. It's a heavier cream than what I usually use, so I'm not too surprised. But, with the Eucerin Q10 Anti-Wrinkle Face Cream, the product doesn't feel heavy as I thought it would. It feels lightweight on the skin. All I needed was a thin layer of the product to provide moisture to my skin.
I didn't have any issues with this product within 3 days of use. The product didn't ball up. It sat on my skin well and stayed in place. Absorbs into the skin well (as I mentioned earlier). It didn't make my face look oily. Doesn't leave a greasy film behind or feel sticky on my skin either. Not bad at all. Now let's get into the acne. As for acne, it's only been 3 days, but I haven't experienced any breakouts from this face cream. I've only experienced a more hydrated, moisturized complexion. My skin looks softer, smoother, and just healthier looking overall. This is exactly what my skin needed when it lacked moisture! So it looks like it's working for me so far. Wow, maybe I've found a face cream that works on my stubborn, annoying, breakout-prone skin. Some of the ingredients in this product are usually not compatible with my skin type. I usually get a ton of clog pores from them. But, you know, I don't want to jinx myself. This face cream has been amazing within the first 3 days. I hope it works out in the end because I'm loving it sooooo farrr!! I hope it works! 🙂
New update within a few weeks. 👍🏻🤞🏻
Here are some old posts on moisturizers that I use. I'm still using some of the products. I'll make an update soon enough. But enjoy my posts. I hope they're helpful. 😊
Finding the Perfect Moisturizer & What I Use!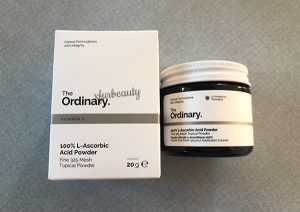 So my skin looks really good right now. Most of my acne is gone. All thanks to Olay Regenerist Collagen Peptide 24 Cream Cleanser. 👈🏻 Don't forget to read more about this cream cleanser right here!! I'll make an update on my progress with this cream cleanser soon. Stay tuned for that too! Since my skin has cleared up so much, and it took so many years to get it all situated out. It's time to add a vitamin c product into my skin care routine! I've been waiting for the right time to include one. I have a few leftover vitamin c serums from before, but they don't work on my skin. They either cause blackheads, clog my pores, or don't do anything for my skin. So I picked up a jar of The Ordinary 100% L-Ascorbic Acid Powder. I've had this for a while, but I was waiting until my acne was under control first. I think it's time! I started using it a week ago, and everything seems to be going well.
What is the purpose of this product?
It's an antioxidant that brightens the skin, fights free radicals, boosts sun protection when used in the morning, and helps to fade acne scars.
The ingredients…
The ingredients in this product is pretty straight forward. It only contains ascorbic acid. I was having trouble with The Ordinary vitamin c products due to other ingredients that it contains. I think this one might be a better choice for me.
And let's not forget.
It's paraben-free, vegan, cruelty-free, gluten-free, and comes in recyclable packaging.
My First Impression
This product comes in a jar with 20 grams of ascorbic acid (vitamin c) powder. Retails at $5.80. It looks extremely affordable (because all of their other products are pretty cheap), but it's on the expensive side for the amount of product. Ascorbic acid can be purchased for much less on the market. I purchased this ascorbic acid powder a few months ago without thinking too much about it. I was just looking through The Ordinary products that I haven't tried yet. This was one of them. I thought, hey, let's give it a shot without much thought. Now here I am with a jar of ascorbic acid from The Ordinary. Let's try it out! lol.
The jar comes sealed. Like this. It comes with a mini plastic scooper.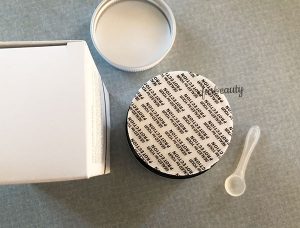 This is what the powder looks like. It's just white powder. Looks a bit clumpy, but that's OK. It works just fine. There's nothing wrong with it.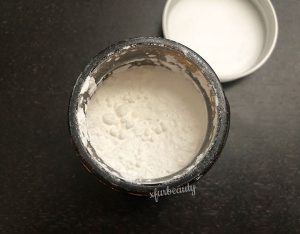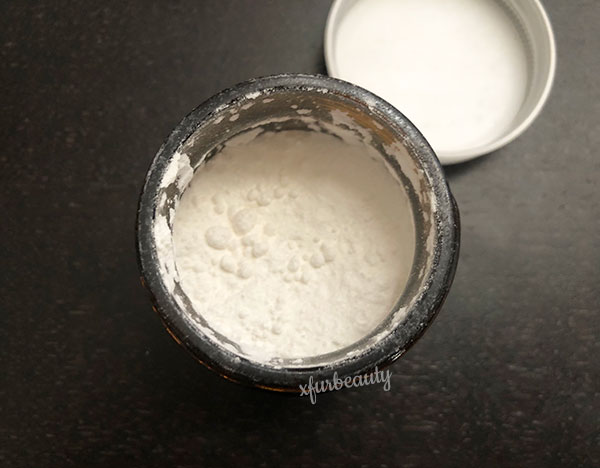 The powder feels very very fine. Not gritty at all. Hoping that it would blend into other products just fine. And guess what? It did! I used it with my moisturizer (and tried it with an essence), which is Vanicream Daily Facial Moisturizer for Sensitive Skin and Cosrx Hyaluronic Acid Hydra Power Essence. The tricky thing about using this vitamin c powder is the pH. For vitamin c to work on the skin, it needs to be acidic but not too low where it irritates and burns the skin. I tested the pH of my mixture, and it's good to go! When applying the mixture to the skin, there was a slight stinging sensation (not too much), but that's pretty normal when using vitamin c products. It's the same stinging sensation I get when using other vitamin c serums that contain ascorbic acid. The stinging sensation goes away pretty quick. The difference is that my skin likes the mixture better vs the store bought serums. There's less ingredients to worry about. I haven't found a good vitamin c serum yet due to this issue.
I tried The Ordinary Ascorbic Acid 8% Alpha Arbutin 2%, and it didn't work on my skin. It dried out my skin, made it look aged, saw no results after several months of using it. It was such a waste of time and money. So I'm glad I gave the powder a chance. My skin can't handle propanediol in high amounts from my experience with The Ordinary skin care products with this ingredient. The Ordinary seems to utilize this ingredient quite often. And, it just didn't work for me as I wanted it to. Oh well…haha.
With the ascorbic acid powder, the instructions states to not mix with formulations that contain niacinamide and EUK 134. You can read about my experience with The Ordianry EUK 134 0.1% Serum here. I like niacinamide, but I haven't found a serum that works on my skin. The Ordinary Niacinamide 10% + Zinc 1% (one of the products I've used) gave me the worst acne of my life. 👈🏻 For a more in depth review, go check it out! But the whole using ascorbic acid and niacinamide at the same time has to do with skin sensitivity and skin flushing. I've used both products at the same time but not mixed (layering) without any issues. I don't have sensitive skin to begin with. And my skin doesn't flush with these two ingredients. If you have rosacea or are prone to skin redness, that's something to keep in mind. Other advisories include making sure to avoid the eyes, do a patch test, don't use it on broken skin.
I haven't had any problems with this product yet. I started off using it in the morning and at night, but now I only use it in the morning. I don't think it's necessary to use it twice a day (unless I want to). When using vitamin c in the morning, it boosts sun protection. That seems like a great, better idea. 👍🏻 So far, my skin really likes this version of vitamin c. Other vitamin c products contain other ingredients that are pore-clogging and messed up my skin. I've already seen minor results after a week of using it. My skin feels smoother, a bit more even, and just looks really good. No breakouts or skin irritation thus far. Also, I would like to mention that I don't fill up the whole scooper when using this product. I only use about 1/4-1/3 of ascorbic acid powder. Ascorbic acid is an acid (as the name states), so be careful when using. If you have very sensitive skin, make sure to do a patch test first! ⚠ You can burn yourself.
So I like the results I'm seeing using this product, but will I purchase another jar of ascorbic acid from The Ordinary again? Hmmm, I'll use it all up first and think about it. As I mentioned earlier, this vitamin c powder is definitely expensive for the amount of product. I might just purchase ascorbic acid powder somewhere else. It seems like they want you to do the work for them. haha. They should've formulated a better ascorbic acid serum and released that instead. I'm really not impressed with most of their serums so far. But this powder is awesome! My skin is looking soooo good! Cheers to clearer, brighter, acne-free skin! 🥂✨
An update on The Ordinary 100% L-Ascorbic Acid Powder coming up soon!
If you missed out on my reviews on The Ordinary skin care products, have fun reading them all! 😁