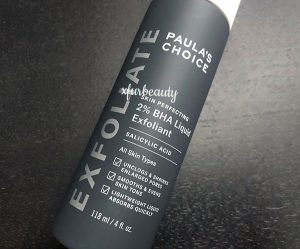 I know I've talked about Paula's Choice Skin Perfecting 2% BHA Liquid Exfoliant so many times. I've used it on and off, since I have full bottles of it, and I don't know what to do with them anymore. haha. So I decided to pick up on using it again after quitting it just recently. These blackheads on my nose are getting annoying. I must do something about it! It seems like nothing works long term. I'm also using The Ordinary Mandelic Acid 10% + HA, but it stopped working on my blackheads. I like it, but it's just not working anymore. I'll talk more about The Ordinary Mandelic Acid 10% + HA another time. Now let's focus on Paula's Choice Skin Perfecting 2% BHA Liquid Exfoliant! Read on! 🙂
I've tried using Paula's Choice Skin Perfecting 2% BHA Liquid Exfoliant two ways. I used it with a cotton pad and dispensing some product into my palm and gentle patting it into my skin. Both of these methods are good. I didn't have any breakouts or irritation from any of these methods. But it seems like the latter isn't up to par. I'm not getting results from it like I did before. It's like my skin gets better then I see no improvements as weeks go on. I feel like I'm wasting my time when something doesn't work as intended. SO! I decided to switch over and use it with a cotton pad. This is my experience using it with a cotton pad instead…
What I did was dispense a little bit of product onto a cotton pad and swipe my face with the cotton pad. You know, I used to use Paula's Choice Skin Perfecting 2% BHA Liquid Exfoliant with a cotton pad back then when this 2% BHA Liquid was my facial toner. I'm not sure if it did anything for my skin, but my skin was in really good shape. Hopefully, I can get the same results again. Maybe it was doing something for my skin that I didn't know of. But after swiping my face, I noticed debris on the cotton pad. Uh oh, looks like I have leftover dirt and debris on my skin! Possibly more excess sebum that I can never get rid of even after using 10000x exfoliants and oil-controlling products, lol. But, my skin definitely looked and felt much cleaner afterwards. It left my skin prepped for the next skin care products in my routine. My skin felt happy! 😀
I followed this method for a few days in the morning and at night. Knowing how oily my skin is, I know it can take drying skin care products like this. My skin hasn't dried out from using Paula's Choice Skin Perfecting 2% BHA Liquid Exfoliant (yet) and other chemical exfoliants I'm using by much. All is going well. And it seems like the cotton pad method is the way to go to remove excess dirt, sebum, and debris from the skin if you have oily, acne-prone skin like mine. As for acne, I really can't tell if the 2% BHA Liquid is doing anything yet. I'll just have to wait and see. It's only been under a week to see any improvements. But I like the way my skin looks and feels after using the 2% BHA Liquid with a cotton pad — oh so smooth and clean! I'm crossing my fingers that it'll help decrease blackheads and acne in general over time. We'll see! A new update coming up soon! Stay tuned!
For more posts on Paula's Choice Skin Perfecting 2% BHA Liquid Exfoliant:
Review: Paula's Choice 2% BHA Liquid
My Experience with Paula's Choice 2% BHA Liquid
Categories:
Tags:

2% BHA Liquid, Acne, Acne Prone Skin, Acne Skin, Anti Aging, Anti Wrinkle, Beauty, BHA, BHA Liquid, Blackheads, Blemishes, Experience, Lifestyle, Paula's Choice, Paula's Choice 2% BHA Liquid, Review, Salicylic Acid, Skin Care, Skin Care Products, Skincare, Thoughts, Wrinkles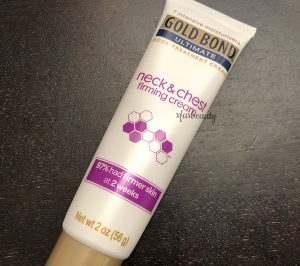 I have a new cream for my neck and chest skin…
It's the Gold Bond Ultimate Neck & Chest Firming Body Treatment Cream!
This is my second purchase of a Gold Bond skin care product. If you missed out on my first, go to this link right here: Gold Bond Ultimate Crepe Corrector Age Defense
This product is a lot smaller. It's only 2 oz (56 g). It made me curious what's so good about this cream vs the other cream (Crepe Corrector Age Defense). So! Let's learn more about it…
This cream is clinically tested and proven to increase elasticity, improve texture, visibly firm, boost hydration, and repair dry, depleted skin. It contains advanced hydration blend to draw in moisture to improve texture. Salicylic Acid (BHA) to exfoliate to help reveal a younger-looking complexion. Stress Response Proteins to boost skin's moisture retention to improve smoothness. It's fragrance-free and dermatologist-tested.
The more I read about this cream, the more excited I am for it, haha! It just seems so promising! I'M SO EXCITED!! 😅😃
This is what the cream looks like.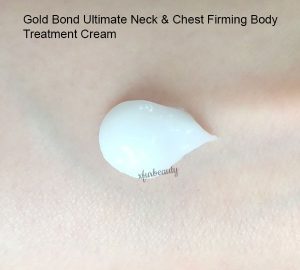 This cream feels very similar to the Crepe Corrector Age Defense. It's soft, thick, and creamy. It feels very rich and moisturizing. And yes! It felt soothing and moisturizing when I applied it to my neck and chest skin. With this cream, I noticed that it absorbed into the skin much better compared to the Crepe Corrector Age Defense. It just vanishes into the skin nicely, but it does leave a little bit of a sticky feeling behind. Just a little bit. I wasn't too bothered by the stickiness of the cream at first, but we'll see as I continue to use the product. On the box it says…
82% saw softer, smoother skin immediately
85% saw improvement in skin texture within 1 day
97% had visibly firmer, more taut skin in 2 weeks
88% had improvement in skin elasticity in 6 weeks
My Results After 1 Day…
Well, my skin did feel softer and smoother immediately. It is a moisturizing lotion. I'm not too surprised about that. My other moisturizers that are soft, thicker in texture, creamy leave my skin feeling softer and smoother immediately too. No biggie. Within 1 day of using this cream, I did notice an improvement in skin texture, but it could be from my other skin care products. I'm using other skin care products in conjunction with this neck and chest cream. But, good news, I like the way it moisturizes my skin and leaves my skin feeling hydrated! I can't wait to see what my skin is going to look like within 2 weeks and 6 weeks!!
What's in this product? Here are the ingredients!
water, hydroxyethyl urea, glycerin, dimethicone, hydroxyethyl acrylate/sodium acryloyldimethyl taurate copolymer, steareth-21, jojoba esters, petrolatum, selaginella lepidophylla extract, aloe barbadensis leaf juice, salicylic acid, stearyl alcohol, glyceryl stearate, isohexadecane, ubiquinone, whey protein, jojoba oil/macadamia seed oil esters, phytosteryl macadamiate, bisabolol, pyrus malus (apple) fruit extract, citrullus lanatus (watermelon) fruit extract, phytosterols, panthenol, tocopheryl acetate, magnesium ascorbyl phosphate, sodium lactate, methyl gluceth-20, C12-15 alkyl benzoate, sodium PCA, cetyl alcohol, hydrolyzed jojoba esters, squalene, cetearyl alcohol, stearamidopropyl PG-dimonium chloride phosphate, lens esculenta (lentil) fruit extract, methylparaben, ethylhexylglycerin, propylene glycol, tocopherol, EDTA, zingiber officinale (ginger) root extract, potassium hydroxide, polysorbate 60
This cream contains hydroxyethyl urea, which I mentioned about in my post about the Crepe Corrector Age Defense. It also contains petrolatum, aloe barbadensis leaf juice, salicylic acid, ubiquinone, whey protein, panthenol, vitamin e, vitamin c, and sodium pca, and many more ingredients. Just comparing the ingredients between the Crepe Corrector Age Defense and the neck and chest cream, the ingredients in the neck and chest cream are very similar to the Crepe Corrector Age Defense, except that the neck and chest cream contains salicylic acid and a few other ingredients that are different. Not by much. And it looks like the beneficial ingredients are way up higher on the ingredient list too in the neck and chest cream. That may be why the neck and chest cream comes in a smaller bottle (2 oz. vs 8 oz.). They're priced very similarly. Around 10 bucks. As I mentioned earlier, the neck and chest cream absorbs into the skin much quicker making it feel more lightweight on the skin.
Final Thoughts
So far, it's not a bad product. But it sure does feel like any other moisturizing product I have. I'm not too impressed yet, but I'm anxious to see what the results will be after using it for 2 or 6 weeks. I really hope to see visibly firmer and more taut skin (2 weeks) and an improvement in skin elasticity (6 weeks). If it lives up to its claims, I'm going to be thrilled! Well! We'll see what happens soon. That's all for now! I'll make an update when it reaches 2 or 6 weeks. See everyone there! 😃
For more reviews on Gold Bond skin care products click here!!
Categories:

Anti-Aging, Beauty, Body Care, Moisturizer, Moisturizer, Skin Care
Tags:

Acne Skin, Anti-Aging, Anti-Aging Products, Beauty, BHA, Chest Cream, Crepe Skin, Exfoliate, Experience, Gold Bond, Gold Bond Ultimate Neck & Chest Firming Cream, Lifestyle, Neck Cream, Review, Salicylic Acid, Skin Care, Skin Care Products, Skincare, Wrinkles