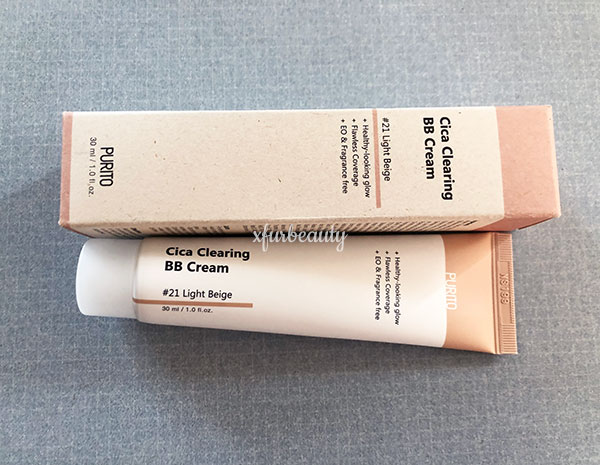 I finished my Dr. Jart+ Rejuvenating BB Beauty Balm Silver Label SPF 35 PA++, and I'm so close to being done with Skin79 Super+ Beblesh Balm Orange. But, I'll talk about that BB Cream some other time. Today, I'm going to talk about Purito Cica Clearing BB Cream. Yes, I started using it again.
You know, I'm trying not to spend so much on skin care products and makeup products. Since I finished what I use most of the time (Dr. Jart+), I decided to give Purito Cica Clearing BB Cream another try. All I remember from using it last time is that it's inexpensive, soft, smooth, and gave me greyish undertones. It also gave me acne?? I don't remember. So, this is what happened this time. haha!
The bb cream is soft and smooth in texture. I really liked the texture of this bb cream. It's very dreamy to touch! It blends into the skin nicely too. It's much different compared to other bb creams I have tried. This one is just so soft and melts into the skin. Love it! Too bad that it still looks greyish on my complexion. It dulls my skin out and deepens my natural skin color. It makes my skin look dead. Even though it didn't provide my skin with much coverage, it changed my skin color to a grey color. It didn't provide much coverage either. I'm pretty acne-free right now so I don't need much coverage anyways. I would like some since that is one of the reasons I wear makeup. But, it's OK. I'm not too sad about that.
The burning question is…did it break me out. Sadly, this bb cream can break me out if my skin is really oily. It makes my skin even more oily. It says on the tube that it gives the skin a healthy-looking glow. No, it made my skin look oily and greasy all over. If you have oily skin, be aware that it will increase the oils in the skin. That's what happened to me. I think that's what contributed to breakouts. But, I'm not a fan of this bb cream. It's greasy-looking on my face and doesn't provide any coverage. I'll use it whenever until it's gone. I've already decided that I'm not going to purchase it again. Once again, I just didn't want to purchase any new makeup products right now. I already have the Purito Cica Clearing BB Cream and a few others I have to finish first. I don't like the shade, and it's not working for me. I'm still going to stick to my goal of finishing products first before buying.
Those are my updated thoughts on Purito Cica Clearing BB Cream. It might work for someone else. It's just not working for me. Moving on and can't wait to finish it soon so I can toss it out!
Categories:
Tags:

Acne, Acne Skin, Anti-Aging, BB Cream, Beauty, Blemish Balm, Experience, Lifestyle, Light Beige, Purito, Purito Cica Clearing BB Cream, Review, Skin Care, Skincare, Wrinkles