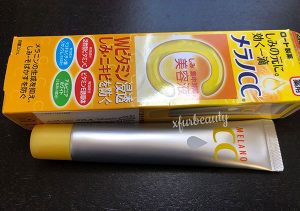 It's been a little over a 1 month using Melano CC Vitamin C Essence. I finished another tube of the product just recently. Honestly, it was pretty satisfying since it seemed to last forever. haha. I just wanted to be done with it and start a new tube! 😀 Now here I am with a new tube! All fresh and new! Cheers! So after finishing a tube of this essence after 1 month, here are my results!
You know, I'm growing to like this essence. It's not too bad. It's lightweight. Absorbs into the skin well. Doesn't pill. It works well with my other skin care products. It's affordable and one tube lasts for a long time. The packaging of this product is very secure too. It prevents the vitamin c in this product from oxidizing. It's also portable. I can take it with me while travelling easily, and I know that it's not going to leak or spill everywhere. And most of all, I haven't had any breakouts from it. It works with my skin type! Woohoo! I'm very excited for that! I've been searching for a vitamin c serum or essence that works on my skin without causing any issues. It doesn't irritate my skin either. This vitamin c essence seems to be it. So it's been great and all so far. But did it work to help fade acne marks, dark spots, post-inflammatory hyperpigmentation?? Make my complexion more even and brighter?? Well…
Unfortunately, I haven't noticed lightening of acne marks, dark spots, or post-inflammatory hyperpigmentation. I have noticed a more even and brighter complexion. I'm not sure if it's from the Melano CC Vitamin C Essence. I'm also using other skin care products that contain vitamin c, niacinamide, and arbutin, which are really good at fading dark pigmentation on the skin. I think a combination of skin care products that I have been using has helped so far. But, I don't think this essence alone will do the job. I love that it works on my skin, but as far as effectiveness go, it's an alright product. It's not as good as people make it out to be. I honestly thought it would be a life changing skin care product. I was expecting a lot more from it that's all. BUT! I will continue to use it since it hasn't cause any breakouts or other skin problems. I'll keep using it for its antioxidant effects. I like vitamin c products and this essence doesn't cost that much either. We'll see what happens as I keep using it. Stay tuned for a new update soon. 🙂
Restarting Melano CC Vitamin C Essence! Fading My Acne Scars!!
3 Weeks Results with Melano CC Vitamin C Essence
Categories:
Tags:

1 Month, 1 Month Results, 1 Month Update, Acne Marks, Acne Scars, Acne Skin Care, Beauty, Brightening, Brighter Skin, Essence, Experience, Lifestyle, Melano, Melano CC, Melano CC Essence, Melano CC Vitamin C Essence, Results, Review, Skin Care, Skincare, Vitamin C, Vitamin C Serum