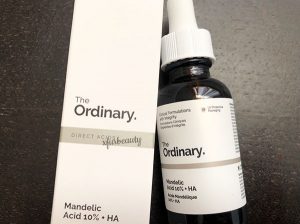 I started using The Ordinary Mandelic Acid 10% a few days ago along with The Ordinary Lactic Acid 10% + HA. I used them both together at first, but now I'm using Mandelic Acid 10% in the morning to help with oily skin and morning acne. I needed something to keep my excess sebum and acne at bay. Seems like my skin benefits from having some sort of acne fighting product in the morning. I decided to try mandelic acid since I have it. I found it in my skin care cabinet and just decided to give it a go. Before I get into my experience with the Mandelic Acid 10% product. Let's learn more about The Ordinary Mandelic Acid 10% + HA!
More on The Ordinary Mandelic Acid 10% + HA!
Mandelic acid is very gentle on the skin. It's even more gentler compared to lactic acid. They're both gentle alpha hydroxy acids compared to, let's say, glycolic acid. Apparently I can't use glycolic acid that often. It wrecks my skin. 😑 So I've been off of glycolic acid for a while and trying other gentler alpha hydroxy acid to combat against clogged pores and blemishes. Now let's take a look at what's in this product! Here are the ingredients…
Propanediol, Aqua (Water), Mandelic Acid, Glycerin, Dimethyl Isosorbide, Sodium Hyaluronate Crosspolymer, Tasmannia Lanceolata Fruit/Leaf Extract, Pentylene Glycol, Polysorbate 20, Sodium Hydroxide, Ethylhexylglycerin, 1,2-Hexanediol, Caprylyl Glycol.
It looks pretty good. Doesn't look like it would clog my pores, but we'll see what happens when I use it. Let's go! On to my experience with The Ordinary Mandelic Acid 10% + HA!!
My Experience With The Ordinary Mandelic Acid 10% + HA
So it's been a few days of using The Ordinary Mandelic Acid 10% + HA. The serum is lightweight and absorbs into the skin well. I really liked the texture and consistency of it. It sinks into my skin pretty well. I didn't have to wait too long for it to absorb into the skin. Perfect! Now for the results! I noticed results after a single day of using it! I had some blackheads on my nose that I was trying to get rid of. I was using Paula's Choice 2% BHA Liquid to get rid of these annoying, stubborn blackheads on my nose. It looked like it was working at first. It helped to decrease excess sebum in my skin, but it didn't really do anything for my blemishes long term. And I've been using the 2% BHA Liquid for as long as I can remember. I kept trying the 2% BHA Liquid but nothing good came out of it. I didn't see improvements in my acne. Honestly, I don't think BHA is that effective on my acne. I wish it would work, but it just didn't work on my skin. Maybe I can use the rest of the bottle as a toner, lol. I don't think I'm going to use it again to treat my acne. So whatever. haha.
Now here I have mandelic acid, a more gentler form of alpha hydroxy acid. Even more gentler than lactic acid. I love that it's more gentle on the skin. I haven't noticed much irritation when using it. Yep, no itchiness, redness, or excessive skin peeling. I noticed some light skin peeling, but that's it. But guess what??? It helped with blackheads! I noticed the stubborn, annoying blackheads on my nose diminishing and looking lighter in appearance. It also helped with other blemishes I had on my face too. I was having some weird forehead acne going on. Just a few pimples here and there, and mandelic acid has helped reduce them in size dramatically overnight! So it looks like mandelic acid is working on my acne-prone skin! I love it! And it's sooooooo gentle! Yes, I have to emphasize how gentle it is on the skin. Because it is! I can use it in the morning without my skin drying out! If used in the morning, make sure to wear SPF, since it increases skin's sensitivity to the sun. After a few days of use, results have been amazing so far! I hope it works out in the end! Goodbye blackheads! 👋🏻
👉🏻 Other The Ordinary skin care products I reviewed! Don't miss out!
The Ordinary Argireline Solution 10%
The Ordinary Matrixyl 10% + HA
The Ordinary Ascorbic Acid 8% Alpha Arbutin 2%
The Ordinary Resveratrol 3% Ferulic Acid 3%
Categories:
Tags:

Acne, Acne Prone Skin, Acne Serum, Acne Skin, Anti-Aging, Anti-Wrinkle, Beauty, Blackheads, Blemishes, Exfoliant, Exfoliating, Experience, Hyaluronic Acid, Mandelic Acid, Mandelic Acid 10% + HA, Pimples, Review, Skin Care, Skincare, The Ordinary, The Ordinary Mandelic Acid 10% + HA, Thoughts, Wrinkles