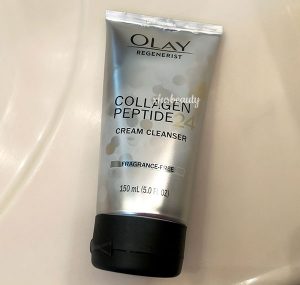 I've been using Olay Regenerist Collagen Peptide 24 Cream Cleanser for a month. I started off using it in the morning and night. It worked great! It helped clear out a bunch of stubborn closed comedones that wouldn't budge. Left my skin feeling soft and smooth after each use. I wasn't using it as a facial cleanser but an acne treatment. It contains salicylic acid, but it's not known as an acne treatment or a salicylic acid treatment. I tried using it as a face wash when I first purchased it, but that didn't work out. It clogged my pores terribly. I noticed pimples on my face very quick. This cleanser leaves an oily, fatty film behind on the skin. It just doesn't leave the skin feeling clean after rinsing it off. If you have clog-prone skin, it's a good idea to use another facial cleanser afterwards to make sure all of that grease is taken off of the skin. As an acne treatment, it's wonderful! It worked to unclog pores. Finally, something that works to unclog these annoying, clogged pores that I've had for months! Possibly years!
So I continued using the cream cleanser for the next couple of weeks. My skin looked even better. A lot softer and smoother. It helped with the texture of my skin too. With this cream cleanser, even though the texture of product is heavy and moisturizing on the skin, it's best to use it with a heavy duty moisturizer. Don't be fooled just because it's cream-based. It can dry out the skin. My skin became so dry when I was only using a lightweight moisturizer or no moisturizer with this product. Sorry, I couldn't find a moisturizer that worked on my skin during that time. But it truly works better when used with a heavier moisturizer or layers of moisturizers (what I do, read more about what moisturizers I like by clicking the link!), since my skin is so finicky, lol. My skin didn't feel dry at all, and I was able to use it twice a day with no irritation or redness. 👍🏻
I loved the results of this product, but I decided to get back on tret. Read about my break from tret here! 👈🏻 And get ready for an update on my experience with tret soon! It turns out Olay Regenerist Collagen Peptide 24 Cream Cleanser and tret don't go well together. They're both exfoliants, and my skin burns when I use Olay too often with tret. So I'm only using the cream cleanser a few times a week at night. Yes, I know this stuff helped my acne, but my skin has settled and is ready to take on tret again. It's been a whole month off of tret. I think it's time to reintroduce it back in. From my past experience, retinoids do wonders for my acne and skin texture. Other than that, this is a good product for the price and effectiveness. I'm still shocked 'til this day. I tried so many acne treatments over the years, and I saw noticeable results within 1 week of using this cream cleanser! I just didn't expect it to work on my acne. I'm very impressed! I'll keep it around, since it helps to improve my skin.
⭐ If you missed out on my earlier tret posts…
My experience with tret the first week…
After 1 Month on Tret + Skin Care Routine. Here are My Results.
2 Months on Tret. My results. 🙂
Categories:
Tags:

1 Month, Acne, Acne Face Wash, Anti-Aging, Beauty, Cleanser, Collagen, Collagen Face Wash, Collagen Peptide, Collagen Peptides, Cream Cleanser, Dry Skin, Face Cleanser, Face Wash, Facial Cleanser, Fragrance Free, Mineral Oil Free, Niacinamide, No Synthetic Dyes, Olay, Olay Regenerist, Olay Regenerist Collagen Peptide 24 Cream Cleanser, Peptide, Peptides, Phthalates Free, Results, Review, Salicylic Acid, Skin Care, Skincare, Vitamin B3