Oct. 23, 2020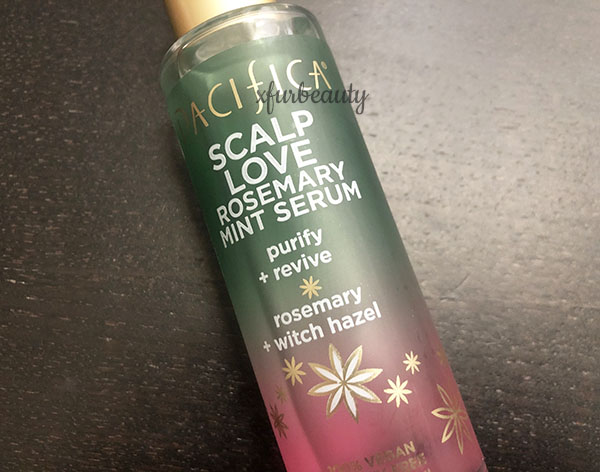 I picked this hair serum up because I thought I would show my scalp some love. ♥ All I really do to my hair is shampoo, condition, and deep condition. That's about it. What about this serum?
About Pacifica Scalp Love Rosemary Mint Serum:
Help detox and loosen buildup
Soothes and hydrates scalp
Contains herbal extracts (sage, thyme, witch hazel)
For all hair types
100% vegan and cruelty-free
Paraben free
Phthalate free
SLS free
Mineral oil free
Review:
This scalp hair serum comes in a 2 fl oz dropper bottle. A single bottle is $11. There's fragrance, but it's subtle (in my opinion). I honestly don't like the smell of this product. It smells like a bunch of herbal extracts + added perfume (what it is). They should've left out the perfume. I rather have it free of fragrance. The product is a liquid, runny serum. Application is very easy. Just dispense a few drops into palm or scalp and gently rub it in. The instructions does state that you can shampoo after use, but I don't see the point in that? Serums are effective when they are left in/on. So the product instantly vanishes into the scalp/hair. There's no product buildup or anything like that. I used this for 3+ weeks, and I haven't noticed any changes in my scalp. It felt as if I was adding droplets of water mixed with witch hazel to my scalp. Seriously, it didn't do anything at all. With all the rave reviews surrounding this scalp hair serum, I thought I would see major changes in my scalp/hair but nada. This is simply glorified water. The packaging looks pretty and all, but I'm all about effectiveness. And this isn't it. So I'm not going to purchase it again.
More on Pacifica beauty products:
Pacifica Skin Care for Dry Skin + First Impression
Review: Pacifica Rose Flower Hydro Mist & Cosmic Shield Hydration Lock Face Cream
Categories:
Tags:

All Hair Types, Buildup, Cruelty Free, Detox, Hair Care, Hair Care Products, Herbal Extracts, Hydrating, Life, Lifestyle, Mineral Oil Free, Pacifica, Pacifica Hair Care, Paraben Free, Phthalate Free, Purify, Review, Revive, Rosemary, Sage, Scalp Treatment, Skin Care Review, SLS Free, Soothing, Thoughts, Thyme, Vegan, Witch Hazel, xfurbeauty blog, xfurbeauy
Sep. 7, 2020
Leave a comment
Here's an updated review on the Acure Brightening Day Cream. I've used this for nearly a week. I don't think it's too early to give my thoughts on it. Alright! Let's get started! 🙂
I really wanted this face cream to work. It has nourishing skin care ingredients. I needed a more hydrating moisturizer too considering that my skin is dry from acne treatments. But, it didn't work out for me. This face cream is too heavy for my oily, acne-prone skin. It's thicker than I expected.
Here's the ingredient list:
Water (Aqua), Carthamus Tinctorius (Safflower) Oil, Cocos Nucifera Oil, Theobroma Cacao (Cocoa) Butter, Cetyl-Stearyl Acohol, Glyceryl Stearate Citrate, Cetearyl Alcohol, Glyceryl Caprylate, Glycerin, Helianthus Annuus (Sunflower) Oil, Citrus Aurantium Dulcis (Orange) Peel Oil, Glyceryl Laurate, Olea Europaea (Olive) Fruit Oil, Citrus Nobilis (Mandarin Orange) Peel Oil, Sodium Levulinate, D-Alpha-Tocopheryl Acetate, Evening Primrose Oil, Calendula Officinalis Flower Extract*, Tocopherol, Potassium Sorbate, Aloe Barbadensis Leaf Juice*, Eugenia Caryophyllus (Clove) Bud Oil, Euterpe Oleracea (Acai) Fruit Extract*, Rubus Fruticosus (Blackberry) Fruit Extract*, Punica Granatum (Pomegranate) Extract*, Rosa Canina (Rosehip) Fruit Extract*, Calendula Officinalis Flower Extract*, Chamomilla Recutita (Matricaria) Flower Extract*, Aspalathus Linearis (Rooibos) Leaf Extract*, Centella Asiatica Meristem (Cica) Culture, Echinacea Angustifolia Meristem (Echinacea) Cell Culture, Marrubium Vulgare Meristem Cell Culture, Chlorella Pyrenoidosa Extract, Argania Spinsosa (Argan) Oil*, Xanthan Gum.
The two ingredients that stand out to me that could be potential pore cloggers are coconut oil and cocoa butter. Cocoa butter is very thick. It's known to be comedogenic. It's not suitable for acne-prone skin. Coconut oil is a hit or miss for people (so I have noticed). It's also known to be comedogenic. For me, it depends on the formulation. I usually do not use coconut oil-based skin care products unless the formula is lightweight. The Acure Brightening Day Cream falls under 'too thick'. If you have acne-prone skin, do a patch test with this cream first before applying it to your whole face. It just didn't feel good on my acne-prone skin as the days went on. I tried rubbing the cream on other parts of my body (including face without other skin care products) to see how well it blends in, it takes a lot of effort to blend it in. =/
I hope this review was helpful! I couldn't find any other reviews if it's OK to use on acne-prone skin or not. So, here you go! 🙂
Update 091220: This makes a good hand cream. 🙂
Acure Brightening Day Cream + Review
Categories:
Tags:

Acne Prone Skin, Acure, Acure Brightening Day Cream, All Skin Types, Argan Oil, Brightening, Brightening Skin Care, Cica, Cruelty Free, Day Cream, Glowing, Life, Lifestyle, Mineral Oil Free, Natural, Paraben Free, Review, Skincare, Sulfate Free, Thoughts, Vegan Skin Care, Vegan Skin Care Routine, xfurbeauty, xfurbeauty blog