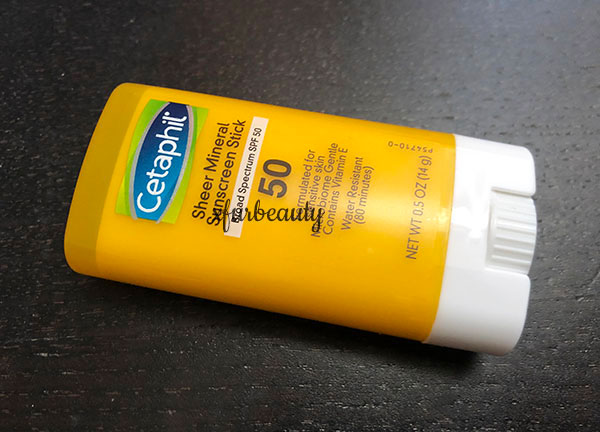 I used Blue Lizard Australian Sunscreen Stick Sensitive SPF 50+, and it was a huge mess. The product crumbles, leaves a white cast, accentuates dry skin and flakes. It was just a terrible result visually. I couldn't continue to use it on my face anymore. So I remembered that I had Cetaphil Sheer Mineral Sunscreen Stick SPF 50. I decided to use it again on my face because I needed a sun protection product that would stay on my skin and is water-resistant. This sunscreen had it all. It's SPF 50, broad spectrum, formulated for sensitive skin, contains vitamin e, and is water-resistant. Alright! This is how it went!
You can read my previous review right here: Cetaphil Sheer Mineral Sunscreen Stick Broad Spectrum SPF 50 — Previously, I didn't use it all-over my facial skin but on parts of my face (lips, eyes) and body.
In saying that, I started applying this sunscreen all-over my face. The sunscreen was very easy to use and moved across my face just fine. I didn't have any problems with application. The product felt soft and smooth. It felt very conditioning and moisturizing on the skin. My skin didn't feel dry. It does feel a bit heavier compared to my other sunscreens due to it being a sunscreen stick. This sunscreen stick contains…
Active Ingredients: Titanium Dioxide 6% (sunscreen), Zinc Oxide 4.7% (sunscreen)
Inactive Ingredients: aluminum hydroxide, beeswax, bht, butyloctyl salicylate, c12-15 alkyl benzoate, cetyl alcohol, dimethicone, euphorbia cerifera (candelilla) wax, isostearic acid, neopentyl glycol diethylhexanoate, ozokerite, paraffin, polyethylene, stearic acid, tocopheryl acetate (vitamin e), triethoxycaprylylsilane.
I was really afraid of using this product on my face, since I'm acne-prone. It has some acne offenders (on my skin) like beeswax, candelilla wax, and paraffin. I was afraid that some of the ingredients would trigger a break out. After one day of using this sunscreen stick, I can't tell if it has, but I'll make an update on that. This sunscreen is a mineral sunscreen and contains Titanium Dioxide (6%) and Zinc Oxide (4.7%). It does leave a white cast behind, so it's not as sheer as it is advertised. I was able to blend the 'white cast' into my skin. I did have trouble with that when I first applied it, but it got better after reapplications. Also, this sunscreen accentuates dry skin, flakes on the skin too. I'm using exfoliants, and I feel like this sunscreen really makes them more obvious.
Now let's get into what I like about this product!
The sunscreen is very moisturizing! It helped improve the quality of my skin! Not sure if it's a day of protecting my skin from UV rays (the sunscreen sticks to my skin much better) or the overall formula of this product is more moisturizing than what I usually use. All I know is that my skin feels a lot softer when using it and after I removed it! Another thing I like about this sunscreen stick is that it is really easy to apply to my skin, especially on-the-go! I don't have to deal with globs and blobs of lotion. I can just take this sunscreen stick out and apply it on my face on-the-spot! I'm easily protected from UV rays whenever and wherever I am! As I mentioned before, the sunscreen sticks on my skin! I love it! Unlike my other sunscreens, it stays on my skin (water-resisanttttt!!). I have oily skin and products just move around on my face and comes off very easily. This was awesome!
My first day of using Cetaphil Sheer Mineral Sunscreen Stick SPF 50 went well, but I'm still worried about some other effects it may have on my skin with continued use — breakouts and accentuating dry skin and flaky skin. I'm just going to leave it here and see how it goes. I just hope it doesn't clog my pores. I'll be devastated. ha! Stay tuned for my next update! 😎
Read more on my sunscreen update right here:
Trying Out Sunscreens Again! 😎
More Sunscreens I Tried Again for Summer! 🙌🏻
Categories:
Tags:

Acne, Acne Skin, Anti-Aging, Beauty, Broad Spectrum, Cetaphil, Cetaphil Sheer Mineral Sunscreen Stick SPF 50, Experience, Review, Sheer Mineral Sunscreen Stick, Skin Care, Skincare, SPF, SPF 50, Sun Protection, Sunscreen Stick, Wrinkles