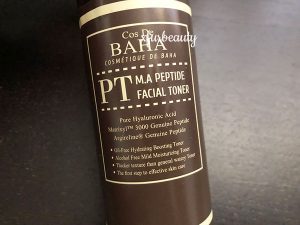 I ran into Cos De BAHA MA Peptide Facial Toner once again. I thought I would give it another try again after a bad experience with it, lol. As I've mentioned so many times, my skin has changed so much after leaving veganism. My health and my skin improved after I started eating meat again. You can read more about the health issues I had on a vegan diet. Just go to the link provided! Now on to Cos De BAHA MA Peptide Facial Toner!!
I didn't use this toner on a cotton pad. I just dispense some product into the palm of hand. It's a runny gel. It doesn't work well on a cotton pad anyways. Seems like a waste of product, to be honest. Better off using your hands to apply the product. So the toner feels like gel on the skin. What it is. It feels soothing and cooling when applied to the skin. Absorbs into the skin nicely without leaving any residue behind. It didn't irritate my skin at all. Just sunk into my skin like it should. I don't use this product like a toner but more like a serum. It contains skin care ingredients, such as organic aloe barbadensis leaf extract, glycerin, betaine, sodium hyaluronate, peptides (love!!), adenosine, and allantoin. Other ingredients include a bunch of extracts. The ingredient list is simple and short. It doesn't look like there could be anything in this product that would cause breakouts. Apparently, it did break me out before. So far, after a few days of using it, I haven't noticed any breakouts. Hmmm! That's interesting! I wonder if it's the product or the vegan diet that did this to me…
So the facial toner feels lightweight on the skin. It makes my skin feel hydrated at first, but I wouldn't rely on it to keep the skin moisturized. It kind of reminds me of Benton Aloe Soothing Gel but without the peptides. I'm really curious about the peptides in this toner. I remember using it and seeing a difference in my skin. From what I remember, it made my skin appear softer, glowy, and a lot smoother. I think it did help to smooth out some fine lines, wrinkles, and help with anti-aging. Since I'm using heavier moisturizers now, it hasn't dried my skin out. It's been working perfectly fine. No issues at all here. As I mentioned before, no breakouts from it either (yet). So it looks like I'm going to finish the whole bottle of this toner. I should anyways. I've had it for some time now, haha. So far, it's not a bad product. I'm just glad that it didn't clog my pores, especially after my experience with it last time. Everything is going well. Also, it won't be a bad thing to add another peptide product into my routine to help with fine lines and wrinkles. I would love it if it had any effect on those concerns with continued use. We'll see what happens!
For more reviews on Cos De BAHA skin care product go here!!
Categories:
Tags:

Acne, Acne Skin, Anti-Aging, Anti-Wrinkle, Beauty, Cos De BAHA, Cos De BAHA MA Peptide Facial Toner, Experience, Lifestyle, MA Peptide, MA Peptide Facial Toner, Review, Skin Care, Skincare, Wrinkles