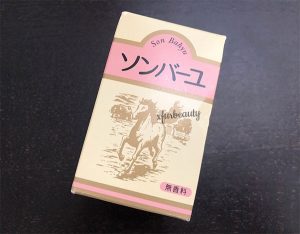 So it looks like horse cream didn't work for me. It was this one in particular — GUERISSON 9 Complex Cream. I loved how the cream transformed my skin to a dry, wrinkled, crusty mess to a highly moisturized, supple, glowing, beautiful complexion within ONE day. But after a few weeks, my skin started to retaliate against the cream. I believe it has to do with the other ingredients in the product, such as silicones, beeswax, and possibly some other oils. I'm not a huge fan of beeswax in my skin care due to my bad experience with it. It causes acne. Perhaps that was it. The cream had a silicone feel to it that I didn't like. The combination of ingredients in the cream just wasn't for my skin type. Now let's move on to this new product that I have! It's horse oil (from Son Bahyu)! 😃
So I purchased a jar of 100% pure horse oil. Yep, 100% pure horse oil! You read that right! Since I've been using a horse cream with horse oil in it, I'm not weirded out or grossed out by it anymore. It's like using snail slime or any other skin care product that contains animal by-products. I think I've adapted to it by now. It is what it is. Plus, I had really good results from the horse cream besides the minor breakouts I got from it. I really wished the cream worked out for me, but my skin is just so complicated. It's very particular about ingredients and the formulation of a product. Oh well. Sometimes it just doesn't, can't work out, and the horse cream is one of those products. *sigh*
Back to the horse oil! Why horse oil? What are the benefits? What's so special about it? 🐎 Horse oil helps to improve skin elasticity, wrinkles, acne, eczema, sunburn, and cuts. It's anti-inflammatory, locks in moisture, and helps to repair the skin barrier. Interesting! That sounds pretty amazing! And you know what? I noticed most of those benefits (since I don't have every skin disorder listed) in my skin when I was using the cream. My skin looked better and more youthful. I believe it's one of the first products I have used that moisturized and improved my skin dramatically (besides prescription creams). This cream can be purchased over-the-counter easily and it delivers results the next day! 🙂
What The Product Looks Like
The horse oil came in a 70 mL jar bottle with white, pink, brown, yellow coloring. It has a photo of a horse on the packaging. I think the design and packaging is very cute. It's a tiny little bottle, keep that in mind. It has Japanese words on it. This is a Japanese skin care product.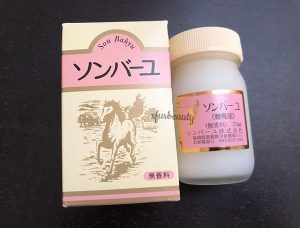 When opened, this is what the actual product (oil) looks like. It's not melted. It's a solid oil (fat). I mean, it is horse fat after all. Horse 🐴 fat in a jar.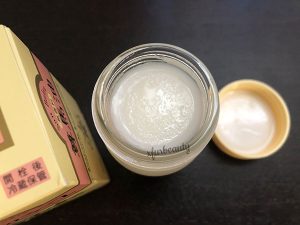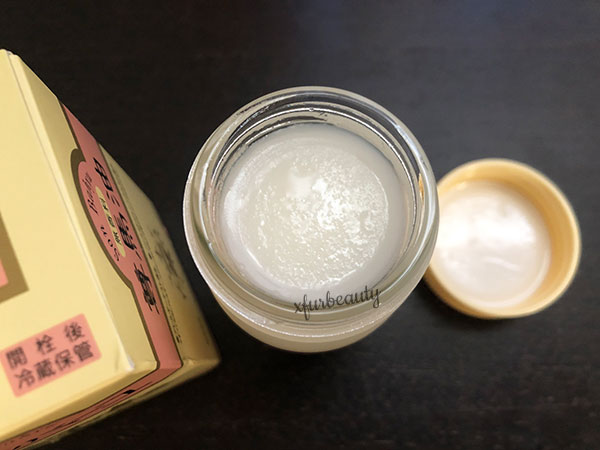 My Experience After Using 100% Pure Horse Oil
I started using this horse oil about a few days ago. The oil is very soft, smooth, and feels very different compared to what I'm used to using as a moisturizer. For example, my gel moisturizers, creams, and other oils. This is essentially pure horse fat I'm putting on my face. With this product, it's absolutely not necessary to use a lot of product. I mean, the product comes in a 70 mL jar bottle. It's a small amount of product, and it's pretty pricey too. So you're probably wondering, how do I apply horse oil to my face??? There are plenty of ways to do it, but this is how I do it. I take a small amount of product, rub it between the palms of my hands, and gently pat the oil into my skin. The oil should coat the skin and eventually sink into the skin as much as it can. It's an oil, so I don't expect it to sink in all the way but absorb into my skin over time as it's on my skin.
This oil feels very lightweight on the skin. It's nothing like the horse cream I used where it's soft, creamy, and feels like silicones. The horse oil is what it is. A lightweight oil. Pure oil. It feels moisturizing on the skin without leaving the skin feeling heavy or greasy. I thought the finish of the oil looked really nice and settled on my skin quite well. It's not dripping or melting from my face. Sits on my skin wonderfully. Gosh! I literally have HORSE FAT on my face, and it doesn't even feel like it! 😐
As for results, after the first day of using the oil, I noticed that my skin was highly moisturized but not to the point where it looked like a greasy mess. My skin didn't feel sticky or heavy either. The oil absorbed into my skin throughout the night without any problems. So a little goes a long way for it to be effective. So this oil does a great job at moisturizing the skin, but it feels more lightweight on the skin compared to the horse cream that I was using, which did wonders for my skin (minus the breakouts). I'm going to continue to use the horse oil and see what happens. So far, I like the way it feels on my skin. I just hope it doesn't clog my pores. My skin doesn't do well with oils that's why. But we'll see! Wish me luck! And see everyone in the next update!
If you missed out on my posts on GUERISSON 9 Complex Cream…
Trying Horse Cream for the First Time. My Experience!
My Results After Using Horse Cream on My Face for a Night!
Tonight's Results From Using Horse Cream.
I Stopped Using Horse Cream. What Happened?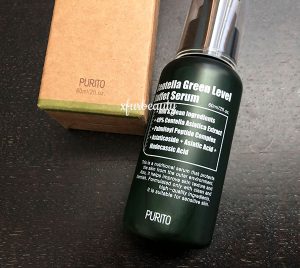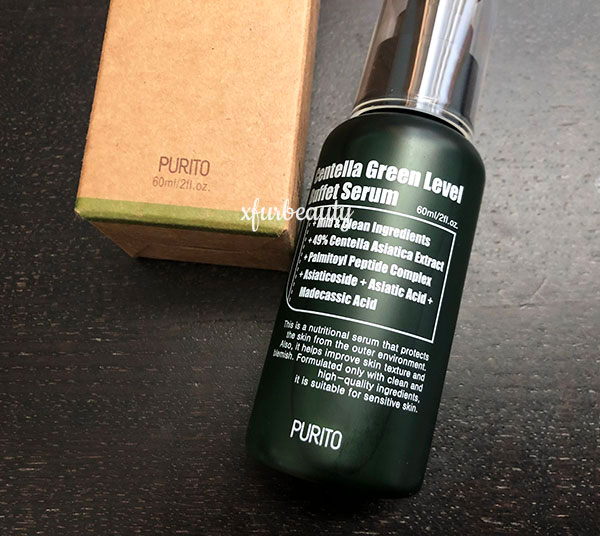 I stopped using Purito Centella Green Level Buffet Serum a while ago. But my face has been getting really red from dryness. I'm still trying to find a moisturizer that works on my skin. Vanicream wrecked my skin. Since this isn't a heavy moisturizer, I thought I would give it a chance again. My face was feeling itchy and taut. Ugh! I couldn't put up with it anymore. I was looking through my skin care products and noticed I still have Purito Centella Green Level Buffet Serum…so why not. So this serum is supposed to enhance skin barrier repair and reduce inflammation. It contains Centella Asiatica Extract (49%) and Panthenol to soothe irritated skin caused by external environmental stressors and prevent skin inflammation. I've been using it for a week. Yes, I lasted a week on it. haha. I guess that's a good sign. Here's my experience with Purito Centella Green Level Buffet Serum!
My experience
This serum is a gel. It feels hydrating when applied to the skin. Leaves the skin feeling like it's doing something good for the skin. Skin feels soft and supple afterwards. Sinks into the skin well too. Even though it leaves a slight film behind, after it absorbs into the skin fully, feels like there's nothing on the skin. This serum does feel hydrating on the skin when first applied, but it's not a good hydrating serum. It feels drying at times. At the same time, it leaves my skin looking really healthy. I started using Purito Centella Green Level Buffet Serum because my skin was feeling really dry and itchy. I needed something to keep my skin moisturized. I didn't want to risk using a heavier moisturizer again and breaking out. This seemed to be it.
Does it help with dryness? Kinda. Does it help with redness? Yes! I love the fact that I noticed a reduction in redness in my skin after a day of use. This serum has a calming effect on the skin. I needed something that was able to heal my broken barrier too. This worked! So it helped soothe and strengthen the skin barrier as it claims to do. Awesome! Because not all serums and moisturizers do (just because it's moisturizing). This serum contains Ceramide NP to help with that. And I've used ceramide-based creams that only left my skin congested and irritated. This serum just soaks into my skin and improves it!
This serum also contains centella asiatica extract (49%), niacinamide, panthenol, hydrolyzed collagen, green tea extract, sodium hyaluronate, pepetides, adenosine, and so much more! The ingredients look pretty good! The serum does have a lavender oil smell to it (contains lavender oil), so if you're sensitive to essential oils, they do have a unscented version of this seurm. I didn't have a problem with the scented version, so I kept on using it. It hasn't irritated my skin at all. Also, this product also contains Polyglyceryl-10 Laurate and Polyglyceryl-10 Myristate. If you have fungal acne, this is not for you.
Breakouts??
Not yet so far. At one point I thought I had issues with this serum, but it might've been caused by another product or products in my routine. I'm looking at you The Ordinary. But yeah, no clogged pores from this serum yet. I hope it stays that way because I'm hoping to officially add this serum into my routine. I needed a nice serum with a bunch of skin care goodies like this one. I really like how it calms my skin and heals my moisture barrier.
Pros & Cons
✅ Pros
Lightweight
Feels hydrating on the skin at first
Doesn't feel heavy
Soothes the skin
Absorbs into the skin well
Reduces redness, inflamed skin
Keeps the moisture barrier healthy
❌ Cons
Smells like lavender oil (may be irritating for some)
Leaves a slight film behind. Just a little bit.
Not enough moisture
Conclusion
After a week of using this serum, everything seems to be going well. I haven't noticed clogged pores from this serum. Thankfully! It's not the most hydrating serum, but my skin seems to benefit from it. It reduces redness in my skin. Makes my skin look more soft and smooth. Keeps my moisture barrier healthy and happy without feeling heavy on the skin. I know brands like Vanicream and CeraVe have ceramides in their products, but they're not acne-friendly as people make it out to be. None of their face products work on my acne-prone skin. SO! I like this serum. The ingredients are pretty amazing. For the price and what you get, it's a good deal! Especially when compared to high end skincare products that costs hundreds of dollars. This 60 mL bottle of serum delivers. Now just as long as it doesn't break me out! I'm hoping for another good week on this serum! Look out for my new update soon to find out!
For more reviews on Purito skin care products go here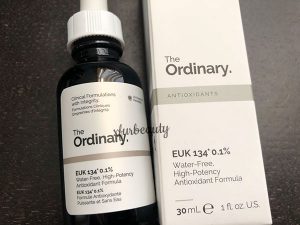 I've gone through a bunch of The Ordinary skin care products. Check out my review on other The Ordinary skin care products if you've missed out on them! So! On to The Ordinary EUK 134 0.1% Serum. I just had to try this serum out to see what it's about! This serum is an antioxidant. It prevents the loss of water and oxygen from the skin. It also helps to reduce redness and protects the skin from UV radiation. Sounds like any other antioxidant. But let's see if it works or not! I've had this serum for so long. I've used it on and off when I was off of acids. With the EUK serum, it can't be used with strong acids (like ascorbic acid). EUK would be completely destroyed (according to their website). With that thought in mind, here's my experience with EUK!
My experience
I took a break from acids to use this serum. Just to see if it'll work better for me. Once again, EUK and strong acids don't go well together. EUK would be rendered useless. So this serum is lightweight. It absorbs into the skin (takes time to completely absorb) but has an oily feel to it. Just like the many other The Ordinary skin care products that I have issues with, lol. I used it in the morning and night because I wasn't using anything else on my skin (no acids, just a basic, plain skin care routine). Honestly, I thought the serum felt oily on the skin and made my skin look oily too. There's only two ingredients in this serum. They are (of course) Propanediol and Ethylbisiminomethylguaiacol Manganese Chloride. I think it's the propanediol that I'm having issues with once again. I noticed blackheads in the most random places. I discontinued using it immediately.
As for results, it didn't do anything for redness. Sometimes I get some redness on my cheeks and nothing changed after using this serum. Also, I can't tell if it helped boost UV protection. Maybe it did, maybe it didn't. That's what it's supposed to do. I definitely didn't see improvements in my complexion using this serum. It just made my skin oily and dried it out at the same time. Making my skin look aged and wrinkly. After this experience, I don't think the EUK serum is for me. I know it's an antioxidant, but I think antioxidants that are acids just work better on my skin, such as vitamin c and retinol. They both help tame oilies in my skin, reduce acne, fade acne marks, and minimize wrinkles (or at least are better at preventing them). I can visually see changes in my skin using vitamin c and retinol, while the EUK serum didn't produce any results. It was a waste of time. Perhaps it may work better on someone that have very sensitive skin and can't tolerate acids at all.
This is what the serum looks like…
Pros & Cons
✅ Pros
An antioxidant alternative if skin can't tolerate acids
Affordable
❌ Cons
Oily and drying at the same time
May clog pores, blackheads
Didn't help with skin redness
Can't tell if it helped with UV protection
Conclusion
I thought this serum was such a waste. It didn't do anything for my skin. I don't see the point when there are acids that give me better results. Much, much better than this bottle of grease, lol. I just know that it's not for me. I won't repurchase, obviously. haha. Next!