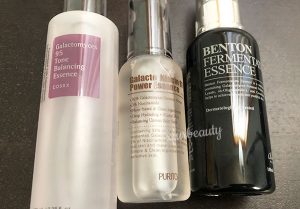 I have three galactomyces products in my routine. I thought I would just use them all. It's better to use them than not use them. I really don't like wasting skin care products. It has to be used, lol. So I started with Benton Fermentation Essence first to see if it works. Next, Purito Galacto Niacin 97 Power Essence. Lastly, Cosrx Galactomyces 95 Tone Balancing Essence. I thought galactomyces gave me acne when I used it before, but it turns out that I haven't had any new acne or clogged pores from galactomyces. I'm very happy about the outcome after trying it again. So, I'm using all three in my routine. Am I going to continue to use all three? Probably not. But each galactomyces product is very different from one another. They have differences but also similarities. I'm here to breakdown each product and compare them. The pros and cons of each. This way, you can choose which one works best for you if you're interested in galactomyces and its benefits!! Let's start off with the Benton Fermentation Essence! 🙂
Benton Fermentation Essence:
This is the first galactomyces skin care product I reintroduced into my skin care routine. My experience with it was terrible when I used it sometime last year. I developed really bad acne. Lots of blackheads out of the blue. My skin was covered in blemishes after adding this essence into my routine. This time, nope, nothing. I haven't experienced any breakouts or blackheads at all from this essence. AMAZING!! I've always wanted this essence to work due to the ingredients it contains. It has galactomyces ferment filtrate, bifida ferment lysate, ceramide, aloe barbadensis leaf extract, panthenol, sodium hyaluronate, peptide, to name a few. The texture of the essence is what gets me. It's a liquid, but the texture and consistency of the product is soft, silky, and smooth. It just leaves the skin feeling so soft to touch. It glides over the facial skin so nicely. Feels very lightweight on the skin. It also absorbs into the skin very quick. It leaves the skin feeling pampered and more youthful-looking. This essence is definitely my favorite out of the three. 🥰 With all the positives, there are the negatives. The pump applicator is annoying. The pump shoots out straight, so make sure you're aiming directly into your palm, lol. Also, it only provides lightweight temporary hydration. You'll have to find another moisturizer to actually keep the skin moisturized.
Purito Galacto Niacin 97 Power Essence:
Here's another galactomyces essence that is lightweight and absorbs into the skin well. You know, I wasn't going to start using this essence again, but I didn't want to waste it. I had a full bottle of the essence, so I thought I would use it anyways. So this essence contains 92% galactomyces ferment filtrate, 5% niacinamide (yay!), bifida ferment lysate, lactobacillus ferment, and other ingredients like arginine and adenosine, which are really good for the skin too. The ingredient list is very short and simple. You know exactly what you're getting into. As for results, this is the only galactomyces essence that has brightened my skin (most likely from the 5% niacinamide it contains). I noticed a brightening effect in my skin very quick. My overall complexion just looked more glowy and more even toned. Even though I liked the results, I'm not sure if it's something I want to use long term. I still have time to figure this out because I have one more bottle of this essence left. Ugh! Yeah, I purchased one too many. BUT! I shall update on my progress as I continue to use the product. Overall, it's nice galactomyces essence that helps to brighten the skin. I didn't have any acne breakouts from it. All is going well so far!
By the way, this essence helped to decrease the excess sebum in my skin. From experience, this essence would be more suitable for someone with oily skin, but it could work for other skin types too. Sometimes I thought it was a bit drying, but it didn't bother me too much. It seemed to work for my skin due to the oily nature of it. It's oily most of the time, haha.
Cosrx Galactomyces 95 Tone Balancing Essence:
This is a pretty simple galactomyces essence. Just like the Purito Galacto Niacin 97 Power Essence. The ingredient list is also pretty short and simple. It contains galactomyces ferment filtrate, niacinamide, sodium hyaluronate, betaine, panthenol, to name a few. So this galactomyces essence feels lightweight on the skin. It sinks into the skin nicely and actually leaves the skin feeling moisturized. Hydration from this essence doesn't last for long though, but it gives the skin some moisture (in an instant). With this essence, I didn't feel or visually see improvements in my skin. It contains niacinamide, but I didn't notice a brightening effect or a more even complexion (when compared to Purito Galacto Niacin 97 Power Essence). That was a huge disappointment. But, good news, no breakouts from this essence! Out of the three, this was my least favorite. I most likely won't pruchase the Cosrx Galactomyces 95 Tone Balancing Essence again. I think it's too plain for me, and it didn't do much for my skin. I already have other moisturizers that I use that does an equal or better job at keeping my skin hydrated.
That's an update on what I think about the galactomyces skin care products I'm using. I hope this was helpful. If you missed out on my past posts on galactomyces, I've provided the links below. Enjoy. ✨
👉🏻 Benton Fermentation Essence:
Review: Benton Fermentation Essence
I Used Benton Fermentation Essence Last Night. This Is What Happened.
My Update on Benton Fermentation Essence. Did It Clog My Pores??
👉🏻 Purito Galacto Niacin 97 Power Essence:
My Thoughts on Purito Galacto Niacin 97 Power Essence!
👉🏻 Cosrx Galactomyces 95 Tone Balancing Essence:
Cosrx Galactomyces 95 Tone Balancing Essence…
An Update on Cosrx Galactomyces 95 Tone Balancing Essence!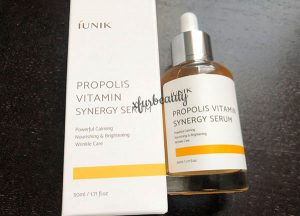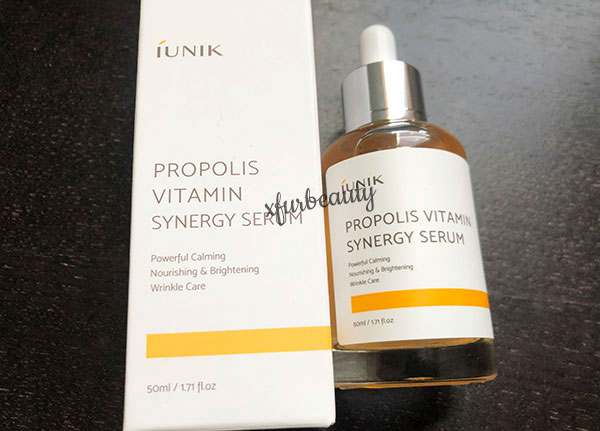 I decided to add iUNIK Propolis Vitamin Synergy Serum (previous review here) once or twice a week in my skin care routine. It seems like when I don't use too many products at once (but once or twice a week) my skin is pretty forgiving. I don't get clogged pores or random breakouts from the product unless it's something my skin really dislikes. So I've been using this serum on my body just to use it up, but I thought I would give it another chance (on my facial skin). This serum is concentrated with a bunch of good, beneficial ingredients for the skin. I have a ton of skin care products that didn't work and thought I would give it a go again to see if it works or not. I didn't want to waste a good product on my body. Not that I don't care about the skin on my body. I already have moisturizers for my body like CeraVe Moisturizing Cream and Neutrogena Hydro Boost Body Gel Cream that are less expensive for the amount of product. Even though they're not my favorites, they're not too bad. So I've used iUNIK Propolis Vitamin Synergy Serum for 2 days, here's my experience with this serum…
Day 1
So the first time I used this serum it felt lightweight, moisturizing, and I couldn't feel the stickiness of the serum because of my other moisturizers, lol. It felt like I was just piling on this serum just to get some good moisture in for my skin. The serum feels nice on the skin. I can see why I wanted to try it out in the first place. It contains Propolis Extract, Hippophae Rhamnoides Fruit Extract, Niacinamide (doesn't every product nowadays??!!), Sodium Hyaluronate (this too!!), Honey Extract, Adenosine, and the list goes on. This serum is filled with so many beneficial ingredients for the skin. I'm really excited. But what do I expect from this product after my previous experience with it?? What it claims to do! I guess, haha! Which is to soothe, nourish, revitalize the skin while reducing redness and calming the skin. Well, it did help soothe and calm my skin when I was gently patting it into my skin. This serum also contains Centella Asiatica. Even though I'm already using a serum with this ingredient (Purito Green Level Buffet Serum). This serum is also supposed to help with dry, damaged, dull skin, and hyperpigmentation. But we'll see. My previous experience with it wasn't too great. I believe in second chances though. 😉 The first day went well.
Day 2
This serum felt as soothing and moisturizing as it was the first day. I dispensed about 3-5 drops into my palm. More drops than I usually use. I only used it at night too. I'm not sure how my skin would react if I used it twice in a day, but I'll just take it slow for now. So I gently pat the serum into my skin and let my skin soak it all up. It left my skin feeling so moisturized. I loved it. I haven't noticed any breakouts from it yet. None at all. Perhaps this serum is too moisturizing for everyday use but makes a good serum to use just a few times a week. I think I can live with that, since I haven't seen any signs of clogged pores. My skin looks softer and moisturized the next morning. My complexion looks more even and slightly brighter. Since it's only been two nights of using this serum, I can't say much about the other benefits like improvements in damaged and dull skin. No clue about hyperpigmentation yet but I hope it does something for that in a few weeks or months. I have some acne marks to fade. But, so good, so far. I like the way it goes on my skin. And yes, once again, no new acne. 👍🏻
Final thoughts on iUNIK Propolis Vitamin Synergy Serum & experience
Using iUNIK Propolis Vitamin Synergy Serum was a complete success for 2 days, once a day, at night. I have no new breakouts! Just softer, smoother, moisturized, and brighter skin!! I like what I'm seeing and the way my skin looks even if it's only from using it twice. I'm stunned! I can't wait to see what my skin will look like with continued use. I'll keep using this serum a few times a week until I finish the whole bottle. If it works, I may even pick up a brand new bottle. Who knows! I'll make an update in a few months! See you all there! 🙂
For more reviews on iUNIK skin care products go here!!!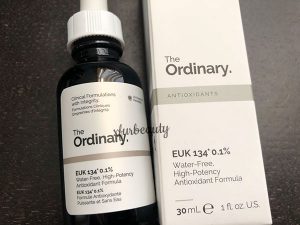 I've gone through a bunch of The Ordinary skin care products. Check out my review on other The Ordinary skin care products if you've missed out on them! So! On to The Ordinary EUK 134 0.1% Serum. I just had to try this serum out to see what it's about! This serum is an antioxidant. It prevents the loss of water and oxygen from the skin. It also helps to reduce redness and protects the skin from UV radiation. Sounds like any other antioxidant. But let's see if it works or not! I've had this serum for so long. I've used it on and off when I was off of acids. With the EUK serum, it can't be used with strong acids (like ascorbic acid). EUK would be completely destroyed (according to their website). With that thought in mind, here's my experience with EUK!
My experience
I took a break from acids to use this serum. Just to see if it'll work better for me. Once again, EUK and strong acids don't go well together. EUK would be rendered useless. So this serum is lightweight. It absorbs into the skin (takes time to completely absorb) but has an oily feel to it. Just like the many other The Ordinary skin care products that I have issues with, lol. I used it in the morning and night because I wasn't using anything else on my skin (no acids, just a basic, plain skin care routine). Honestly, I thought the serum felt oily on the skin and made my skin look oily too. There's only two ingredients in this serum. They are (of course) Propanediol and Ethylbisiminomethylguaiacol Manganese Chloride. I think it's the propanediol that I'm having issues with once again. I noticed blackheads in the most random places. I discontinued using it immediately.
As for results, it didn't do anything for redness. Sometimes I get some redness on my cheeks and nothing changed after using this serum. Also, I can't tell if it helped boost UV protection. Maybe it did, maybe it didn't. That's what it's supposed to do. I definitely didn't see improvements in my complexion using this serum. It just made my skin oily and dried it out at the same time. Making my skin look aged and wrinkly. After this experience, I don't think the EUK serum is for me. I know it's an antioxidant, but I think antioxidants that are acids just work better on my skin, such as vitamin c and retinol. They both help tame oilies in my skin, reduce acne, fade acne marks, and minimize wrinkles (or at least are better at preventing them). I can visually see changes in my skin using vitamin c and retinol, while the EUK serum didn't produce any results. It was a waste of time. Perhaps it may work better on someone that have very sensitive skin and can't tolerate acids at all.
This is what the serum looks like…
Pros & Cons
✅ Pros
An antioxidant alternative if skin can't tolerate acids
Affordable
❌ Cons
Oily and drying at the same time
May clog pores, blackheads
Didn't help with skin redness
Can't tell if it helped with UV protection
Conclusion
I thought this serum was such a waste. It didn't do anything for my skin. I don't see the point when there are acids that give me better results. Much, much better than this bottle of grease, lol. I just know that it's not for me. I won't repurchase, obviously. haha. Next!