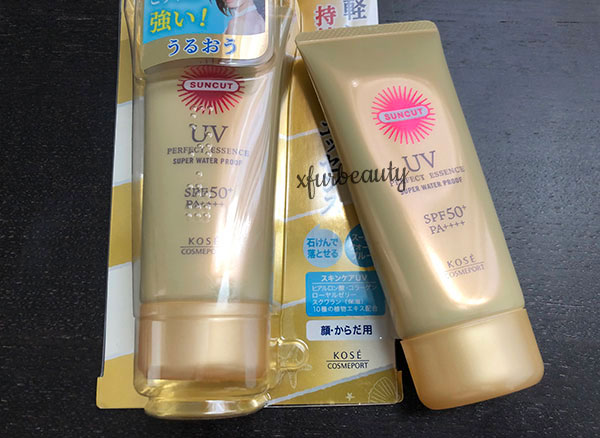 I didn't have any empties last month (October). Here are my skin care empties for the month of November! If you missed out on my empties for August and September 👈🏻
SOME BY MI Niacin 30 Days Miracle Brightening Sleeping Mask:
I've been trying to finish my last jar of SOME BY MI Niacin 30 Days Miracle Brightening Sleeping Mask. I tried using it on my face and body. My experience using it on my face was not that good. The sleeping mask feels very drying on the skin. I could see the skin along my chin cracking. It's not a good product if you have dry skin. I don't. I have oily skin, and this sleeping mask dried my skin out like crazy. It helped to temporarily brighten my skin, but the brightening effect faded within a week. Maybe my skin just doesn't like niacinamide in this product? I just know that it's very drying and made my skin feel awful. With the rest of the product, I used it on my body and won't repurchase ever again.
Kose Suncut UV Perfect Essence Super Waterproof SPF 50+ PA++++:
This sunscreen is lightweight, blends into the skin easily, absorbs quick, has SPF 50+ PA++++, comes in a 110 mL bottle instead of something tiny like 40-50 mL (yes!!!), sweat-resistant, water-proof. Ah, how this sunscreen could've been perfect because I can overapply and my skin wouldn't feel sticky or greasy. But, this sunscreen lists 'ethanol' as the second ingredient on the list. It smells like alcohol and dried my skin out and irritated it. I couldn't believe how my skin looked so aged after using it at least once. Sun protection is important, but this product is not for me if it makes my skin look all wrinkly because of how drying and irritating it is. I won't purchase again. By the way, I also tried it on my body and hands. It made my skin super itchy. I ended up with a bad rash and blisters.
Dear, Klairs Freshly Juiced Vitamin Drop:
This vitamin c serum feels gentle on the skin. It contains 5% ascorbic acid. The serum didn't irritate or burn my face. But I wasn't a fan of the texture of the product. It's on the oily side. As for fading acne marks, I didn't see much results using this serum. It didn't help to brighten my complexion either. Maybe the 5% concentration is just too low for my skin? All I know is that I didn't see any results while using it. So I wasn't able to use the whole bottle, the serum turned really orange. It oxidized. Hmmm, note to self, never purchase a vitamin c serum that claims to be formulated with stabilized vitamin c that comes in a clear, see-through bottle. It's clearly not stabilized. It turned really orange, and I kept it in a dark, safe place. I had to toss the serum out. Not recommended.
Vanicream Mineral Facial Moisturizer Broad Spectrum SPF 30:
This is a moisturizer with sunscreen. It feels like a moisturizer. It's thick, rich, and feels heavy on the skin. I have oily skin, so it felt very rich and heavy on my skin. It left my skin looking more shiny and greasy on the surface, but it helped to moisturize and soothed my skin. I don't think this is a bad product. It's just that, it's only SPF 30, and I'm using another product that contains similar ingredients to the Vanicream that works better for me. This product works to moisturize and protect. It's not something I need in my life right now. It was nice to try it out.
CeraVe Hydrating Mineral Sunscreen SPF 30 Face Sheer Tint:
One of the products I finished this month that I really like! It contains ingredients like ceramides and niacinamide. The sunscreen moisturizes my skin and helps to brighten my skin up. I haven't noticed any breakouts using it. I'm still keeping my eye out for any clogged pores just in case! Some things I would love to change about this product is to boost the SPF 30 to 50, make it water/sweat-resistant, and add more shades. The shade isn't a perfect match for my skin. It does blend into the skin, but I wish it wasn't too orangey. I wish it was a more natural-looking skin color. As for reapplication, it's really easy to reapply sunscreen with this product. There's no white cast. This sunscreen comes in a 1.7 fl. oz. (50 mL) tube. It would be nice if it was larger, especially for the price. It's 13.99 where I am. It's not super affordable compared to other sunscreens I have tried.
Neutrogena Hydro Boost Water Gel Lotion Sunscreen Broad Spectrum SPF 50:
I figured out that I still had a bottle of the SPF 50. I found it in my bag, lol. And it's still usable and hasn't expired yet. I didn't use it on my face. It's not the type of product for my facial skin. So I used it on my hands instead. The sunscreen absorbed into my skin very well and quickly. The fragrance was awful. I didn't like it at all. Since I didn't use it on my face, I didn't have to worry about the alcohol content in this product. I used this sunscreen up and threw it out. I won't repurchase. I hope this is the last Neutrogena Hydro Boost sunscreen that I have, haha!
Categories:

Anti-Aging, Antioxidant, Beauty, Serum, Skin Care, Sleeping Mask, Sunblock
Tags:

Acne, Acne Skin, Anti-Aging, Beauty, Dear Klairs, Dear Klairs Freshly Juiced Vitamin Drop, Experience, Kose, Kose Suncut UV Perfect Essence Super Waterproof SPF 50+ PA++++, Lifestyle, November, November Empties, November Skin Care Empties, Review, Skin Care, Skin Care Products, Skin Care Review, Skin Care Routine, Skincare, SOME BY MI, SOME BY MI Niacin 30 Days Miracle Brightening Sleeping Mask, Sunblock, Sunscreen, Vitamin Drops, Wrinkles