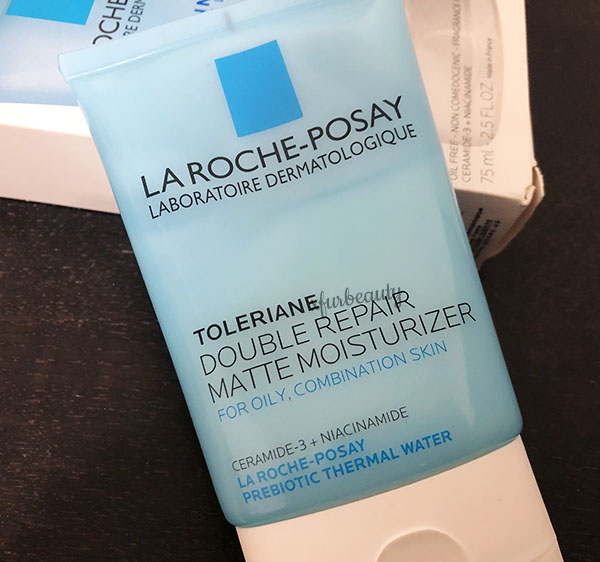 I talked about having a new moisturizer, but I haven't talked about it yet. My new moisturizer is the La Roche Posay Toleriane Double Repair Matte Face Moisturizer for Oily Skin. This moisturizer is supposed to help with all day hydration without shine, helps to repair the skin barrier after 1 hour, minimizes the size of visible pores, improves skin texture, and reduces fine lines. It's oil-free, alcohol-free, fragrance-free, non-comedogenic (won't cause breakouts), allergy-tested, and paraben-free. Did it work? I've been using it for 2 weeks. It's not a large amount of time, but here are my current thoughts on this product!
My experience with La Roche Posay Toleriane Double Repair Matte Face Moisturizer for Oily Skin:
Texture & Application
The product feels soft and moisturizing when applied to the skin. It's lightweight, thin, doesn't feel heavy or greasy on the skin. It's easy to smooth it over the face. I wouldn't try to aggressively rub this moisturizer into the skin. It pills. To successfully apply this moisturizer, smooth it over the skin and pat it into the skin. Do not rub. I've actually prevented product pilling by following this method. The moisturizer helps to moisturize the skin, but it's not the best moisturizer if you have dry skin. On the bottle, it says 'For Oily, Combination Skin'. It truly is for oily, combination skin. I have oily skin, and this moisturizer wasn't too bad. But, I couldn't use it alone when using my acne products or chemical exfoliants. I had to add an essence or serum underneath the moisturizer, which helped to boost moisture in my skin. As for sebum-control, it somewhat helps to minimize oily skin but don't rely on it to control excess oil. The oil-control when using this product is much better compared to other moisturizers I have tried.
Results…
All day hydration without shine?
It's a lightweight moisturizer. It may not be enough moisture for some people. It actually did leave my skin looking shiny by the end of the day. My skin is always oily anyways, lol.
Repair the skin barrier after 1 hour?
This moisturizer is terrible at repairing the skin barrier. It's way too lightweight and not moisturizing enough. When healing my skin barrier, I had to use another moisturizer. This one wasn't moisturizing or rich enough.
Minimizes the size of visible pores?
No. I didn't notice any minimization of visible pores.
Improves skin texture?
No. I didn't notice an improvement in skin texture.
Reduces fine lines?
No. I didn't notice a reduction in fine lines.
Breakouts?
It didn't break me out. It feels lightweight when applied to the skin. It doesn't leave my skin feeling greasy or tacky. It contains beneficial skin care ingredients like betaine, niacinamide, ceramide np, and sodium hyaluronate. The oil absorbing powders are silica and perlite. I didn't have any issues with the ingredients. I just wished that it was more moisturizing, was better at controlling excess sebum, and most of all, doesn't pill. Overall, my skin tolerated this product pretty well when it comes to acne.
Final Thoughts
One of the moisturizers that actually worked on my skin! I didn't have any skin irritations or breakouts from it. It didn't clog my pores after using it for 2 weeks. I started off using it only at night. Tried using it in the morning. Now I'm using it twice a day, morning and night. I don't use this moisturizer by itself. The reason why is because it's not moisturizing enough as I mentioned so many times before. Whenever I use it as a stand alone moisturizer, my skin doesn't retain that much moisture. So what I do is use an essence (can be a serum too, what worked for me just happened to be an essence) before I use the moisturizer. Each time I have done this, my skin feels nourished and moisturized. I have oily skin, so I don't need too much moisture. Just enough for my skin to be happy. It's disappointing that I didn't experience other benefits that this moisturizer claims to do like repairing the moisturizer barrier after 1 hour, minimizing the size of visible pores, improving skin texture, and reducing fine lines. But, I haven't found or used a moisturizer that does any of those things. I was just looking for a moisturizer that doesn't clog my pores and moisturizes my skin. My skin just needed some moisture to not feel or look taut or dry at this time of the year. So this moisturizer works for the time being. The ingredients in this product isn't too bad either. It contains beneficial skin care ingredients (ceramide np, niacinamide, sodium hyaluronate). I'm just really happy that I didn't get breakouts using it.
This is what the moisturizer looks like. This is how much I usually use. It was a large pea-size, but it's smoothed out. It seems to look much bigger in the photo, lol. I don't need to use a lot of product to moisturize my face with this product. I wouldn't want to anyways. It'll just increase the chances of product pilling. Keep in mind that this moisturizer comes in a 75 mL (2.5 fl. oz.) bottle. I would also like to mention that the product was not filled all the way to the top of the bottle when it was new.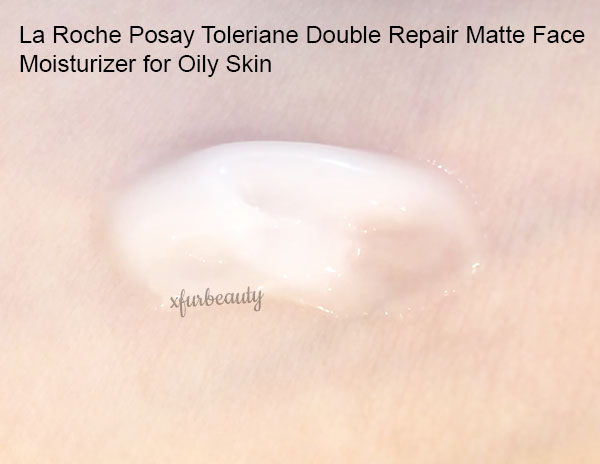 Categories:
Tags:

Acne, Acne Prone Skin, Acne Skin, Beauty, Double Repair, Experience, Face Moisturizer, Facial Moisturizer, La Roche Posay, La Roche Posay Toleriane Double Repair Matte Face Moisturizer for Oily Skin, Lifestyle, Moisturizer, Oily Skin, Oily Skin Care Routine, Review, Skin Care, Skincare