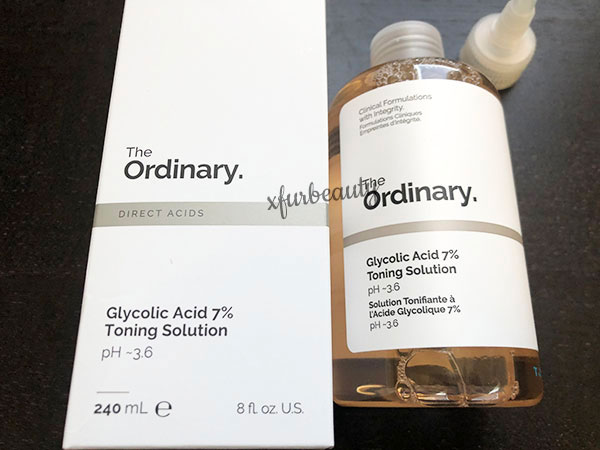 My Experience Using The Ordinary Glycolic Acid 7% Toning Solution:
I'm mainly going to talk about my experience with The Ordinary Glycolic Acid 7% Toning Solution. I used tret a few times this week. I'm debating if I should keep using it or just move on to this glycolic acid product. My results with the glycolic acid toner has been pretty good. I used it every day at night. The instructions of this product says ~ Use ideally in the PM, no more frequently than once per day. After cleaning, saturate a cotton pad with the formula and sweep across face and neck. That's what I did. I prefer using a cotton pad too. It helps to remove whatever is left on my skin. Sometimes I can see stuff on the cotton pad. It's another nice treatment + cleansing step (even if it's not a cleansing product).
When using this product, there's a stinging sensation that fades away. I didn't experience any other irritation other than that. It's pretty normal for a glycolic acid product to sting upon application unless it persists. After applying the toner, I move on to my other skin care products, and I always end my routine with my moisturizers. I'm currently using La Roche Posay Toleriane Double Repair Matte Face Moisturizer for Oily Skin and Cosrx Advanced Snail 96 Mucin Power Essence. Both are lightweight moisturizers. One being a hydrating product and the other moisturizing. I apply the Cosrx Snail Mucin Essence first then follow up with La Roche Posay Double Repair Matte Face Moisturizer. This combination has worked for me so far. I wake up the next morning with no redness, itchy skin, or any other signs of irritation. I tried other moisturizing products this week too. Read more about them here.
After 1 week of using The Ordinary Glycolic Acid 7% Toning Solution, my skin improved. It's working. Something is finally working to unclog those closed comedones that I've been suffering with for so long! I had closed comedones on my forehead, upper lip area (ouch!), chin, and jawline area. I noticed these closed comedones unclogging within the first few days. It was my forehead and chin area where I noticed improvements first. Now it's the rest of my face by the end of this week. It's only been 1 week, and I've already seen tons of improvements in my skin. It's freaking amazing. I haven't experienced any major irritation either. No dryness, itchy skin, redness, or burning. Just soft, smooth, clearer skin. And this was done all by glycolic acid. It made me question if I should keep using tret. 🤔 I'm loving the results with this glycolic acid toner!
Products I Stopped Using:
I stopped using Paula's Choice 2% BHA Liquid again. From months to years of using this product, it's not working on my skin anymore. It helps a little bit with sebaceous filaments and blackheads, but it hasn't done anything for my closed comedones. I've been using it to unclog my pores to no avail. The Ordinary Glycolic Acid 7% Toning Solution has done a better job at unclogging closed comedones and getting rid of whiteheads and blackheads. Along with all of that acne, it has also decreased sebaceous filaments, especially on my nose. I've been having issues with that for a long time. Finally, something that works! I guess if a product just doesn't work, it just doesn't work. So what to do with it now? I have a few bottles left. 😭 I couldn't even finish what I was using, lol. Salicylic acid doesn't seem to work on my skin as I thought. But I kept on trying, haha.
Moisturizers I Tried This Week:
I tried hydrating/moisturizing skin care products this week. I needed to add at least a hydrating serum or essence. I ended up picking Cosrx Advanced Snail 96 Mucin Power Essence. It's the only one that didn't break me out. Well, I hope it doesn't. Let's get into the other products I tried. I honestly can't believe I gave them a try again. First up! Purito Centella Green Level Buffet Serum…
Purito Centella Green Level Buffet Serum:
This serum contains 49% centella asiatica extract, niacinamide, arginine, panthenol, green tea leaf extract, adenosine, ceramide np, asiatic acid, peptides, and so much more! I thought I would give it a try again. After 2 days of using it, I noticed blackheads and more breakouts. My pores were clogged once in again. Once I eliminated this product, the breakouts diminished. Now, it makes me wonder if this serum has been clogging my skin the WHOLE TIME! Wow! I've been using it for so long and have gone through bottles of it!
Vanicream Daily Moisturizer for Sensitive Skin:
I tried the Vanicream Daily Moisturizer for Sensitive Skin for a few days but ended up weaning off of it. It felt moisturizing and helps to protect my skin, but I couldn't continue to use it due to my past experience with it. It seals in too much moisture. I know I will end up with a clogged up nose if I keep using it. If my skin barrier ever gets impaired, this is a good moisturizer to go to even though it burns upon application, lol! I wish they would make it without squalane. My skin doesn't like squalane.
Check out my thoughts on CeraVe Renewing SA Cleanser:
I Finally Tried CeraVe Renewing SA Cleanser! Here's My 1 Week Experience!
2 Weeks Experience with CeraVe Renewing SA Cleanser!
Categories:
Tags:

1 Week, 1 Week Results, 1 Week Update, Acne, Acne Prone Skin, Acne Skin, Anti-Aging, Beauty, Centella, Clogged Pores, Cosrx, Cosrx Advanced Snail 96 Mucin Power Essence, Direct Acids, Exfoliant, Experience, Glycolic Acid, Green Level Buffet Serum, Lifestyle, Oily Skin, Purito, Purito Centella Green Level Buffet Serum, Results, Review, Sensitive Skin, Skin Care, Skin Care Routine, Skincare, Snail Essence, Snail Mucin, The Ordinary, The Ordinary Glycolic Acid 7% Toner, Update, Vanicream, Vanicream Daily Moisturizer, Vanicream Daily Moisturizer for Sensitive Skin, Wrinkles