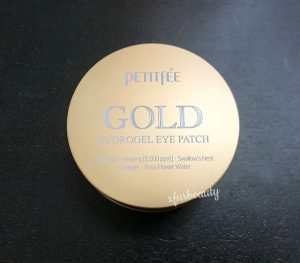 I've tried a few of hydrogel eye patches in the past. Didn't think I would purchase another any time soon. I've had this product since summer. Used it about 6 times. Stopped for a while. I'm not that into eye patches, to be honest. I think they're OK. I just don't think they make a huge difference in my skin. A good moisturizer does a better job, and it's less expensive than an eye patch. So I started to use hydrogel eye patches again since I have it. And good news! The product is still good to go! Just like when I purchased it. 👍🏻
This is the gold version from Petitfee. There's 30 pairs of eye patches per jar. The purpose of this skin care product is to treat the eye area by instantly moisturizing, removing dark under eye circles, eliminate swelling, and irritation. It fills the skin cells with moisture, protects against aging, and smooths out wrinkles.
That sounds pretty good. Now here are my thoughts on Petitfee Hydrogel Eye Patches!
My experience
Hydrogel eye patches feel luxurious, in my opinion. I think they're fun to have around if you want to splurge a little. The product is very easy to use. It comes with a little spatula, but I lost it. I thought the little spatula was annoying, lol. So I wash my hands before I pick out a pair of hydrogel eye patch. They're soaked in essence. I apply it to my under eye area that has been cleansed with no product on. The hydrogel eye patches can be used on other parts of the face too if desired. I just use it as intended (the eyes). I have a moisturizer for other parts of my face including my eye area.
When using the hydrogel eye patches, I can't use it standing up. The eye patches slip down just a little bit. So what I do is lie down and just take a mini nap. The instructions of this product states to leave the eye patch on for 10-15 minutes. I leave it on for ~15 minutes. Let my skin soak up the essence. There's no irritation or burning. After I'm done with the eye patch, I remove them and toss them out. I don't rinse the product off. Just leave it on the skin and go about my usual skin care routine. You can place this product in the fridge too if you want a cooling effect to help with puffy eyes.
This is something I do every 2 weeks or so. I tried to do it more often, but it's really time consuming for very little results. If you expect to remove saggy under eye bags, dark under eye circles (as it claims that it should do), or smooth out under eye wrinkles, you're in for a disappointment. All it's really doing is moisturizing the skin. It's not a surge of moisture either. It's very light moisture. A regular moisturizer does a better job and for less the price or same amount. I think that's why I don't use hydrogel eye patches too often. I don't feel like I'm getting much out of it for the time put in.
The ingredients in this product are nice. It contains ginseng root extract, bird's nest, aloe extract, hyaluronic acid, rose flower water, hydrolyzed collagen, gold (1ppm) to name a few.
An open jar of Petitfree Gold Hydrogel Eye Patches! I've had these for a while, and I'm going to repeat that they haven't dried out at all.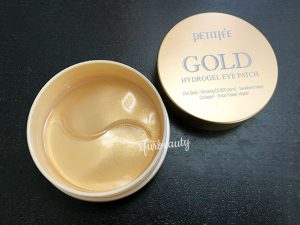 Pros & Cons
✅ Pros
Light moisture. Don't expect too much out of it.
Gentle on the skin
Soothing and relaxing
Contains ginseng root extract, bird's nest extract, aloe, hyaluronic acid, rose flower water, hydrolyzed collagen, gold (1ppm). Gold is the last ingredient.
❌ Cons
Doesn't improve dark under eye circles
Not much of a change in my skin
Conclusion
The product looks and sounds very fancy and makes it seem like it'll do something for the under eye area, but my experience says otherwise. The main reason why I don't use it too often (from past experience). I just bought it to try it out again, and I haven't used a hydrogel eye patch in a while. I'm not sure I'm going to pick up another jar. We'll see. Maybe those mini naps I have might be doing some good when using them. It's always good to reduce stress and just relax after a long day. These hydrogel eye patches force me to do so, haha!
Categories:
Tags:

Beauty, Dark Circles, Dark Under Eye Circles, Experience, Eye Patch, Gold, Gold Hydrogel Eye Patch, Hyaluronic Acid, Hydrating, Hydrogel, Hydrogel Eye Patch, Moisturizing, Petitfee, Petitfee Gold Hydrogel Eye Patch, Review, Skin Care, Skincare
I have a new Hydrogel Eye Patch. The reason why I purchased a different one is because the first one (Koelf Ruby Bulgarian Rose Hydrogel Eye Patch) didn't do a good job at moisturizing my skin. I need as much moisture as possible underneath my eyes. I wouldn't recommend Koelf Ruby Bulgarian to anyone that's looking for hydration for the eye area. I'm over it. I'll use the rest of it, but I won't buy it again.
Moving on…
Now I have Petitfee Black Pearl & Gold Hydrogel Eye Patch.
This is what it looks like. Oh so jelly. 😀
It has a scooper too. 🙂
I've used Petitfee Black Pearl & Gold Hydrogel Eye Patches a total of 5 times. I liked these much better compared to the Koelf Ruby Bulgarian. They are more moisturizing and leave my under eye area looking brighter and youthful. The results are pretty big between the two. If you're looking to trying some hydrogel eye patches out, go for this one instead. They are worth a shot! I do not know if they'll work for you or not, but they sure did work for me!
October 15, 2019 UPDATE: I've officially finished the whole container of Petitfee Black Pearl Gold Hydrogel Eye Patches. Honestly, I really do like these. They did help brighten the under eye area and felt very cooling. I ended up using it mainly at night due to time constraints. I would purchase them again.
Love, Jen