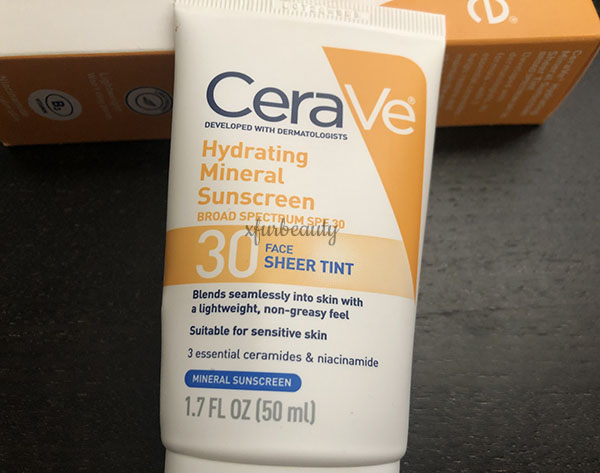 I stopped using CeraVe Hydrating Mineral Face Sheer Tint months ago due to breakouts and whatnot. I can't believe I'm here talking about CeraVe again. 😑 So once I finished Neutrogena Visibly Even Daily Moisturizer SPF 30. I mainly used it as a moisturizer or as a sunscreen for indoors. Too bad this product has been discontinued after years of being a dedicated user. I only used it because it didn't cause major breakouts. But, I'm not going to miss it too much. It didn't really help to protect my skin from intense UV rays. *ahem* I developed freckles while using it. BUT! Here I am with CeraVe Hydrating Mineral Face Sheer Tint! I despised this sunscreen for a while. But why am I thinking about using it again after being traumatized by it? That's right. I have too many bottles of this sunscreen. I went overboard and purchased them thinking that it was working for my skin! And it'll be a waste to let them all expire. So let's use them up.
I've used CeraVe for 4 days already. Here are my thoughts on the sunscreen!
1. The shade/color of the tinted sunscreen.
The shade/color of the sunscreen is darker than my natural complexion. In my opinion, this sunscreen will be more suitable for individuals with a medium complexion. I'm on the fair side and noticed my complexion became duller after application. My face looked really orange too. When I reapplied the sunscreen, it made my skin look even more dull and orange. I can't believe I lasted this long using this sunscreen, lol. It's so embarrassing thinking about it now, haha. The tint just didn't work for me. I wish CeraVe had a wider shade range. Also, even when I blend in the sunscreen, it doesn't provide much coverage but deposited some color in my skin. Hope that makes sense!
2. Burns a little bit.
The first application was odd. My skin burned a little bit. I'm not sure if it's because I'm using an acne cream, or it's the sunscreen burning my skin. The burning sensation disappeared after the first day. I noticed some redness in my skin too after removing the sunscreen as well.
3. Greasy on the skin.
The product claims to be lightweight and provides a non-greasy feel. That's a lie. It's not lightweight. It's not non-greasy. The sunscreen is not lightweight unless you are under-applying it. On my skin, it felt pretty greasy, shiny, and felt heavy on the skin. This sunscreen isn't good for reapplying throughout the day. I can't imagine reapplying it due to the greasiness of it. Gross.
4. Not sweat-proof.
I didn't use this sunscreen for outdoor activities. Honestly, I wouldn't. It's not meant for intense outdoor activities. I wouldn't rely on it to protect my skin. Just a heads up that it's not sweat-proof. If you're a heavy sweater, it's best to choose a sunscreen that's labeled sweat-proof or water-proof.
5. Brightens the skin.
I noticed a brighter complexion after 2 days of using it. My skin tone was more even, and it helped to fade some acne scars just a little bit. I really liked this aspect of the sunscreen. It contains niacinamide to brighten the skin.
6. Breakouts?
So after 4 days of using the sunscreen. I developed a cyst and a tiny little pimple on my face. I'm still trying to get rid of the swollen cyst on my face that developed from using the CeraVe Hydrating Mineral Face Sheer Tint. After my experience using the sunscreen again, it broke me out. I can't believe I used this sunscreen for months! It was breaking me out the whole time! Ugh! But now I know that it did cause breakouts. I'm currently trying to use the rest of it on my body to get rid of it.
As with all of the other times, CeraVe Hydrating Mineral Face Sheer Tint does not work on my skin. Just like all of the other CeraVe skincare products I have used…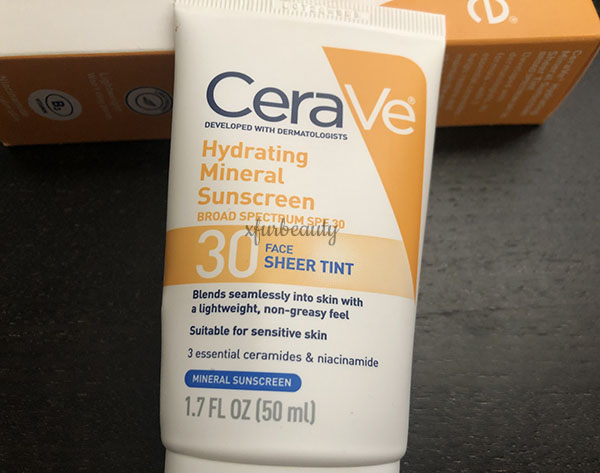 Last week, I didn't use any acne treatments all-over. I paid the price for it. My skin went from dry and crusty to extremely oily. I developed breakouts from it. Once I stopped using taz or tret, my skin started to get better/heal. I'm thinking about quitting those products and just sticking to benzoyl peroxide (pm) and sunscreen (am) for now. I went back to using benzoyl peroxide all-over at the beginning of this week. I spot treated most of the week. On the last day, I started using benzoyl peroxide all-over. I thought I could spot treat most of the week only. I was wrong. I really need to apply benzoyl peroxide all-over for the full effect. When using benzoyl peroxide, I have less breakouts, skin is less oily, and my skin just looks overall better. I noticed improvements in my skin after the first all-over application! My skin didn't dry out either. It just soaked up the excess oils and killed the bacteria. Yayyyyyyy! I'm still not using a moisturizer. My skin seems to not need it. Also, I'm not using salicylic acid anymore. It's not working for me. It made my skin worse at the end. It could just be the product I was using too (Paula's Choice 2% BHA Liquid Exfoliant). It leaves an oily residue behind while absorbing excess sebum all at once. It's weird. I'm going to try my best to move on from it, haha. Let's see how this goes, lol. Yeah, I'm pretty sure I'm done with it. 🤔 Pretty sure…
I stopped using CeraVe Hydrating Mineral Sunscreen SPF 30 Face Sheer Tint and Trader Joe's Daily Facial Sunscreen Broad Spectrum SPF 40 this week too. I tried using La Roche-Posay Anthelios Body & Face Mineral Sunscreen Gentle Lotion SPF 50. I thought it was breaking me out at one point or many points, lol. Go here to check out my previous thoughts on it. I tried using this sunscreen most of the week. It didn't cause breakouts like I thought it did. It must've been the CeraVe sunscreen. Darn it, I've been using it for so long and not realizing it was clogging my pores. I've officially stopped using it. There goes another sunscreen that doesn't work. As for La Roche-Posay Anthelios Body & Face Mineral Sunscreen Gentle Lotion SPF 50, it worked OK for the first few applications then my skin became extremely dry. I could see dry patches on my skin. It accentuated so much dry skin that I had to stop using it every day. It's not going to work if it makes my skin look like shit. I need a more moisturizing sunscreen that doesn't break me out. I tried using Altruist Sunscreen SPF 50 again, haha! I feel like I'm never going to let this sunscreen go. It worked well the first day. After using it again for the second time, my skin started to feel clogged. It made my skin look super shiny and more oily during the day. Felt sticky on the skin. Whatever, maybe this is the last time. My experience with it lasted for 2 days this time. Good to know that it doesn't work (again, lol).
After 1 month, my skin is almost clear. I only have a few stubborn areas of my face with pimples. It's mostly my chin and mouth area. Probably hormonal too. I ended up with at least 3 nodules right for my period. Ugh, they took forever to go away and left dark acne marks behind. I'm not using anything to treat the pigmentation. I just don't want to use any new product right now and ruin my skin. So, it's just sunscreen (not sure what works yet 😭😭😭), face wash, and benzoyl peroxide. Oh, and that vitamin c serum which has helped brighten my under eyes. It's so silky smooth! By the looks of my skin condition, I'm pretty sure the less products I use, the better my skin gets. I just need to find a new sunscreen. Something that's lightweight, non-greasy, doesn't clog my pores, and dries quickly into the skin. Looking back at all of the sunscreens I've used, the only one that worked for me was Neutrogena Visibly Even Daily Moisturizer with SPF 30. It's not even a sunscreen product. It's a moisturizer with SPF. By the way, it's been discontinued for some time now. I only have one bottle left that hasn't expired yet. I better get going and use it up real soon before it does.
What's happening? Check out the links below!
Restarting Tret & My First Week Experience
My Week 2 Results With Tret. Changes I've Made.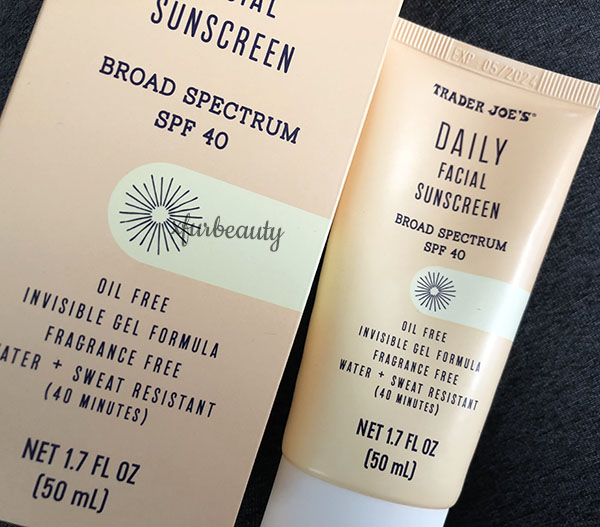 I stopped using tret, lol. After last week's results, I wasn't happy with any of it. Using tret directly on my skin yielded better results, but it tore my skin up. The lower strengths of tret, from my experience, don't have any positive affects on my acne. I tried buffering to lessen the side effects, such as dryness, redness, and any other skin irritations. My results buffering was so poor. My skin ended up so clogged. But It might've been the Cosrx Advanced Snail 96 Mucin Power Essence clogging my pores. Or, Vanicream Daily Facial Moisturizer for Sensitive Skin?? I get mixed results with this moisturizer. So I stopped using Cosrx Snail Mucin Essence and kept using Vanicream Daily Facial Moisturizer. It's the only moisturizer that I have. I still can't find another moisturizer that works without ruining my skin. Vanicream it is for now. Just for now, haha. That's until I find a better moisturizer for my skin type. Just using the Vanicream moisturizer and leaving out the Snail Mucin Essence, my skin looked better and less clogged. But, my skin didn't look that good. I could tell that I still had acne issues. It could've been better. I can just tell if my skin is improving or not. It just seemed stagnant. Since I stopped using tret, I started using a different retinoid instead. It's time to switch things up again for another time. This time, it's tazorac. This retinoid isn't anything new to me. I've used tazorac with amazing results before. It actually cleared my acne up once before like tret. Let's give it another try. I also started using benzoyl peroxide more frequently than I expected this week too. Here's my experience and results for week #2!
My Experience with Taz & Benzoyl Peroxide this week!
I used taz 3 times this week. And I used taz 3 times in a row, back-to-back. That was a bad decision. It worked to help clear up some clogged pores, but my skin started to feel dry and started to sting. After using it 3 times in a row, I took a day off. After a day of not using anything but a moisturizer (which stung my skin), I decided to increase my application of benzoyl peroxide. My skin just looked so clogged even when using taz. After 2 days of using benzoyl peroxide, I noticed a dramatic change in my complexion pretty quick. My breakouts diminished. My skin looked cleaner and less clogged. It killed active acne blemishes on the spot. It helped to decrease sebum on the surface of my skin. I also noticed some skin peeling all over my face. Wow, this thing called benzoyl peroxide is amazing. It seems like I'm stuck using it for the rest of my life. It's the only acne treatment that makes any changes in my skin in a short period of time. Since my skin looks pretty good right now after increasing my use of benzoyl peroxide, I decided to use benzoyl peroxide more often than taz. Taz helps, but I think benzoyl peroxide is where it's at when it comes to clearing my skin. Every time I use benzoyl peroxide, my skin gets better. I have less closed comedones, less blackheads, less chances of pimples developing. I'll figure something out in the upcoming weeks, but my skin looks clear at the moment because of benzoyl peroxide. So, by the end of the week, I took a break from actives and just moisturized my skin. I'll restart when my skin is ready. It's looking very crusty and dry. It itches too from the dryness, haha. I have no new pimples though!
Update on Sunscreens! 🧴
How much I love the high UVB and UVA in this sunscreen. I simply cannot use on my face. I noticed clogged pores and whiteheads/blackheads on my nose, forehead, and chin area. The formula of this product is just not working for my skin. I wished it did. I stopped using it after noticing an increase in clogged pores. I guess I could use the rest of what I have on my body. This sucks because I really wanted it to work.
CeraVe Hydrating Mineral Face Sheer Tint:
I've been using this sunscreen as my main sunscreen. I like it, but there are some things that I don't like about it. First off, the tint of this sunscreen makes my face look super orange. Repplying the sunscreen makes my face look even more orange than before, lol. Other reasons I don't like about this sunscreen includes it being only SPF 30, the fact that it feels a little heavy on my oily skin, and it stings my face when I'm using acne products that peel the skin. My skin literally burns with this sunscreen. But, yes, I'm still using it anyways, lmao. I'll be on the look out for another sunscreen. That's if I can find another one that works just as well as this one while being afforable.
Trader Joe's Daily Facial Sunscreen Broad Spectrum SPF 40:
I picked up two new bottles of Trader Joe's Daily Facial Sunscreen Broad Spectrum SPF 40. I missed it, so I purchased more. It's also effective, has SPF 40, has a nice texture to it (silky, smooth, moisturizing, doesn't burn my skin), is broad spectrum, and is very affordable. It costs less than the CeraVe Hydrating Mineral Face Sheer Tint. Trader Joe's SPF 40 is a chemical sunscreen though. I do prefer mineral sunscreens over chemical sunscreens. But, this chemical sunscreen makes my skin feel super elegant and nice. I'm loving it using so far after using it again.
That's my 2 week update! Stay tuned for next week!
Check out my first week experience here!
Restarting Tret & My First Week Experience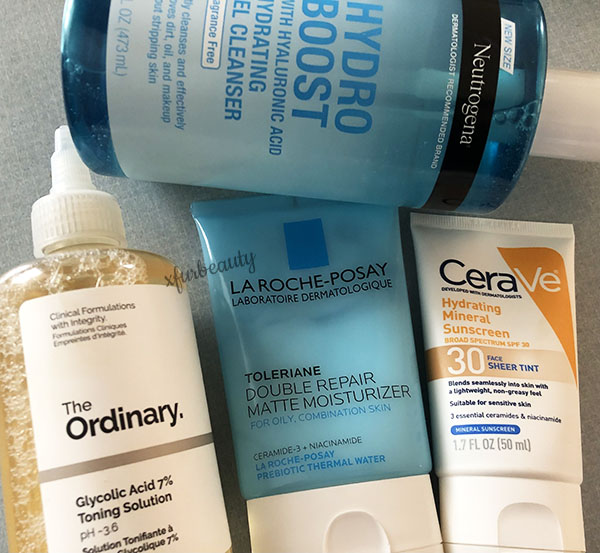 Here's my skin care routine! 🙂 Let's start…
Face Wash: Neutrogena Hydro Boost Hydrating Cleansing Gel with Hyaluronic Acid Fragrance Free
The face wash I'm using is Neutrogena Hydro Boost Hydrating Cleansing Gel (the fragrance free one). I've tried other cleansers in the past weeks, and I didn't like them as much as this face wash. The Neutrogena Hydro Boost Hydrating Cleansing Gel feels soft, soothing, and gentle on the skin. It slightly foams up, cleanses the skin, doesn't leave my skin feeling dry, and refreshes my skin. It doesn't contain any acne fighting ingredients. I prefer facial cleansers without them. I've tried cleansers that contain salicylic acid or benzoyl peroxide before in the past, and they didn't do anything for my acne. I didn't see the point in using them anymore. I'll just stick to a plain, boring face wash that cleanses without stripping the skin. This one has been working for me.
Acne Treatments: The Ordinary Glycolic Acid 7% Toning Solution
It took me a while to settle on products for my acne. I think this is it for now. I'm only using The Ordinary Glycolic Acid 7% Toning Solution to help unclog my pores and to help prevent future breakouts (if it works that way, lol). I love how this product is a liquid. It absorbs quickly into the skin and leaves my skin feeling very clean. It doesn't feel sticky or tacky on my skin. Let's see if this works or not. I've only been using it for 2 weeks. Check out my experience/results below (first week).
My Experience After 1 Week Using The Ordinary Glycolic Acid 7% Toning Solution + Other Skin Care Updates
Moisturizer: La Roche Posay Toleriane Double Repair Matte Face Moisturizer for Oily Skin
It took me forever to find a moisturizer that works on my skin. In other words, moisturizes and doesn't cause breakouts. This moisturizer isn't the most moisturizing. It's also not the best at absorbing excess sebum (like it claims to do). I still have excess sebum seeping through the moisturizer afterwards. But, it's good enough for now. It somewhat moisturizes, and I haven't noticed any breakouts. It also contains niacinamide, but I haven't noticed a brightening effect or any other improvements with this ingredient. I'll stick to this moisturizer until I find another moisturizer that's better for my skin (if there's one). My skin doesn't seem to like moisturizers too much. I've gone through life not bothering with moisturizers due them clogging my pores.
Sunscreen: CeraVe Hydrating Mineral Sunscreen SPF 30 Face Sheer Tint
I have a few more sunscreens, but the one sunscreen that I've been using the most is the CeraVe Hydrating Mineral Sunscreen SPF 30. It's a mineral and tinted. Contains SPF 30. The tint in this sunscreen product makes it easy to reapply throughout the day. The tint is a tad dark on my skin. At first, it didn't bother me. But now, it makes my skin appear a little dull. The shade isn't a perfect match for my skin. It blends into the skin, but I can still see that my face is darker than the rest of my body when using this product. Oh well, haha. I'll use it for the time being. I haven't experienced breakouts from it after going through 3 bottles. I'm on my 4th! So with the tint, there's no white cast, obviously. It's moisturizing and simply just very easy to use. It's currently winter with less sun. I'm mostly indoors, so that's why I've been using this SPF more often over the other sunscreens I have. This will change when spring and summer arrives. I will need a higher SPF.
In the morning, I use a lip balm with SPF too. You can check out my lip care routine right here!
So what else should I add? I'm only using 4 products (face). 😂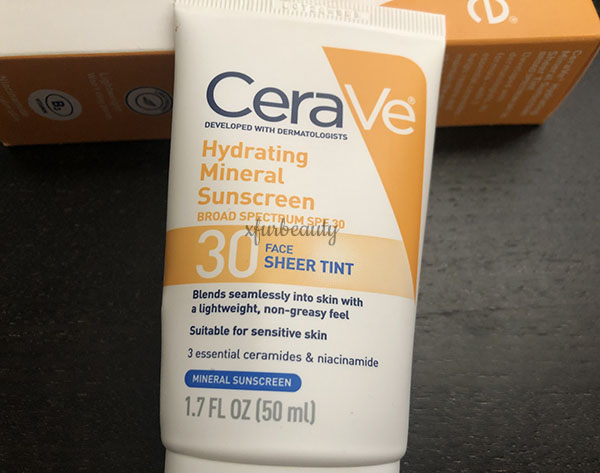 I started using makeup again. So excited! So what face products am I using?
Well, it's much different this time. Before this, I was using Dr. Jart+ Rejuvenating Silver Label BB Cream SPF 35 PA++ and Skin79 Super Plus Beblesh Balm Triple Function Orange BB Cream SPF 50 PA+++. I've used both of these for years. Dr. Jart+ was my to-go-to bb cream. I loved it. Skin79, I tried it again, and I didn't get any breakouts from it. My skin must've been just breaking out when I had a bunch of clogged pores that I couldn't get rid of. So am I still using these bb creams? I was using both of them, but I noticed that they made my skin really dry even with moisturizer underneath, especially Dr. Jart+. I still have them, but I stopped using them on my face. Maybe a little dab here and there to finish them up so no product goes to waste. I'm just not using them as my main/everyday bb cream or whenever I wear makeup. I most likely won't purchase again after I finish them. Wow, after over a decade of using these bb creams, it's time for something new. I need a change. Better makeup products. 🙂 I still can't believe I'm separating from my bb creams. *sigh* It's been an amazing blessed years with them. 😭 haha. Just kidding. But they were great while they lasted. I just need products that aren't as drying while I'm on my acne creams and gels.
Using a tinted mineral sunscreen as my face makeup instead.
I noticed that I still have the CeraVe Hydrating Mineral Sunscreen SPF 30 Face Sheer Tint. I despised this product for a while. I can't believe I'm giving it another chance. But, I was searching for an affordable sunscreen with a tint to it. Sun protection is very important to me. And, I didn't want just a makeup product that evens out the skin tone. I wanted something that my skin would benefit from (like a bb cream). Also, there's no way I'm going to pay over 30 bucks for a tinted sunscreen that comes in a tiny ass bottle. 😂 No way. First, I looked at the ingredients, and it doesn't seem like any of the ingredients in CeraVe would break me out. I really don't know what happened before. Perhaps it could be a combination of skin care products I was using before? Maybe my skin was just very sensitive. Who knows. Here I am, trying it out again because I'm not going to toss out a product that I spent on. That would be a waste. Now here are my thoughts on this product and how I use it.
What I'm Doing…
The first thing I noticed about this sunscreen is that it's very moisturizing. It's called a hydrating mineral sunscreen for a reason. The tint is sheer and provides very little to no coverage. Blends into the skin well. It takes a little bit of time to even it out, but it's not too bad. Fortunately, I didn't have any issues blending the product into my skin. The tint still looks a little orange like it was before when I tried it out. This time, it didn't bother me too much. The reason why is because I'm not using it as an actual sunscreen. I think it's amazing that it contains SPF 30 (could be SPF 50??!!). I used it as a makeup product instead. Just to even out my complexion a little bit. Just a tad bit is better than nothing. I apply my other sunscreens like my La Roche-Posay Anthelios Melt-in Milk Face & Body Sunscreen Lotion SPF 100 or La Roche-Posay Anthelios Body & Face Mineral Sunscreen Gentle Lotion SPF 50 beforehand. Works heavenly with the La Roche-Posay Mineral SPF 50. CeraVe gets rid of the white cast (from La Roche) and adds some moisture to the skin around my eyes and face. Having some moisture in the skin helps to smooth out any fine lines and wrinkles too.
After I apply my everyday sunscreen, I apply CeraVe. I apply enough that I can blend the product into my skin. I don't need to use a lot, since I already applied my sunscreen beforehand. If my skin gets greasy, shiny from CeraVe (usually does since CeraVe leaves the skin very, very shiny looking), I'll use my La Roche-Posay Mineral to get rid of some of the shine. By the way, La Roche-Posay is a mattifying sunscreen. It doesn't dry out the skin, somewhat moisturizes the skin, and leaves the skin looking matte. I have oily skin, so the results may differ for someone else with dry skin. The white cast from La Roche-Posay helps to get rid of some of the orangey hue from CeraVe too. Yeah, I know. This seems a bit much for some people, but it works for me. I'm pretty serious about sun protection, and I enjoy skin care a lot. I mean, A LOT. CeraVe makes it easier to reapply sunscreen throughout the day too. It's tinted and blends into the skin well. I wish it was SPF 50 instead of 30. They need to increase the SPF in this product. That would be awesome!
I haven't noticed any breakouts from CeraVe, but I will report back if I notice any clogged pores. I really hope it works out because I don't want to spend more than I need to on a tinted mineral sunscreen product. So far, everything is going well. My skin feels super moisturized and healthy-looking. 👍🏻 By the way, I'm not going for the 'made up look' for most days of the week. A sheer tint is more than enough to make me look awake and alive, lol. This seems to work for me. Stay tuned for my next update!