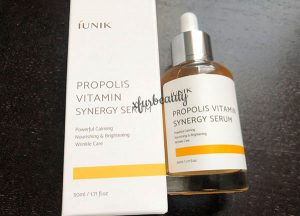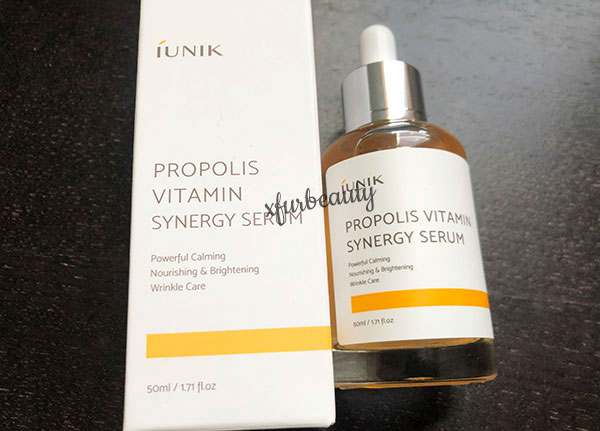 I decided to add iUNIK Propolis Vitamin Synergy Serum (previous review here) once or twice a week in my skin care routine. It seems like when I don't use too many products at once (but once or twice a week) my skin is pretty forgiving. I don't get clogged pores or random breakouts from the product unless it's something my skin really dislikes. So I've been using this serum on my body just to use it up, but I thought I would give it another chance (on my facial skin). This serum is concentrated with a bunch of good, beneficial ingredients for the skin. I have a ton of skin care products that didn't work and thought I would give it a go again to see if it works or not. I didn't want to waste a good product on my body. Not that I don't care about the skin on my body. I already have moisturizers for my body like CeraVe Moisturizing Cream and Neutrogena Hydro Boost Body Gel Cream that are less expensive for the amount of product. Even though they're not my favorites, they're not too bad. So I've used iUNIK Propolis Vitamin Synergy Serum for 2 days, here's my experience with this serum…
Day 1
So the first time I used this serum it felt lightweight, moisturizing, and I couldn't feel the stickiness of the serum because of my other moisturizers, lol. It felt like I was just piling on this serum just to get some good moisture in for my skin. The serum feels nice on the skin. I can see why I wanted to try it out in the first place. It contains Propolis Extract, Hippophae Rhamnoides Fruit Extract, Niacinamide (doesn't every product nowadays??!!), Sodium Hyaluronate (this too!!), Honey Extract, Adenosine, and the list goes on. This serum is filled with so many beneficial ingredients for the skin. I'm really excited. But what do I expect from this product after my previous experience with it?? What it claims to do! I guess, haha! Which is to soothe, nourish, revitalize the skin while reducing redness and calming the skin. Well, it did help soothe and calm my skin when I was gently patting it into my skin. This serum also contains Centella Asiatica. Even though I'm already using a serum with this ingredient (Purito Green Level Buffet Serum). This serum is also supposed to help with dry, damaged, dull skin, and hyperpigmentation. But we'll see. My previous experience with it wasn't too great. I believe in second chances though. 😉 The first day went well.
Day 2
This serum felt as soothing and moisturizing as it was the first day. I dispensed about 3-5 drops into my palm. More drops than I usually use. I only used it at night too. I'm not sure how my skin would react if I used it twice in a day, but I'll just take it slow for now. So I gently pat the serum into my skin and let my skin soak it all up. It left my skin feeling so moisturized. I loved it. I haven't noticed any breakouts from it yet. None at all. Perhaps this serum is too moisturizing for everyday use but makes a good serum to use just a few times a week. I think I can live with that, since I haven't seen any signs of clogged pores. My skin looks softer and moisturized the next morning. My complexion looks more even and slightly brighter. Since it's only been two nights of using this serum, I can't say much about the other benefits like improvements in damaged and dull skin. No clue about hyperpigmentation yet but I hope it does something for that in a few weeks or months. I have some acne marks to fade. But, so good, so far. I like the way it goes on my skin. And yes, once again, no new acne. 👍🏻
Final thoughts on iUNIK Propolis Vitamin Synergy Serum & experience
Using iUNIK Propolis Vitamin Synergy Serum was a complete success for 2 days, once a day, at night. I have no new breakouts! Just softer, smoother, moisturized, and brighter skin!! I like what I'm seeing and the way my skin looks even if it's only from using it twice. I'm stunned! I can't wait to see what my skin will look like with continued use. I'll keep using this serum a few times a week until I finish the whole bottle. If it works, I may even pick up a brand new bottle. Who knows! I'll make an update in a few months! See you all there! 🙂
For more reviews on iUNIK skin care products go here!!!
Categories:

Acne, Antioxidant, Beauty, Moisturizer, Serum, Skin Brightener
Tags:

Beauty, Brightening, Experience, Facial Serums, Honey, Hydrating, iUNIK, iUNIK Propolis Vitamin Synergy Serum, iUNIK Skin Care, Moisturizing, Niacinamide, Propolis, Propolis Serum, Review, Skin Brightener, Skin Car Products, Skin Care, Thoughts, Vitamin Synergy Serum