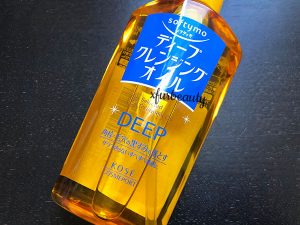 I've been using Organic Hemp Seed Oil and Purito From Green Cleansing Oil to remove my makeup (if I have any on, I don't wear makeup every day anymore) and sunscreen. But I wanted something more moisturizing. Organic hemp oil works great, but I remembered that I had another cleansing oil that was even more moisturizing. It was Kose Softymo Deep Cleansing Oil. I noticed that I still had it tucked away somewhere and started to use it again. This cleansing oil states that it cleanses the skin and deep cleanses the pores. It leaves the skin refreshed, purified, and clean. Removes makeup and is for all skin types. From what I remember of the product, I had a good experience with it. I thought I would switch over or use a combination of the oils that I have. Sometimes I would mix them together and whatnot, lol. I've been using Kose Softymo Deep Cleansing Oil for a couple of weeks now. The bottle is almost empty! Now here are my thoughts on it.
My experience
I can't remember why I stopped using this cleansing oil. Maybe I was using too many products? lol. But I'm using it again when I wanted a cleansing oil that's super moisturizing. I recall this cleansing oil feeling soft and gentle on my skin while leaving my skin feeling moisturized. So I dispense about 1-2 pumps of product into my palm, rub the oil between my hands, and smooth the oil all over my facial skin. The oil feels exactly how I remember it. It was soft, gentle, and felt so moisturizing on my dry and sometimes flaky skin. It felt so soothing and calmed my skin down. This cleansing oil feels super rich and has a sweet, citrusy smell to it. I actually like the smell of the oil. I wasn't bothered by it. Mmm.
The cleansing oil contains mineral oil as the first ingredient. Mineral oil isn't something I like too much in my skin care products, but it does have that moisturizing effect on my skin. And it's not like I'm leaving the cleansing oil on my face. I follow up with another facial cleanser that removes any excess oil and dirt from my skin. I make sure my skin is 100% clean afterwards. So it doesn't clog my pores. Other ingredients in this product includes rice bran oil, olive fruit oil, orange oil, sesame oil, safflower seed oil, shea butter, vitamin e, jojoba seed oil, and so much more. It also contains surfactants to aid in oil removal. Once again, I don't use this cleansing oil alone. I just use it to remove my makeup and/or sunscreen. And it's perfect for that purpose!
Out of all of the cleansing oils I've used so far (besides organic hemp seed oil), this one does a better job at removing my eye makeup. I use waterproof eye makeup, so it needs a good oil that's able to remove the toughest eyeliners, eyeshadows, mascara without causing harm to the skin around my eyes. This cleansing oil doesn't remove all of the eye makeup, but it at least does some of the work. As for foundation, primer, blush, and other makeup that's on the face, this oil breaks it down pretty well. I can usually go without a pre-made cleansing oil, but my experience with this cleansing oil has been good. It's much better than the ones I've used so far. Any oil that requires very little effort is simply amazing. Maybe it's the mineral oil that's good at removing stubborn makeup, lol.
Pros & Cons
✅ Pros
Very moisturizing
Gentle on the skin
Feels so soft on the skin
Breaks down makeup well
Smells good, has a sweet smell to it, citrus
Affordable
Glides across the skin smoothly
❌ Cons
Contains mineral oil (not necessarily bad, but I prefer products without it)
Doesn't remove all eye makeup but more than other oils I've used.
Conclusion
I've been hooked on my organic hemp seed oil because it does a better job at removing my tough eye makeup and the size of the bottle is good for the price. It also seems to last much longer. Pre-made cleansing oils tend to come in tiny little bottles with a higher price tag. I've always used oils like organic hemp seed oil, extra virgin olive oil, and organic coconut oil to remove my makeup, and it works without having to pay more. And yes, I can use organic coconut oil on my facial skin as a makeup remover. I just can't use it as a moisturizer or a leave-on product.
But after using Kose Softymo Deep Cleansing Oil again, this cleansing oil isn't too bad. It does help to remove some of my eye makeup without having to tug at my skin. And the reason why I like this deep cleansing oil is because it feels so moisturizing on the skin. The temporary moisture feels really nice when dealing with dry skin that needs something very gentle. This cleansing oil is great for that! After this experience, I'm impressed with this cleansing oil. I highly recommend it if you're looking for one to try out. This is a good choice! ☺
For more reviews on cleansing oils go here
Categories:
Tags:

Acne Prone Skin, Acne Skin, Beauty, Cleansing Oil, Deep Cleansing, Dry Skin, Experience, Kose, Kose Softymo Deep Cleansing Oil, Makeup, Makeup Remover, Moisturizing, Moisturizing Cleansing Oil, Oily Skin, Review, Rice Bran, Shea Butter, Skin Care, Skincare