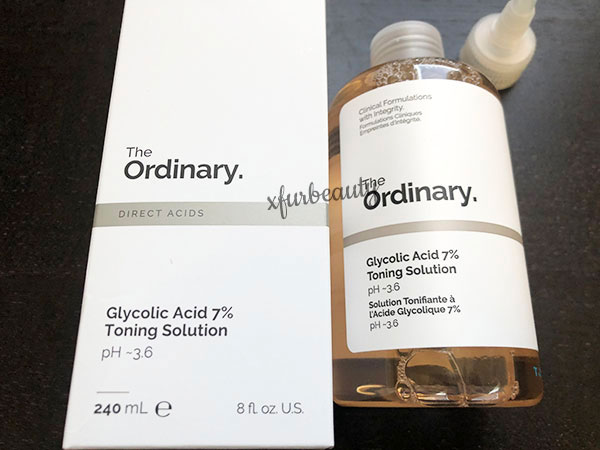 It's the 3rd week using The Ordinary Glycolic Acid 7% Toning Solution. I've only used it once this week. This product really makes my skin glow. I love it for that, but I think it's time for me to move on to other skin care products for my acne. This toner isn't cutting it. As I said, it helps to brighten my skin. I just haven't noticed a drastic difference in my acne. It helped to unclog some pores, but I think it has created more pimples. Every time I use it, I feel like I get new pimples (not from purging). My skin isn't liking an ingredient or ingredients in this toner. I love liquid-based skin care products. I love that it's affordable and feels very nice when applied to the skin. It helps to remove excess sebum and debris too when used with a cotton pad. This glycolic acid toner just isn't working for me. I'm not going to drag it on using it when I don't feel like it's right for me. Alpha Skin Care Intensive Renewal Serum seems to work better on my skin. It's soft, gentle, and doesn't clog my pores or irritate my skin. I'll try this serum out by itself instead. It's a higher percentage of glycolic acid, but it hasn't caused my skin issues like The Ordinary Glycolic Acid 7% Toning Solution. Maybe my skin just doesn't like The Ordinary skin care products. They seem to work better on my body though! Just not my facial skin. It's time to switch things up!
I added benzoyl peroxide in the 2nd week. I needed an acne product that's anti-bacterial. Yes, I'm back to using benzoyl peroxide. I used it once during the first week. During the second week, I used it as often as possible. I'm still trying to transition my skin into using benzoyl peroxide. Currently using moisturizer first then applying benzoyl peroxide. The results have been pretty good. After this week, using it more often compared to the first week, my skin has improved drastically. My acne (mainly closed comedones) are not completely gone, but my skin has changed for the better. I'm getting results very quick. I wish I could use it in the morning to get faster results. It's just too difficult to apply benzoyl peroxide, let it dry on the skin, and apply other skin care products afterwards in my morning routine. I don't have the time to let it dry on the skin. I just can't. Since I need an anti-inflammatory and anti-bacterial in the morning to help with acne, I started using Paula's Choice 2% BHA Liquid again. I know! It's back! I don't use it every morning. I've only used it twice this week. This has been working for me so much better. I might've been using too many salicylic acid products before (face wash and a leave-on product). This is working for me right now. Just a few times a week to help unclog pores and for its anti-bacterial properties. Let's see what happens in the upcoming weeks!
I tried some moisturizing skin care products this week too!
My Thoughts on Moisturizers…
La Roche Posay Toleriane Double Repair Matte Face Moisturizer for Oily Skin:
This is a lightweight, mattifying moisturizer. It's not the most moisturizing moisturizer. It moisturizes a little bit. It doesn't keep the skin moisturized throughout the day. I've been using it for nearly a month now, and I'm not too impressed. It should work on my skin because I have oily skin. But, it's not doing much for my skin. I need something that actually moisturizes my skin a little bit more. After I stopped using this moisturizer, I noticed some breakouts vanished. I wonder if it's breaking me out? 🤔 I'll try it again when I'm ready.
Cosrx Advanced Snail 96 Mucin Power Essence:
I tried using Cosrx Advanced Snail 96 Mucin Essence for extra moisture this week. I didn't think it was moisturizing enough for my skin. It lightly hydrates the skin, but the hydration doesn't last. My skin started to feel drier throughout the day. Honestly, I think it caused my skin to dry out more. I noticed more gunk in my pores too while using it. I stopped using it on my facial skin because of this.
Cosrx Hyaluronic Acid Hydra Power Essence:
I wasn't going to use the Cosrx Hyaluronic Acid Hydra Power Essence on my skin again, but I have a few bottles of this left. I've been using it on my body to use it up. I thought I would try it again on my facial skin just to see if it'll work or not. This essence (like the Snail Mucin Essence) ended up drying my skin out. I used the Hyaluronic Acid Hydra Power Essence on damp skin too. It just didn't work. It made my skin look worse. I noticed my pores filling up too. Clogging my pores? I guess it doesn't work on my skin. Back to using it on my body.
Vanicream Daily Facial Moisturizer for Sensitive Skin:
I was in need of a moisturizer that moisturizes my skin that I started to use Vanicream Daily Facial Moisturizer for Sensitive Skin again. This moisturizer left my skin feeling moisturized and soothed my skin. It helps with dryness and skin irritations. I stopped using my other moisturizers and just stuck with this one after trying the other moisturizers. I prefer to keep my routine as minimal as possible instead of using a bunch of moisturizers all at once, lol. And this moisturizer did a better job at moisturizing. I'm currently just using Vanicream (once again) as my moisturizer. I don't use it every day though. Only when my skin needs to be moisturized. Hopefully it works this time around since I'm using benzoyl peroxide, which is helping a ton with my acne.
Catch up on what happened right here:
My Experience After 1 Week Using The Ordinary Glycolic Acid 7% Toning Solution + Other Skin Care Updates
2 Weeks Using The Ordinary Glycolic Acid 7% Toning Solution. My Results!
Categories:
Tags:

3 Weeks, 3 Weeks Experience, 3 Weeks Results, Acne, Acne Care, Acne Marks, Acne Prone Skin, Acne Scars, Acne Skin, Acne Skin Care, Anti-Aging, Beauty, Brightening, Cosrx, Cosrx Advanced Snail 96 Mucin Power Essence, Cosrx Hyaluronic Acid Hydra Power Essence, Double Repair Matte Face Moisturizer, Experience, Glycolic Acid, Glycolic Acid Toner, Hyaluronic Acid Serum, Hyaluronic Essence, Hyaluronic Serum, La Roche Posay, La Roche Posay Toleriane Double Repair Matte Face Moisturizer for Oily Skin, Lifestyle, Oily Skin, Review, Skin Care, Skincare, Snail Essence, Snail Mucin, The Ordinary, The Ordinary Glycolic Acid 7% Toning Solution, Vanicream, Vanicream Daily Facial Moisturizer, Vanicream Daily Facial Moisturizer for Sensitive Skin, Wrinkles