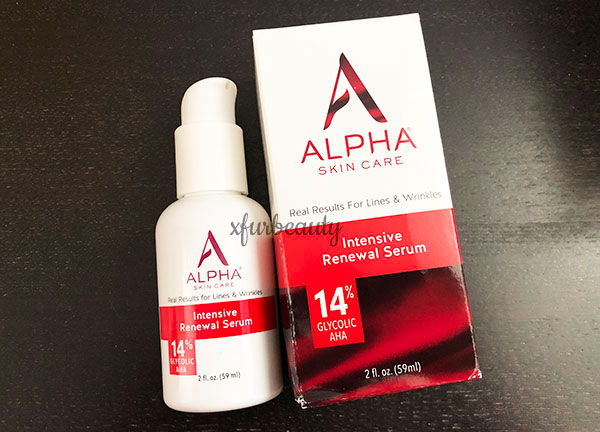 I was going to switch over to Alpha Skin Care Intensive Renewal Serum after The Ordinary Glycolic Acid 7% Toning Solution didn't work for me. If you missed out on my experience with The Ordinary Glycolic Acid 7% Toning Solution, follow these links!
My Experience After 1 Week Using The Ordinary Glycolic Acid 7% Toning Solution + Other Skin Care Updates
2 Weeks Using The Ordinary Glycolic Acid 7% Toning Solution. My Results!
3 Weeks With The Ordinary Glycolic Acid 7% Toning Solution + BP!
But, I moved in another direction. I was using benzoyl peroxide (which cleared up a ton of my acne!) when I decided to use tret again. It was so random. It was out of the blue. I thought, hey, let's give this another try again. I've tried so many acne skin care products to get rid of my closed comedones and acne in general. I have acne-prone skin, so I need to keep my zits in check. I only have a select few closed comedones left on my forehead, upper lip, and chin area. They seem to be concentrated in these areas while my cheeks are extremely clear. I have no acne there. Benzoyl peroxide did a great job, but I needed to push it even further. Yes, I'm back to using tret. I've been on the lower strengths of tret for so long that I think it's time to use the highest strength once again. I've had no results with the lower strengths. My acne did not budge. When I run my fingers over my facial skin, it feels bumpy. The bumps are not too visible to the naked eye, but I can feel them. I cringe every time I wash my face. I wish something as simple as 2% salicylic acid would work on my skin. Even a gentle salicylic acid face wash would be awesome. I've tried both of these and those darn closed comedones are still sticking around! So! Here I am using tret + benzoyl peroxide. I'm not using benzoyl peroxide at the same time as tret. I use it on my off days when necessary. If a pimple pops up or if I feel that need to use benzoyl peroxide all over, that's what I'm going to do. I really do think benzoyl peroxide will always be a staple to treat my acne. It helps. But it seems like a combination of treatments would work better.
My Experience – 1st Application
I started using tret at the end of last week. I applied it directly to my skin and moisturized with Vanicream Daily Facial Moisturizer for Sensitive Skin. I woke up the next morning with flaky skin. Skin looked a bit red. My face didn't burn. Yay! No crazy signs of irritation. Then bam! The next day, my skin started to burn, itch, it looked darker compared to the rest of my neck/body. Ugh! It's a tret burn! I knew I should've sandwiched! My skin burned when I applied Vanicream Facial Daily Moisturizer for Sensitive Skin or any other skin care products to my face. None soothed my red, irritated, burned skin besides CeraVe Healing Ointment. I used this product to heal my skin. I didn't use it to slug. I used it more like a face mask. This worked to help diminish some redness, itchiness, irritated skin. My skin softened, looked silky smooth after I removed the CeraVe Healing Ointment from my skin (when using it as a face mask). It took about 3-4 days for my skin to heal. I gave my skin a rest for 4 days before starting tret again. My skin started to peel and shed during the rest days. I noticed new pimples popping up in my acne-prone areas. Tret gave me a big nodule on my chin. It's the biggest pimple I have had in a long time. It's red, swollen, and hurts upon touch. 😭 When will it go away? Who knows, lol. At night, I stuck to using La Roche Posay Toleriane Double Repair Matte Face Moisturizer for Oily Skin. It's not the most moisturizing moisturizer. I eventually had to add Cosrx Advanced Snail 96 Mucin Power Essence to add moisture to my skin. La Roche Posay Matte Face Moisturizer works better as an occlusive rather than a moisturizer. It dried my face out at times when used alone. With all that has happened after the first application, there's good news. Tret removed all of the closed comedones on my forehead and most of the closed comedones on my upper lip and chin area. My skin looks so clear with some blemishes that will purge soon enough.
My Experience – 2nd Application
After 4 days of giving my skin a rest, I started using tret again. This time, I sandwiched. I used Cosrx Advanced Snail 96 Mucin Power Essence and Vanicream Daily Facial Moisturizer for Sensitive Skin before applying tret. After applying tret, I applied Cosrx Snail Mucin and Vanicream Daily Facial Moisturizer for Sensitive Skin once more. This application seemed like a good idea at first, but with this method, I didn't notice any changes in my skin like I did with the first application besides some redness and tenderness in my skin. No peeling. I took 3 days off for my skin to settle down even though my skin felt fine the next day. I'm pretty disappointed in the sandwich method because I just didn't see an improvement in my acne at all. I actually noticed more acne (not from purging). I noticed random blackheads (on other parts of my face and nose) and more sebaceous filaments on my nose. Could it be the Snail Mucin Essence or Vanicream that's breaking me out? Possibly. My skin didn't look better or feel better after using these moisturizers with tret. I might try the Vanicream moisturizer alone or try out another moisturizer. I need to move on from this Vanicream crap, lol. These products (Snail Mucin Essence and Vanicream) may be messing up my skin. I also stopped using La Roche Posay Toleriane Double Repair Matte Face Moisturizer for Oily Skin. It's not moisturizing. I didn't see the point in using this product anymore. Terrible product if you're looking for a moisturizer that actually moisturizes. I'm done with it for now once again, lol. I tried to make it work, but I'm left disappointed each time. It just doesn't do anything for my skin. I rather just not using anything on my skin if it doesn't improve my skin and doesn't provide any moisture. It even dried out my skin. I really think it's time for a new moisturizer after this experience. My skin's just really picky when it comes to moisturizers, which makes it very difficult to find one. Hmmm, what to do… 🤔
That's my first week experience! Stay tuned for next week to see what happens! 🙂
Categories:
Tags:

Acne Skin, Acne Skin Care, AHA, Alpha Skin Care, Alpha Skin Care Intensive Renewal Serum, Anti-Aging, Beauty, Benzoyl Peroxide, Brightening, CeraVe, CeraVe Healing Ointment, Cosrx, Cosrx Advanced Snail 96 Mucin Power Essence, Daily Facial Moisturizer for Sensitive Skin, Daily Moisturizer, Dry Skin, Experience, Face Moisturizer, Glycolic Acid, Glycolic Acid 7%, Healing Ointment, La Roche Posay, La Roche Posay Toleriane Double Repair Matte Face Moisturizer for Oily Skin, Lifestyle, Matte Face Moisturizer, Matte Face Moisturizers, Moisturizer, Oily Skin, Results, Review, Sensitive Skin, Skin Care, Skin Care Routine, Skincare, Snail Essence, Snail Mucin Essence, The Ordinary Glycolic Acid 7% Toning Solution, Tret, Tretinoin, Vanicream, Vanicream Daily Facial Moisturizer for Sensitive Skin, Wrinkles