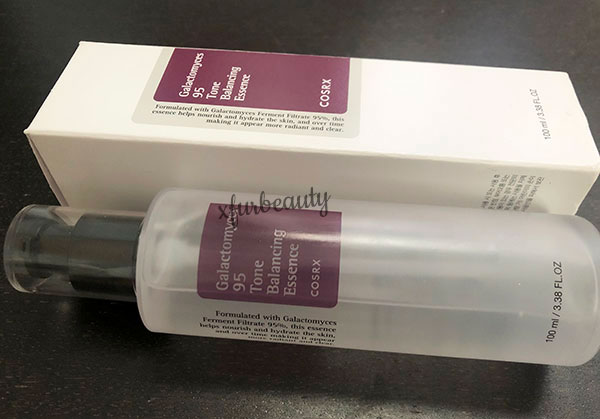 Here are some products I finished in the month of August! These products are no longer with me! Finally. 😆 I've been trying to finish them since forever. It's about time that they're done and gone. They were taking up a lot of space too. haha. I still have a bunch more skin care products to use up. I'll talk about them some other time. Today, here are my thoughts on what I've finished! Enjoy! 🙂
Cosrx Galactomyces 95 Tone Balancing Essence:
I finally finished Cosrx Galactomyces 95 Tone Balancing Essence. It's a moisturizing essence, but I don't need it. I didn't see any changes using it on my facial skin. It's simply just moisturizing. Nothing special. It didn't brighten up my skin either. It didn't make it more radiant or clear. I prefer other moisturizers and essences compared to this one. In my opinion, the Cosrx Advanced Snail 96 Mucin Power Essence is so much better in terms of moisture. The Snail Essence also leaves the skin feel and looking more moisturized and dewy. It has definitely helped boost moisture in my skin in combination with other moisturizers I use. My skin prefers it over the Galactomyces Essence.
Eucerin Q10 Anti-Wrinkle Face Lotion SPF 15:
This is a moisturizing sunscreen (SPF 15) that's very gentle on the skin. It absorbs nicely into the skin. Leaves my skin feeling very moisturized. But, I couldn't use it on my face. It's too pore-clogging and way too moisturizing. I had issues with it on my facial skin. I ended up using it only on my neck and upper chest. Once I finished it, I knew I wasn't going to purchase it again. SPF 15? Pore-clogging? No thanks. There are better sunscreens out there. This one isn't worth my time and money.
Cos De BAHA MA Peptide Facial Toner:
I had this facial toner for a while. It's a gel-like, moisturizing facial toner. It's not your typical drying facial toner. I liked the ingredients in this toner. It contains sodium hyaluronate, peptides, beta-glucan, adenosine, and so much more. But I didn't notice much of a difference in my skin while using it. All it really did was moisturize my skin for a short period of time. It doesn't provide long-lasting moisture in the skin. I stopped using it on my face because I thought it was an extra step for little benefits. Now I'm glad I'm done with it. Out it goes!
La Roche-Posay Lipikar Balm AP+ Intense Repair Moisturizing Cream:
I received this product as a sample. It's a moisturizing cream that's supposed to reduce dry, rough skin. Honestly, it felt like any other moisturizer that I've used. I can't tell if it provided more hydration than my other moisturizers/creams. But it didn't irritate my skin. It left my skin feeling moisturized just like my other moisturizers. This cream contains shea butter, niacinamide, and glycerin, which I do love besides the niacinamide. My skin doesn't care for niacinamide so I learned after using products with niacinamide. I thought this cream was OK. I don't think I'm going to purchase the full-size product any time soon. It was nice to use for the time being or at least try it out.
Graymelin Pineapple Mild Peeling Gel:
This is a peeling gel that I was very excited about at first. After using it and finishing the whole tube, it's not worth it at all. This product didn't do anything for my skin. It's so gentle and doesn't really exfoliate the skin. I had noticeable dead skin on my face and thought this product could help. Nope, it did not. It did absolutely nothing. I still had dead skin hanging off of my face afterwards. Ugh, I can't recommend this product to anyone. No results. Honestly, in my opinion, peeling gels are just for fun. It doesn't do anything for the skin. On my skin, at least I didn't see any benefits. I won't purchase it again.
I finally finished all of my CeraVe Moisturizing Creams. I didn't use it on my face due to fear of closed comedones. CeraVe and my skin don't go well together either from my past experiences with the brand. I've tried plenty of their products too. So I used the CeraVe Moisturizing Cream as a body lotion instead. The cream feels lightweight, but it does leave some sort of thin film behind on the skin that I didn't like. I didn't think it left my skin feeling super moisturized either. To me, there was nothing special about it. I love some of the ingredients in the cream, but it didn't deliver in the end. I was just using it to finish the product. In my opinion, I think this cream is overhyped. I won't purchase again any time soon. I'm glad I'm done with it. It's time to move on.
If you haven't yet, go check out my acne journey! New updates coming up soon! 👇🏻
My Acne Journey: 3 Weeks Results!
My Acne Journey: 4 Weeks Results!
My Acne Journey: 6 Weeks Results…
My Acne Journey: 7 Weeks Results
My Acne Journey: 2 Months + 1 Week Results!
My Acne Journey: 2 Months + 2 Weeks!
My Acne Journey: 2 Months + 3 Weeks Results!
Categories:

Acne, Beauty, Essence, Moisturizer, Peeling Gel, Skin Care, Sunblock, Toner
Tags:

Acne Prone Skin, Acne Skin, Anti-Aging, August, Beauty, Cos De BAHA, Cos De BAHA MA Peptide Facial Toner, Cosrx, Cosrx Galactomyces 95 Tone Balancing Essence, Eucerin, Eucerin Q10 Anti-Wrinkle Face Lotion SPF 15, Exfoliant, Experience, Galactomyces, Graymelin, GRAYMELIN Pineapple Mild Peeling Gel, Intense Repair, La Roche-Posay, La Roche-Posay Lipikar Balm AP+ Intense Repair Moisturizing Cream, Lifestyle, Moisturizer, Oily Skin, Peeling Gel, Peptide Facial Toner, Pineapple Peel, Review, Skin Care, Skin Care Products, Skincare, SPF, Sunblock, Sunscreen, Wrinkles