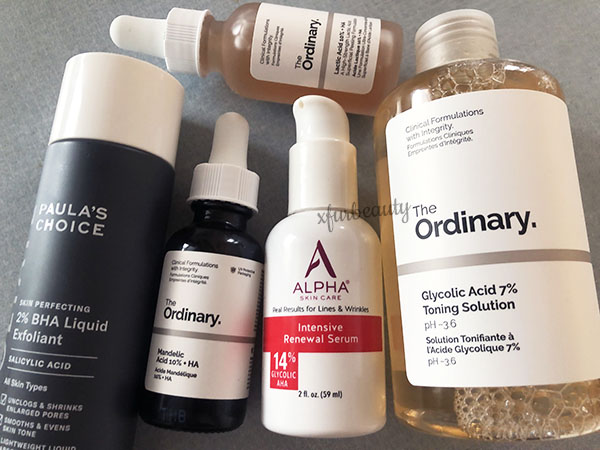 I stopped using tret about 2 weeks ago. My skin healed within 4 days, but I wanted to play it safe and just leave my skin alone for a bit. My skin became really oily during the break. If I didn't have oily skin that is prone to blemishes, I would just stick to a basic skin care routine. I could only wish. Knowing my skin, it just can't. It needs more than a basic skin care routine. So after 1 week of taking a break, I decided to add a cleanser that contains salicylic acid (CeraVe Renewing SA Cleanser) into my routine. I swapped my moisturizing facial cleanser for another facial cleanser that contains salicylic acid. I'm nearing 2 weeks on this facial cleanser! 🙃 It cleanses my skin and doesn't dry my skin out! This cleanser feels moisturizing on my skin. I didn't expect it to be this moisturizing. Maybe it's because I have oily skin. It seems to work to cleanse and makes my skin feel good afterwards. No dryness or any irritation. But, I'm not sure if it's doing anything for my acne. Since I didn't notice an improvement in my acne using the CeraVe Renewing SA Cleanser, I started using other products to treat my acne.
Here are some products I tried out first…
Paula's Choice Skin Perfecting 2% BHA Liquid Exfoliant:
Paula's Choice 2% BHA Liquid has always been my to-go-to salicylic acid product. It contains 2% salicylic acid. I love that it's a liquid too. It absorbs quickly into the skin, and I can use it twice a day without drying my skin out. Unfortunately, this product isn't working like it used to. It helps to decrease some sebaceous filaments and some blackheads. I said SOME. Not most or all. My skin is still struggling with acne when using this product. I've been trying to get rid of closed comedones that have been lingering around for far too long. This bha product isn't doing much. So far, I'm quite disappointed in the results. It's been months using this bha product. I still have 2 bottles left, so I'm going to keep using it to finish it up. But, I most likely won't purchase it again unless I notice a difference with it vs without it. I'm currently using it in the morning, 7 days a week. I know that's a lot for some people. My skin is pretty sturdy, lol. I was using it twice a day, 7 days a week before I changed it to using it only in the morning. Not because it's drying. It's because I wanted to make room for other products. I didn't see results using it twice a day either. The results were the same using it once a day.
Alpha Skin Care Intensive Renewal Serum:
This is the first aha product that I decided to try again. It's the Alpha Skin Care Intensive Renewal Serum. It contains 14% glycolic acid. I haven't used a glycolic acid product in a while. I was pretty excited about it, haha. I chose the Alpha Skin Care Intensive Renewal Serum first because it's the strongest aha product I have. And I have acne to demolish. 💥 This serum is more like a gel rather than a serum. It smooths over the skin nicely and leaves the skin feeling moisturized. Once it absorbs into the skin, it leaves the skin looking dewy, but it doesn't feel heavy or greasy on the skin. I noticed some stinging upon application. It didn't bother me. I was thinking, hey, at least I know it's effective, haha. My results with the Alpha Skin Care Intensive Renewal Serum has been…not too bad. So, I guess it's effective after all. I noticed some clogged pores unclogging, and my skin looking softer and smoother. I had a closed comedone on my upper lip for months. It's finally out! This glycolic acid serum is pretty moisturizing too. This could make it back into my routine if it keeps on improving my skin!
The Ordinary Lactic Acid 10% + HA:
I have a few bottles of The Ordinary Lactic Acid 10% + HA left. I decided to try it out again. This serum is more on the watery side compared to the Alpha Skin Care Intensive Renewal Serum. It actually feels like a serum. It absorbs into the skin faster and more efficiently. With this serum, also, I noticed a stinging sensation upon application. That stinging sensation disappeared after a few seconds. This serum felt moisturizing on the skin. I really love the way lactic acid makes my skin feel. Why did I ever stop using it?? I noticed a brighter, smoother, and a more even complexion after using it once. Compared to the Alpha Skin Care Intensive Renewal Serum, it feels so much stronger. Between the two, I'm leaning towards glycolic acid at the moment. It was nice to try out this lactic acid serum though.
The Ordinary Mandelic Acid 10% + HA:
I haven't used The Ordinary Mandelic Acid 10% + HA in ages. I was searching for an exfoliant that could work better than salicylic acid. This one popped up. I wanted something that would work better for blackheads and post-inflammatory hyperpigmentation. Mandelic acid is a popular choice. This serum felt thicker and more greasy in texture and consistency. It was oily. I didn't enjoy using it, so I only used it once and never looked back. I didn't notice any breakouts after the first try, but I can't see myself using this serum on a daily basis to treat my acne. The texture of the product is just way too greasy and oily for day-to-day use. My experience with The Ordinary skin care products that have this type of texture is a no-go. It was nice to try out. It's just not going work. My skin doesn't like oily serums. I'm trying to eliminate my acne here, haha!
The Ordinary Glycolic Acid 7% Toning Solution:
The last aha product that I tried this week was The Ordinary Glycolic Acid 7% Toning Solution. You know, I've always loved liquid skin care products (like the Paula's Choice 2% BHA Liquid). This one was very easy to use and apply. I dispensed the solution onto a cotton pad and swiped my face all over! Easy-peasy! There was a stinging sensation that later on disappeared. No troubles there. Once the solution absorbs and settles into the skin. Wow, my complexion looked brighter and super glowy instantly! I was so amazed. I dropped all of my other exfoliating skin care products (except for the bha liquid) and decided to stick to this one. It's a texture thing. The product is a liquid and it just sinks into the skin easily without leaving any sticky residue behind. It doesn't feel greasy or oily either. Here's another product where I catch myself asking why I stopped using it, lol. I've only used it once, but I'll make an update next week.
What I'm Doing Now…
After this experience, the only product I'm going to continue on with is Paula's Choice 2% BHA Liquid (have to use a lightweight acne-fighting product in the morning, maybe it's doing something if I keep using it? lol.) and The Ordinary Glycolic Acid 7% Toning Solution (a nighttime exfoliant and also helps with acne). I really love my liquid-based skin care products. Having oily skin, they just absorb and sink into my skin better. It makes it easier to apply other skin care products afterwards too. They're also time-savers. I find them more effective too. My skin loves them! What else this week?? I started using tret again. It's about time I get back into it! My skin condition now is so much better this time. I wonder if it's the aha products. My skin transformed so quick after using them in a short period of time. My skin looks cleaner, clearer, and more glowy. It helped to unclog clogged pores too. Goodbye closed comedones! My jaw literally dropped after seeing immediate results from aha products. Along with the chosen exfoliants, I'll be using tret. I've already started using it, and I'm trying to use it every day. So far, it's going pretty well. I haven't had any issues with redness or dryness using it daily. Hopefully it works out this time. Wish me luck!
Categories:
Tags:

1 Week Results, 2% BHA Liquid, Acne, Acne Prone Skin, Acne Skin, AHA, Alpha Skin Care, Alpha Skin Care Intensive Renewal Serum, Anti Aging, Beauty, BHA Liquid, Blackheads, CeraVe, CeraVe Renewing SA Cleanser, CeraVe SA Cleanser, Clogged Pores, Experience, Glycolic Acid, Glycolic Acid Serum, Lactic Acid, Lifestyle, Mandelic Acid, Paula's Choice, Paula's Choice Skin Perfecting 2% BHA Liquid Exfoliant, Review, Skin Care, Skin Care Products, Skincare, The Ordinary, The Ordinary Glycolic Acid 7% Toning Solution, The Ordinary Lactic Acid 10% + HA, The Ordinary Mandelic Acid 10% + HA, Toner, Wrinkles