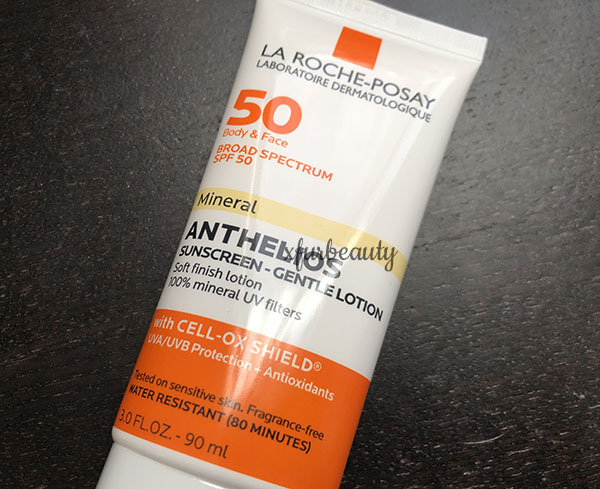 I finally bit the bullet and picked up a La Roche-Posay sunscreen. 🙂 This brand has been floating in my head for quite some time. I've heard so many good things about it. But I was pretty much committed to my other sunscreens and didn't want to venture out just yet. My skin is very picky, and I have trouble finding a good sunscreen for my skin type. There's only been a lucky few that landed on my favorites 💞 list. But I needed a new sunscreen that is mineral-based (what my skin AND eyes prefer, my eyes have issues with chemical sunscreens, they burn!!), comes in a larger bottle, fragrance-free, and is water-resistant. That's when I stumbled upon La Roche-Posay Anthelios Body & Face Mineral Sunscreen Gentle Lotion SPF 50. This sunscreen seems to hit all of those points. I just went for it! Here's more information on this sunscreen:
Oil-free
100% mineral sunscreen for face and body with zinc oxide and titanium dioxide
Leaves the skin feeling soothed and protected
Formulated with Cell-Ox Shield® technology
Broad spetrum UVA/UVB protection with antioxidants
Dermatologist-tested
Suitable for sensitive skin
Paraben-free
Fragrance-free
Non-comedogenic
Allergy-tested
Oxybenzone-free
The ingredients…
Active Ingredients:
Titanium Dioxide 5% Zinc Oxide 15%
Inactive Ingredients:
Water, C12-15 Alkyl Benzoate, Isohexadecane, Isononyl Isononanoate, Dicaprylyl Ether, PEG-30, Dipolyhydroxystearate, Polyglyceryl-4 Isostearate, Dicaprylyl Carbonate, Ethylene/Acrylic Acid, Copolymer, Triethylhexanoin, Silica, Poly C10-30, Alkyl Acrylate, Citric Acid, Phenoxyethanol, Sodium Chloride, Caprylyl Glycol, Diethylhexyl, Syringylidenemalonate, Triethoxycaprylylsilane, Aluminum Hydroxide, Stearic Acid, Aluminum Stearate, Chlorphenesin, Disteardimonium Hectorite, Alumina, Polyhydroxystearic Acid, Tocopherol, P-Anisic Acid, Capryloyl Salicylic Acid, Xanthan Gum, Disodium EDTA, Propylene Carbonate, Caprylic/Capric Triglyceride, Cassia Alata Leaf Extract, Maltodextrin.
I just hope this sunscreen doesn't break me out. It says that it's non-comedogenic but who knows what may happen. I'm just crossing my fingers and hope all goes well!
The product is sealed at the cap. Kind of hard to see in the photo but it is sealed.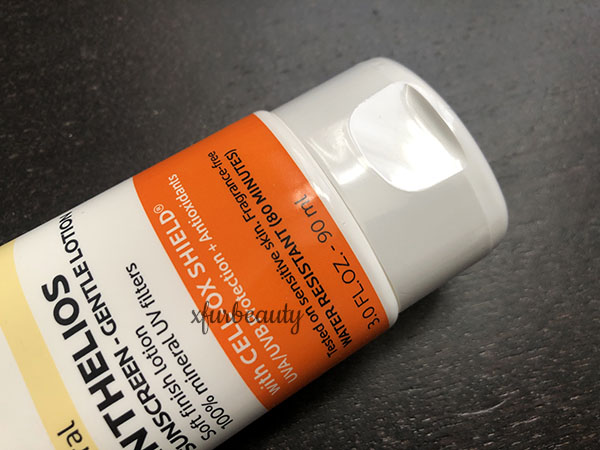 My Experience
So I've only used this sunscreen for 5 days. Here are my thoughts on it so far.
The sunscreen lotion feels very soft and smooth. It's fragrance-free. I was very impressed with the texture of the sunscreen, especially when compared to other mineral sunscreens I've used. This one wasn't too thick like the Cetaphil mineral sunscreens I used. It's thick in texture and consistency compared to the liquid mineral sunscreens, but I didn't feel like it was a blob of mess on my face. It was pretty easy to apply to the skin. It did take more time to apply compared to a chemical sunscreen, but it is a mineral sunscreen after all. Mineral sunscreens tend to give off a white cast. This sunscreen, yes, there is a slight white cast. Fortunately for me, it wasn't that big of a deal. I was able to blend the sunscreen into the skin. The white cast definitely blends into the skin much better compared to other mineral sunscreens I've tried.
This sunscreen also works very well under makeup. On days when I apply makeup, the white cast doesn't even matter. It's covered by my foundation. The sunscreen doesn't ball up either. This sunscreen left my skin feeling very moisturized, which I really loved! It didn't burn my eyes or irritate my skin. But it did accentuate peeling skin or flaky skin. So if your skin is peeling or have dry patches, be aware that this sunscreen will make dry skin more obvious. During this short experience, the only negatives so far would be the white cast (it has one even if it's subtle), how it settles into dry patches/flaky skin, and the sunscreen takes some time to set on the skin. Otherwise, I really like it. I saw an improvement in my skin after using it for nearly a week now (almost a week!). Not just in sun protection but also the moisture in my skin. My skin feels and looks so much healthier. Lastly, I didn't notice any breakouts or clogged pores from this sunscreen. I hope it stays this way. 🤞🏻
What the sunscreen looks like. 🙂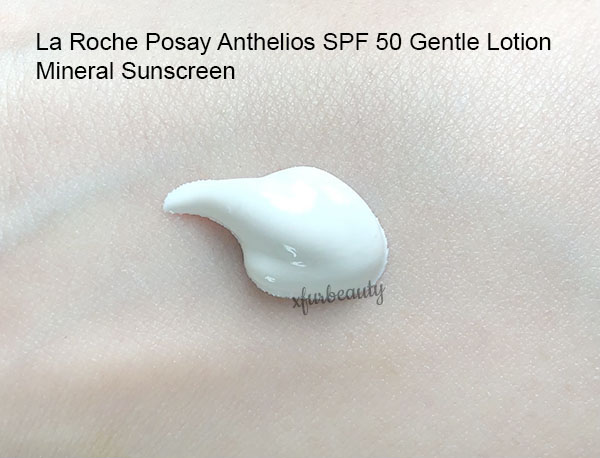 I'm really happy that my experience was overall positive. Now I'm kicking myself for not picking it up in the first place! I still like my current sunscreen, but this one is moving up there real quick! Now let's see what happens when I finish the whole bottle! I picked up the 3 fl. oz. bottle by the way! This brand had other lightweight options for oily skin, but they were out of my budget (price vs size). Knowing how much sunscreen I use per day, I didn't think it was worth it. I'm better off with a bigger bottle for sure! This was it. I'm really happy that I went for this one. It wasn't too bad after all! Stay tuned for another update soon! I hope all works out! I hope this review was helpful! Have a nice day! 🙂
You can read more on sunscreens right here:
Trying Out Sunscreens Again! 😎
More Sunscreens I Tried Again for Summer! 🙌🏻
Review: Trader Joe's Daily Facial Sunscreen Broad Spectrum SPF 40
Review: Cetaphil Sheer Mineral Sunscreen Stick Broad Spectrum SPF 50
Update: Cetaphil Sheer Mineral Sunscreen Stick SPF 50 + Other Cetaphil Mineral Sunscreens
Categories:
Tags:

Acne, Acne Prone Skin, Acne Skin, Anti-Aging, Beauty, Experience, La Roche-Posay, La Roche-Posay Anthelios Body & Face Mineral Sunscreen Gentle Lotion SPF 50, Mineral Sunscreen, Oily Skin, Review, Sensitive Skin, Skin Care, Skincare, SPF, SPF 50, Sun Protection, Sunscreen, Wrinkles, Zinc Oxide