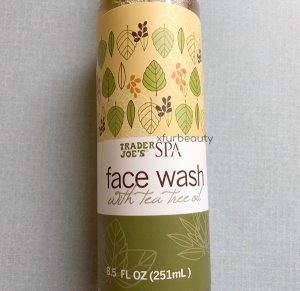 I officially made the switch to new facial cleanser. Wait, no, it's not actually a new facial cleanser. I've used it before, and it was my HG face wash at some point. It has one of my favorite ingredients in it. It's very effective on my acne. I've gotten great results from it. Can you guess what it is? If you said tea tree oil, you got that right! The face wash I'm using right now is Trader Joe's Face Wash with Tea Tree Oil. I miss this face wash sooooo much! For some odd reason it stopped working once upon a time. But now, since my skin is back to normal. It's functioning properly again. YAY!! A lot of my skin care products are working on my skin again! I thought I would bring back the face wash that I used for a very long time with much success. It brings back so many memories! Now let's get into my experience with this face wash! Has it been the same? Does it still work? Did it break me out? What's new?!! Read on to find out!
More about this face wash first…
This face wash contains tea tree oil, awapuhi, orange peel, and lavender. A strong face wash that's gentle, refreshing without being an astringent. Soothingly cleans all skin types and leaves the skin feeling smooth and silky.
That's what it says on the bottle. Now, let's take a look at the ingredients!
The first ingredient in this face wash is castille soap. So, it's made of water, coconut oil, tall oil, and potassium hydroxide. The list of ingredients go on and says that it contains glycerin, tea tree oil, awapuhi, lavender oil, bitter orange peel oil with other extracts and oils. If you're wondering if this face wash is vegan and cruelty-free, you're in luck, it is! 🐰
So, did it work?
Back to the ingredients, shockingly, even though it contains coconut oil, yes, it worked on my skin! Coconut oil is highly comedogenic and not all that great on acne-prone skin. It clogs pores. For some reason, this face wash hasn't clogged my pores. It didn't clog my pores before many years ago, it's not clogging my pores now. Yippeee!! 👏🏻
That's wonderful news! 😃
This face wash when dispensed comes out as a liquid, but it foams up when mixed with water. It's oh-so-foamy and leaves the skin feeling nice and clean without being harsh. I've mentioned this many times before on my blog, but I think it's very important to mention it again (if ya didn't get the memo). I have oily skin. That's a very important part of my experience with this face wash and skin care products in general. This face wash did an amazing job cleaning my skin. Feeling tingly. Not like menthol but more like (of course) tea tree if you have used tea tree oil before. I love that tea tree feeling on my skin. Just freaking LOVE IT!! Did it dry out my skin, nope! Not at all. Once again, it's the oily skin that I have that's preventing my skin from drying out from cleansers like this. It does say on the bottle that it's for all skin types, but dry skin take caution. Do a patch test and see if it works for you or not. For me, it's just an amazing face wash. It cleaned my skin, didn't leave residue behind, made my skin feel refreshed and rejuvenated. Also, with the tea tree, it's anti-bacterial and anti-fungal! Just amazing stuff!
SO! It looks like we have a winner. I'm just so ecstatic that I'm back to using this face wash. I know it's been only less than a week, but from my past experiences of using this face wash. It's been golden. I stuck with it for so long until my skin went through some weird things. Now, since my skin is back on track. I have a gut feeling this is going to be my HG facial cleanser for a while. So far, so good! I'm hoping for the best! An update coming up soon! See you all there!
Check out my posts on facial cleansers 🙂
An Update on PanOxyl Acne Foaming Face Wash! What I'm Using Now.
Neutrogena Ultra Gentle Daily Cleanser for Acne-Prone Skin? My Thoughts…
Categories:
Tags:

Acne, Acne Prone Skin, Acne Skin, Beauty, Blemishes, Cruelty Free, Experience, Lifestyle, Oily Skin, Results, Review, Skincare, Tea Tree, Tea Tree Face Wash, Thoughts, TJ's, Trader Joe's, Trader Joe's Face Wash with Tea Tree Oil, Vegan