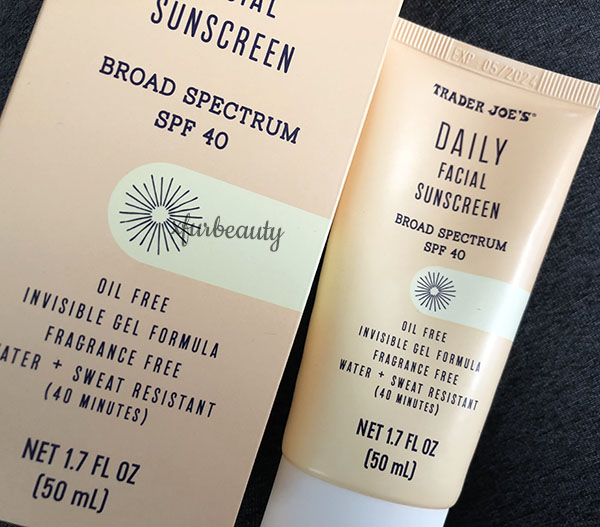 I stopped using tret, lol. After last week's results, I wasn't happy with any of it. Using tret directly on my skin yielded better results, but it tore my skin up. The lower strengths of tret, from my experience, don't have any positive affects on my acne. I tried buffering to lessen the side effects, such as dryness, redness, and any other skin irritations. My results buffering was so poor. My skin ended up so clogged. But It might've been the Cosrx Advanced Snail 96 Mucin Power Essence clogging my pores. Or, Vanicream Daily Facial Moisturizer for Sensitive Skin?? I get mixed results with this moisturizer. So I stopped using Cosrx Snail Mucin Essence and kept using Vanicream Daily Facial Moisturizer. It's the only moisturizer that I have. I still can't find another moisturizer that works without ruining my skin. Vanicream it is for now. Just for now, haha. That's until I find a better moisturizer for my skin type. Just using the Vanicream moisturizer and leaving out the Snail Mucin Essence, my skin looked better and less clogged. But, my skin didn't look that good. I could tell that I still had acne issues. It could've been better. I can just tell if my skin is improving or not. It just seemed stagnant. Since I stopped using tret, I started using a different retinoid instead. It's time to switch things up again for another time. This time, it's tazorac. This retinoid isn't anything new to me. I've used tazorac with amazing results before. It actually cleared my acne up once before like tret. Let's give it another try. I also started using benzoyl peroxide more frequently than I expected this week too. Here's my experience and results for week #2!
My Experience with Taz & Benzoyl Peroxide this week!
I used taz 3 times this week. And I used taz 3 times in a row, back-to-back. That was a bad decision. It worked to help clear up some clogged pores, but my skin started to feel dry and started to sting. After using it 3 times in a row, I took a day off. After a day of not using anything but a moisturizer (which stung my skin), I decided to increase my application of benzoyl peroxide. My skin just looked so clogged even when using taz. After 2 days of using benzoyl peroxide, I noticed a dramatic change in my complexion pretty quick. My breakouts diminished. My skin looked cleaner and less clogged. It killed active acne blemishes on the spot. It helped to decrease sebum on the surface of my skin. I also noticed some skin peeling all over my face. Wow, this thing called benzoyl peroxide is amazing. It seems like I'm stuck using it for the rest of my life. It's the only acne treatment that makes any changes in my skin in a short period of time. Since my skin looks pretty good right now after increasing my use of benzoyl peroxide, I decided to use benzoyl peroxide more often than taz. Taz helps, but I think benzoyl peroxide is where it's at when it comes to clearing my skin. Every time I use benzoyl peroxide, my skin gets better. I have less closed comedones, less blackheads, less chances of pimples developing. I'll figure something out in the upcoming weeks, but my skin looks clear at the moment because of benzoyl peroxide. So, by the end of the week, I took a break from actives and just moisturized my skin. I'll restart when my skin is ready. It's looking very crusty and dry. It itches too from the dryness, haha. I have no new pimples though!
Update on Sunscreens! 🧴
How much I love the high UVB and UVA in this sunscreen. I simply cannot use on my face. I noticed clogged pores and whiteheads/blackheads on my nose, forehead, and chin area. The formula of this product is just not working for my skin. I wished it did. I stopped using it after noticing an increase in clogged pores. I guess I could use the rest of what I have on my body. This sucks because I really wanted it to work.
CeraVe Hydrating Mineral Face Sheer Tint:
I've been using this sunscreen as my main sunscreen. I like it, but there are some things that I don't like about it. First off, the tint of this sunscreen makes my face look super orange. Repplying the sunscreen makes my face look even more orange than before, lol. Other reasons I don't like about this sunscreen includes it being only SPF 30, the fact that it feels a little heavy on my oily skin, and it stings my face when I'm using acne products that peel the skin. My skin literally burns with this sunscreen. But, yes, I'm still using it anyways, lmao. I'll be on the look out for another sunscreen. That's if I can find another one that works just as well as this one while being afforable.
Trader Joe's Daily Facial Sunscreen Broad Spectrum SPF 40:
I picked up two new bottles of Trader Joe's Daily Facial Sunscreen Broad Spectrum SPF 40. I missed it, so I purchased more. It's also effective, has SPF 40, has a nice texture to it (silky, smooth, moisturizing, doesn't burn my skin), is broad spectrum, and is very affordable. It costs less than the CeraVe Hydrating Mineral Face Sheer Tint. Trader Joe's SPF 40 is a chemical sunscreen though. I do prefer mineral sunscreens over chemical sunscreens. But, this chemical sunscreen makes my skin feel super elegant and nice. I'm loving it using so far after using it again.
That's my 2 week update! Stay tuned for next week!
Check out my first week experience here!
Restarting Tret & My First Week Experience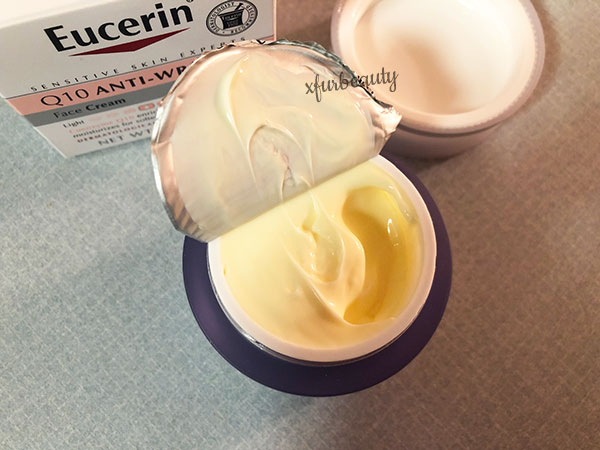 I didn't expect to finish more skin care items after posting my December Skin Care Empties. Here's more!
RoC Multi Correxion Hydrate + Plump Eye Cream:
I have 2 tubes of the RoC Multi Correxion Hydrate + Plump Eye Cream left. I finished one this month. I stopped using it on my eyes a while ago due to skin irritation and burning. It made my eyes look super swollen. Since I'm trying to use it up, I've been using it on my body. I haven't had any issues with using it on my body. It's such a waste using this product like this. This is supposed to be an eye cream. Who wants to use a 0.5 fl. oz. (15 mL) product on their body? Definitely not a product I would purchase again. Don't waste your money.
Trader Joe's Daily Facial Sunscreen Broad Spectrum SPF 40:
I really liked the texture and consistency of this sunscreen. It's soft, soothing, and moisturizing on the skin. It's full of silicones, lol. Yeah, the silicone texture was way too much for my skin. But, the sunscreen was super easy to apply and blend into the skin. It smooths over the skin and vanishes nicely. It's clear and doesn't leave any cast behind. It works great as a makeup primer too. It makes the skin appear softer and blurs a few imperfections here and there. Also, it's broad spectrum and SPF 40. I finished my last bottle of the Trader Joe's Daily Facial Sunscreen Broad Spectrum SPF 40. Will I purchase it again? With this sunscreen, sometimes it breaks me out, sometimes it doesn't. I'm not sure if I'll buy it again. Maybe if I'm at Trader Joe's and shopping for groceries. It's not a bad sunscreen product, to be honest.
Eucerin Q10 Anti-Wrinkle Face Cream:
I finished a jar of Eucerin Q10 Anti-Wrinkle Face Cream this month. I stopped using this face cream on my face so long ago that I don't remember when. So this is a heavier cream made for the facial skin. I used this face cream for quite some time. I eventually stopped using it due to it clogging my pores. It's just too heavy for my facial skin and didn't do much for my skin. My skin never felt truly moisturized. It felt heavy and cakey on the skin. I didn't see improvements in my skin while using it. I just stuck to it for so long because I needed a moisturizer and couldn't find one that' suitable for my skin type. Many times, I thought it worked on my skin. It just didn't after plenty attempts. I have 2 jars of this face cream left and am trying to finish it up. I know for sure that I won't repurchase again. Out it goes!
Finally, another tube of Melano CC Vitamin C Essence down! I think I have 4 more left! 😭 I've tried using this essence on my face so many times that I gave up. It just doesn't work for my skin type. It doesn't brighten my skin like I thought it did. I used it then stopped using it. There was no difference in my skin before and after. I haven't noticed a reduction in acne marks or evening of the skin tone when using it. I never liked the oily, grimy texture that it leaves behind either. It leaves a matte finish, but there's some odd residue texture thing going on after application. I need to find a new vitamin c product. This one isn't working for me.
For more skin care empties…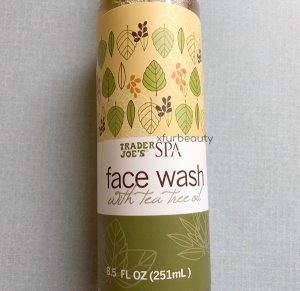 I officially made the switch to new facial cleanser. Wait, no, it's not actually a new facial cleanser. I've used it before, and it was my HG face wash at some point. It has one of my favorite ingredients in it. It's very effective on my acne. I've gotten great results from it. Can you guess what it is? If you said tea tree oil, you got that right! The face wash I'm using right now is Trader Joe's Face Wash with Tea Tree Oil. I miss this face wash sooooo much! For some odd reason it stopped working once upon a time. But now, since my skin is back to normal. It's functioning properly again. YAY!! A lot of my skin care products are working on my skin again! I thought I would bring back the face wash that I used for a very long time with much success. It brings back so many memories! Now let's get into my experience with this face wash! Has it been the same? Does it still work? Did it break me out? What's new?!! Read on to find out!
More about this face wash first…
This face wash contains tea tree oil, awapuhi, orange peel, and lavender. A strong face wash that's gentle, refreshing without being an astringent. Soothingly cleans all skin types and leaves the skin feeling smooth and silky.
That's what it says on the bottle. Now, let's take a look at the ingredients!
The first ingredient in this face wash is castille soap. So, it's made of water, coconut oil, tall oil, and potassium hydroxide. The list of ingredients go on and says that it contains glycerin, tea tree oil, awapuhi, lavender oil, bitter orange peel oil with other extracts and oils. If you're wondering if this face wash is vegan and cruelty-free, you're in luck, it is! 🐰
So, did it work?
Back to the ingredients, shockingly, even though it contains coconut oil, yes, it worked on my skin! Coconut oil is highly comedogenic and not all that great on acne-prone skin. It clogs pores. For some reason, this face wash hasn't clogged my pores. It didn't clog my pores before many years ago, it's not clogging my pores now. Yippeee!! 👏🏻
That's wonderful news! 😃
This face wash when dispensed comes out as a liquid, but it foams up when mixed with water. It's oh-so-foamy and leaves the skin feeling nice and clean without being harsh. I've mentioned this many times before on my blog, but I think it's very important to mention it again (if ya didn't get the memo). I have oily skin. That's a very important part of my experience with this face wash and skin care products in general. This face wash did an amazing job cleaning my skin. Feeling tingly. Not like menthol but more like (of course) tea tree if you have used tea tree oil before. I love that tea tree feeling on my skin. Just freaking LOVE IT!! Did it dry out my skin, nope! Not at all. Once again, it's the oily skin that I have that's preventing my skin from drying out from cleansers like this. It does say on the bottle that it's for all skin types, but dry skin take caution. Do a patch test and see if it works for you or not. For me, it's just an amazing face wash. It cleaned my skin, didn't leave residue behind, made my skin feel refreshed and rejuvenated. Also, with the tea tree, it's anti-bacterial and anti-fungal! Just amazing stuff!
SO! It looks like we have a winner. I'm just so ecstatic that I'm back to using this face wash. I know it's been only less than a week, but from my past experiences of using this face wash. It's been golden. I stuck with it for so long until my skin went through some weird things. Now, since my skin is back on track. I have a gut feeling this is going to be my HG facial cleanser for a while. So far, so good! I'm hoping for the best! An update coming up soon! See you all there!
Check out my posts on facial cleansers 🙂
An Update on PanOxyl Acne Foaming Face Wash! What I'm Using Now.
Neutrogena Ultra Gentle Daily Cleanser for Acne-Prone Skin? My Thoughts…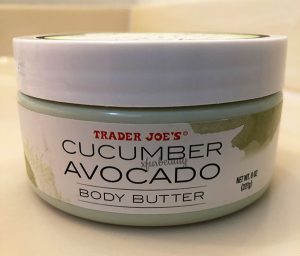 I finished my bottle of Neutrogena Hydro Boost Body Gel Cream. 👈🏻 Previous review here! Should I do a new update?? 🤔 We'll see! I'm currently looking for a new body moisturizer. I remembered that I had a jar of Trader Joe's Cucumber Avocado Body Butter. I thought I would give it a try again. It's there, so why not? lol. The purpose of this body butter is to moisturize, deeply hydrate, and leave the skin feeling super soft and supple. It's enriched with shea butter, avocado oil, cucumber extract, and jojoba oil. So did it do what it's supposed to do?? Keep reading to find out! Here's my experience with Trader Joe's Cucumber Avocado Body Butter!
My experience
The texture of the cream is super soft. It resembles more of a gel-cream than a body butter upon touch. But when applied to the skin, it feels much richer and leaves the skin moisturized. It absorbs and blends into the skin nicely. But it doesn't leave a clean finish behind. Feels like there's a layer of residue sitting on top of the skin after it blends into the skin. It doesn't feel sticky or greasy though. I feel that my skin becomes irritated due to the residue and the fragrance in this cream. Yes, it contains fragrance. This cream smells like artificial cucumbers. And I didn't like it at all. It gave me a really annoying headache each time I used it. So I can see why I stopped using this moisturizer for a while. In my opinion, the product is below average compared to other body moisturizers and butters. The smell is just way too strong for my taste. There's nothing special about this body butter. It contains shea butter, avocado oil, cucumber fruit extract, jojoba oil, sodium hyaluronate, vitamin e…but that's nothing out of the ordinary. A lot of products do too. I just think the overall formulation is just poor. It could've been better.
This is what the body butter looks like. I hope to finish it soon, lol.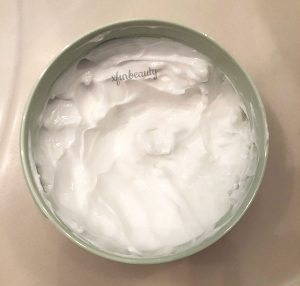 Pros & Cons
✅ Pros
Moisturizes
Contains shea butter, avocado oil, cucumber fruit extract, jojoba oil, sodium hyaluronate, vitamin e
Nice creamy, soft texture
Blends into the skin well
Not sticky or greasy
Not tested on animals
❌ Cons
Contains fragrance. Gave me a bad headache.
Leaves residue behind
Conclusion
Honestly, I don't like this product at all. I thought it would be good when I touched the cream, since it feels so soft and smooth in consistency. But when applied to the skin, it just feels very different. It doesn't leave the skin feeling sticky or greasy, but the residue that it leaves behind is annoying and irritating. I prefer products that just vanishes into the skin and doesn't feel like I have product on. The fragrance in this moisturizer is just as bad. I don't like it. Since it gives me headaches, I only use it on my feet, so I won't have to smell it, lol. All in all, I won't purchase again. I wouldn't recommend it either. It's not as great as I thought it would be.
For more reviews on moisturizers go here
Here's another beauty product from Trader Joe's I'm testing out!! ?? It's the Nourish Cleansing Oil with Almond Oil.
Turns into a sheer, milky hydrating wash that cleanses the skin while maintaining moisture on contact with water
Almond scented
I picked this up on a whim because I haven't tried it yet. And, I love trying out new skin care products. So this cleansing oil is pretty basic. It does what it's supposed to do — soften and moisturize the skin. My skin was left feeling sooo soft and hydrated. Even though I did not use this cleansing oil alone, the oil feels very luxurious when I dispense it into my palm. It feels silky and elegant. With this cleansing oil and my other body care skin care products, my skin feels pampered, soft, hydrated, and cared for. I love it! ? I think it's a great addition to my body care routine! But, I'm not sure if I would purchase it again. I kind of want to try out other body cleansing oils before I do. If there's something better out there? lol. I'll think about it. So far, I like it. My skin feels nice after every shower. 🙂 I would like to mention that this cleansing oil does contain fragrance. It smells strong when you sniff it from the bottle, but it isn't too bad when using. The fragrance didn't bother me. If you're wondering what oils are in this cleansing oil, they are grapeseed oil, sweet almond oil, castor seed oil, and sunflower seed oil.
I hope this review was helpful! ?
More on Trader Joe's Body Care:
Review: Trader Joe's Shampoo Bar, Peppermint & Tea Tree
Trader Joe's Tea Tree Oil Pure Vegetable Soap
Review: Trader Joe's Tea Tree Oil Pure Vegetable Soap
Trader Joe's Zinc Oxide Sunscreen Lotion
Trader Joe's Grapefruit Ginger Sugar Scrub