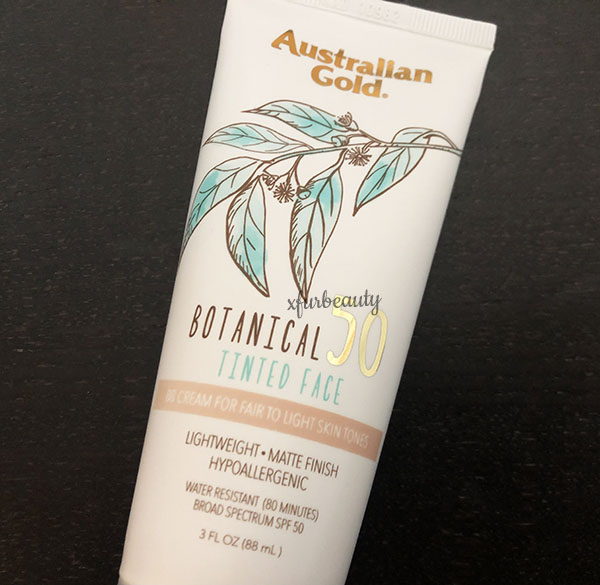 I picked up Australian Gold Botanical SPF 50 Tinted Face Sunscreen Lotion in Fair-Light. I've been hearing about this sunscreen for so many years. I thought, maybe I should just try it out. What put me off from trying this sunscreen out in the first place is that it contains red algae (Porphyra Umbilicalis Extract). And my experience with algae in general in skin care products have not been good. It clogs my pores. But, anything can clog anyone's pores. It really depends on how the person's skin reacts to the ingredients/overall formulation of the product. So, I've read so many reviews raving about this product! Am I missing out on something?? Hmmm! Now, here I am, with a tube of this stuff. Here are my thoughts on it!
My Experience with Australian Gold Botanical SPF 50 Tinted Face Sunscreen Lotion!
Texture & Application
The texture of this sunscreen is a mousse-cream. It's a very different type of texture and consistency that I didn't expect from a bb cream/tinted lotion. It's soft, lightweight, and souffle-like. It glides over the skin very easily and smoothly. It was very easy to use this product. Very easy to blend into the skin without tugging at the skin. I didn't have any problems with application. It was a simple process that didn't take a lot of time. I loved using it around my eyes. It didn't burn my eyes. But, the sunscreen looks a little greasy and shiny upon application at first. I used the required amount for sunscreen too, which is a lot of product. After about 30 minutes, the product looked matte on the skin. The next 15 more minutes, my skin looked even more matte. It is truly a matte sunscreen as it states on the bottle (matte finish).
Fragrance-Free?
The product is fragrance-free, but it does have smell to it. When I first opened it and sniffed it, I thought it smelled like tanning lotion. After smelling it again just now, it smells like plant extracts. Maybe a combo of both? I'm not too fond of the scent, but it didn't bother me too much.
Shade (Fair-Light Skin Tones)
I wasn't impressed with the shade of this product. It says it's for fair to light skin tones. The color of this product is literally orange when dispensed from the tube. On my skin, it was orange if I used too much. 🍊😂 I didn't like that at all. 👎🏻 If I use it as a makeup product rather than my main sunscreen, it works out pretty well. It doesn't turn my skin extremely orange, but there is an orange tint to the skin. That tint eventually fades away a little bit, so it wasn't too bad. There is no coverage. It seems to work very well as a makeup primer. It seems to coat my eyelashes too. Eyelash primer as well? lol. So this product works out if you're searching for a mineral sunscreen that is tinted (no white cast). I actually used it on top of my mineral sunscreen (that gives a white cast) to eliminate the white cast. Worked very well. Cast begone! 👋🏻
Great for oily skin!
Since the sunscreen is matte, it works amazingly on oily skin. I have very oily skin, and this sunscreen was perfect on my skin when it comes to taming excess oil. It makes my face appear very clean compared to the dewy, oily look, haha. If you have dry skin, you might want to apply a good moisturizer underneath. This sunscreen is definitely aimed towards people with oily skin. I'm not saying it won't work for dry skin. It's truly a matte lotion sunscreen. I didn't think it was drying at all on my skin.
It stays in place.
Most sunscreens swish around my face when I reapply. That might be the reason why I was developing more freckles! When I went in for a reapplication, I can feel that this sunscreen did not shift at all on my face. It stayed in place. Reapplying was not a pleasant experience since it felt like I was applying on top of more product. The sunscreen feels lightweight when applying, but it leaves a layer, film of product on the skin. I can feel that there's product sitting on my skin. It's quite annoying.
Breakouts? Clogged pores?
I was dreading using this sunscreen on my face because of the red algae. The other ingredient, shea butter, is a hit or miss on my skin. I thought this sunscreen was a tad too rich on my skin, which is odd because I thought it would be drying (from the reviews I've read). It leaves a sticky residue on my skin and just feels too moisturizing. I noticed closed comedones, some blackheads, and milia in my breakout-prone areas. That's when I stopped using it. Could it be the red algae? Shea butter? Who knows. My skin didn't like it. It feels very occlusive on the skin, especially when reapplied. By the way, I started noticing breakouts by day 2, but I didn't stop by day 3. By day 3, it became more obvious that my pores were getting clogged.
How to remove.
This is one of the most difficult sunscreen products to remove from the skin. It does not come off by simply cleansing with a face wash. To remove this product, oil cleanse (leave on for a few minutes) and wash with a facial cleanser. I do have a facial brush too to help remove the sunscreen off of the skin. If the product does not budge, oil cleanse, oil cleanse, oil cleanse some more. Just make sure the sunscreen is all off. If you do not remove the sunscreen off properly, you'll in up with residue on your face, which can lead to clogged pores. I removed the sunscreen off properly and made sure my skin was squeaky clean, so my breakouts were from the ingredients in the product. It's not compatible with my skin type.
Final Thoughts
I was so excited to try this sunscreen out. It's affordable, comes in a 3 fl. oz. tube, has SPF 50, and it's a mineral sunscreen (4% Zinc Oxide, 4% Titanium Dioxide). The smell of the product isn't too bad. I got used to it after a few uses. The shade of the product could be better. I wish it wasn't orange. 😂 Fair to light isn't fair to light. I could see the drastic difference in my skin color when using this sunscreen. Too bad that it clogged my pores too. I wished my skin didn't react the way it did, but it did. *sigh* I wanted it to work. It would've work well for outdoor workouts, hikes, pool days, and going to the beach. It sticks to the skin like crazy. If you want a sunscreen that stays on your skin, this will do it. For everyday use? It's not for my skin type. Like I said before, it feels too heavy, sticky on the skin. It's weird because the sunscreen feels lightweight when applied to the skin. After a few hours, it takes on this sticky texture, film that I dislike. I don't like it and my skin doesn't like it. It gets in my hair. It's difficult to remove. The breakouts killed it for me. All in all, I won't repurchase. This sunscreen has been hyped up so much that I thought it would be amazing. It's a nope for me.
What Australian Gold Botanical SPF 50 Tinted Face Sunscreen Lotion in Fair-Light looks like:
It looks more orange in person. It has a whipped-mousse texture to it.
This sunscreen was sealed when I purchased it. 👌🏻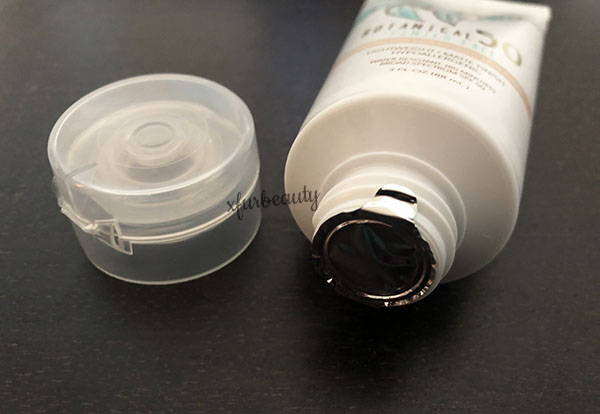 Categories:
Tags:

Acne, Acne Prone Skin, Acne Skin, Anti-Aging, Australian Gold, Australian Gold Botanical SPF 50 Tinted Face Sunscreen Lotion, Australian Gold Botanical Sunscreen Tinted Face BB Cream SPF 50, BB Cream, Beauty, Cruelty-Free, Dermatologist Tested, Experience, Fair, Fair-Light, Fragrance Free, Fragrance-Free, Hypoallergenic, Lifestyle, Light, Mineral, Mineral Sunscreen, Non-Nano, Oxybenzone Free, Reef Friendly, Review, Skin Care, Skincare, SPF 50, Sunblock, Sunscreen, Tinted BB Cream, Vegan, Wrinkles, Zinc Oxide