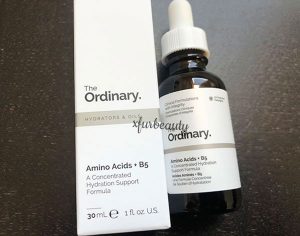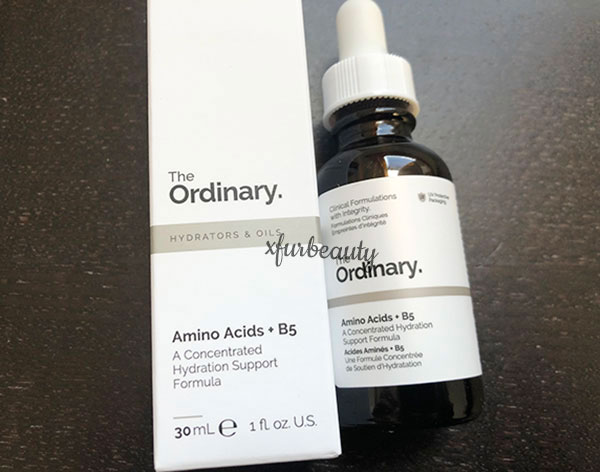 I decided to give The Ordinary Amino Acids + B5 another try. Yeah, I've been trying out a ton of my previous skin care products. I feel like my skin care routine is growing, but at the same time, my skin has improved so much! It looks so soft and more youthful. I'm loving the results! This time, I'm having major success with all of the skin care products I have tried so far! It's amazing! So last night, I randomly thought I would give one more The Ordinary product a chance after using it to moisturize my body. I mean, it's a tiny bottle (1 fl. oz.). I was using it on my body to use it up, but I thought I would just try it on my face again to see if it works. Other skin care products I've tried again from The Ordinary are…
The Ordinary Argireline Solution 10%
The Ordinary Matrixyl 10% + HA
They're both working for me. I haven't noticed any clogged pores from them. Insane! I know! 👏🏻
The first night of using The Ordinary Amino Acids + B5 wasn't bad at all. It's a lightweight watery serum that soaks into the skin quickly. It didn't leave my skin feeling greasy, oily, or sticky. It feels like I'm applying water to my face. So what's so special about this serum? Well! Let's take a look at the ingredients! Here's the ingredient list!
Water, Propanediol, Betaine, Sodium PCA, Panthenol, Sodium Lactate, Arginine, PCA, Aspartic Acid, Glycine, Alanine, Serine, Threonine, Valine, Proline, Isoleucine, Lysine HCl, Histidine, Phenylalanine, Glutamic Acid, Citric Acid, Dimethyl Isosorbide, Polysorbate 20, Trisodium Ethylenediamine Disuccinate, 1,2-Hexanediol, Caprylyl Glycol.
I wonder why it didn't work the other times I used it? Hmmm! lol. I'm using products that contain propanediol without any issues this time. But this serum contains 17% amino acids, which includes amino acid derivatives and 5% vitamin B5. It's supposed to help with dryness, fine lines and wrinkles, and loss of firmness and elasticity. It does feel hydrating when applied to the skin, but the hydration doesn't last for too long. It feels like a very watery, lightweight hydrating serum that can be used in combination with other moisturizing skin care products. It won't solve your dry skin issues but nice to have in a routine. I really wonder if it'll work for fine lines and wrinkles. How about firmness and elasticity? Only time will tell.
So I woke up this morning without any breakouts, but I did notice some dead skin peeling from my face. I'm not sure if it's because of the serum or the horse cream I've been using. That cream has been godsend!! Go to the link provided to read more about my experience with it! With The Ordinary Amino Acids + B5, I didn't have any issues using it this morning either. I'm not sure what's going to happen later on tonight. But, so far, it's been working just fine. No breakouts, no skin irritation, no redness, nothing. Here to another skin care product that may make it's way into my skin care routine!! Absolutely no problems after using it twice! Wish me luck!
Maybe The Ordinary isn't so bad after all…
Categories:
Tags:

Acne, Acne Skin, Amino Acids, Amino Acids + B5, Anti-Aging, Anti-Wrinkle, Beauty, Experience, Facial Serum, Lifestyle, Moisturizing, Review, Skin Care, Skincare, The Ordianry, The Ordinary Amino Acids + B5, Vitamin B5, Wrinkles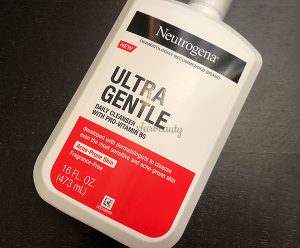 During my search for a new facial cleanser, I tried out Neutrogena Ultra Gentle Daily Cleanser. It was developed to cleanse even the most sensitive and acne-prone skin (as it states on the bottle). It claims to cleanse the skin thoroughly by removing excess oil, dirt, bacteria, and makeup. Gentle enough to be used with acne treatments like benzoyl peroxide or salicylic acid. It's fragrance-free, soap-free, dye-free, hypoallergenic, and non-comedogenic. The ingredient list of this product is very short too. It contains only 11 ingredients. Here's the ingredient list:
Water, Glycerin, Cetearyl Alcohol, Polyglyceryl-10 Laurate, Phenoxyethanol, Panthenol, Cetearyl Glucoside, Caprylyl Glycol, Carbomer, Sodium Hydroxide, Ethylhexylglycerin
There's really nothing fancy about this facial cleanser. It's short and simple. By the looks of the ingredients, it appears to be a very basic facial cleanser. No-frills kinda deal. But I was pretty skeptical about this face wash. It gave me CeraVe vibes when I noticed that Cetearyl Alcohol is the third ingredient on the list. Also, because the product claims to be gentle while removing excess oil, dirt, bacteria, and makeup. This just sounds so familiar! But, this was before even trying the product. So this is what happened after I tried the product…
Did it live up to the claims? My expectations? Did it truly, actually work? Hmmm! So many questions. Well, I'm here to answer those questions. Here's my experience with this face wash!
My experience with Neutrogena Ultra Gentle Daily Cleanser…
The face wash comes in a 16 fl. oz. (473 mL) bottle. For the price of the product and size, it's a good deal. One of the reasons why I picked it up. The product itself is a creamy gel. It feels super soft and moisturizing on the skin. On the bottle, it says that this face wash is non-foaming, non-medicated, and pH balanced. Even though it says that it's non-foaming, it foams up just a tad bit. When I say just a tad bit, I can see a little tiny bit of foaming action going on. I guess it can fall under the non-foaming category. lol. But this is just an observation of mine. It's just not super foamy facial cleanser.
The product feels super soft and hydrating on my facial skin. Doesn't feel drying and irritating. IT'S SO SOFT!!! It feels like I'm applying lotion to my face in the form of a facial cleanser. I really liked the way it felt on my skin. It's definitely non-drying and seems good for sensitive skin. It's a very, very gentle facial cleanser. But after rinsing the facial cleanser off, my skin didn't feel clean enough. It seemed to have left a layer of residue behind on my face. Honestly, it feels very similar to the CeraVe Hydrating Facial Cleanser, and that face wash broke me out! Clogged my pores endlessly! It didn't leave my skin feeling clean either!
Fortunately, I didn't have to go through a breakout with Neutrogena Ultra Gentle Daily Cleanser. I knew something was wrong when I felt that weird layer of residue left behind on my face after rinsing the face wash off. I knew if I had continued with my skin care routine (ignored the residue) that I would end up with tons of clogged pores. Something just didn't feel right about this face wash, lol. So! I followed up with another facial cleanser to remove that layer of residue off. It's too bad. I think Neutrogena Ultra Gentle Daily Cleanser just doesn't clean my skin well. It's soft, gentle, and moisturizing, but I do have oily skin that's acne-prone. If I don't wash my skin the right way, I end up with breakouts.
Overall, from this experience, this face wash is just like CeraVe's. They don't have similar ingredients, but the overall feel of both products are very similar. This is just something I can't use on my face. I know it says that it was developed for acne-prone skin…but just no…this isn't going to work. I use acne treatments that are drying, but I still need to wash my face properly to prevent new breakouts. This is the face wash I'm using right now. It's not a permanent face wash. I'm just using it for now, but it leaves my facial skin feeling and looking clean. I haven't experienced breakouts from it.
I hope this review was helpful! Good luck to one and all. I hope everyone finds a good, effective face wash for their skin type! This one just wasn't for me. On to the next! 🙂
For more reviews on Neutrogena beauty products click here!!
Categories:
Tags:

Acne Prone Skin, Acne Skin, Acne Skin Care, Blemishes, Daily Cleanser, Dry Skin, Fragrance-Free, Neutrogena, Neutrogena Skin Care, Neutrogena Ultra Gentle Daily Cleanser, Oily Skin, Results, Review, Sensitive Skin, Skin Care, Skincare, Thoughts, Ultra Gentle Daily Cleanser, Vitamin B5